No matter what type of store you manage, knowing the retail conversion rate can mean the difference between using numbers to grow your business and doing it all by chance.
It's not enough to know your sales numbers or your gross profit on their own. Retail conversion rate is one of the most crucial key metrics (KPIs) to measure retail store performance.
What's retail conversion rate?
Retail conversion rate is the percentage of visitors to a retail outlet who make a purchase.
In other words, it indicates the number of people out of all potential shoppers who buy something from your store – and it is this act of purchasing which "converts" them into customers.
Let's assume you're a manager at a brick and mortar store.
To calculate the conversion rate for a specific day, you simply have to take the number of transactions made during that day and divide it by the number of potential customers who walked into your store. And you have to multiply it with 100 to see the percentage.
Conversion Rate = Number of Sales / Total Number of Visitors x 100
So, if 32 people made a purchase out of the 200 people who were in your store, you would have a conversion rate of:
32 / 200 x 100 = 16%
– meaning it is time to take measures to increase the conversion rate.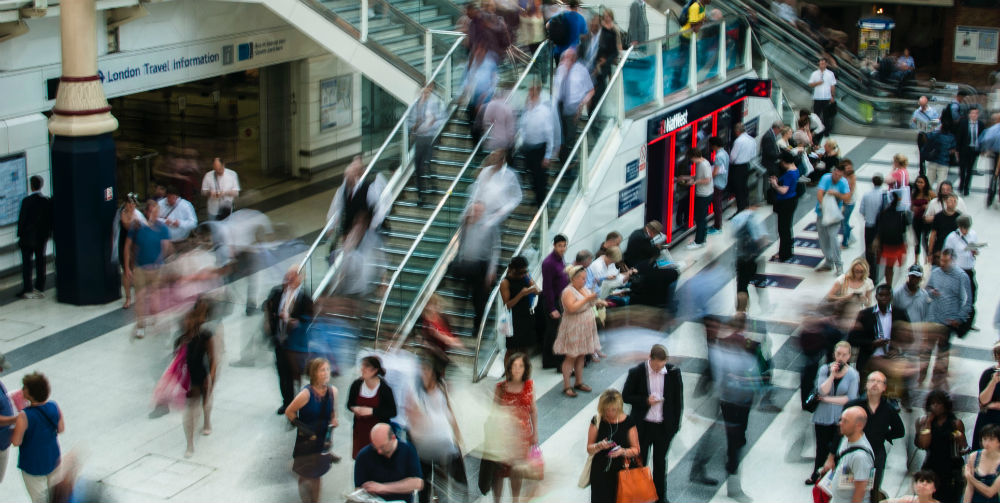 Why is it important to measure retail conversion rate?
For some store managers, retail conversion rates may seem redundant, as they're accustomed to looking at the number of sales to gauge their success. Yet focusing only on the number of transactions during a certain time period can yield an inaccurate picture.
Let's say your store had 50 transactions occur in one day. If you only had 50 visitors that day, you actually had a 100% conversion rate, making it a hugely successful day for your business. If you had 200 visitors, however, your conversion rate would drop down to 25%, making it a less remarkable day.
Related: 40 Ideas to Boost Retail Foot Traffic and Increase Sales
Conversion data is crucial for businesses that want to understand their customers enough to determine if they are maximizing their resources, whether it's offering the right discount or sales campaign at the right time or making the most of their floor space by diversifying their goods.
How to measure retail conversion rate
The first step in measuring retail conversion rate is knowing exactly how many potential buyers there are in your store, which is only possible if you're using a foot traffic counter.
There are a number of people counting solutions on the market – ranging from bluetooth door counters to expensive video camera devices – but to save yourself both time and energy, it's best to opt for one that readily integrates with your POS systems to display the conversion rate.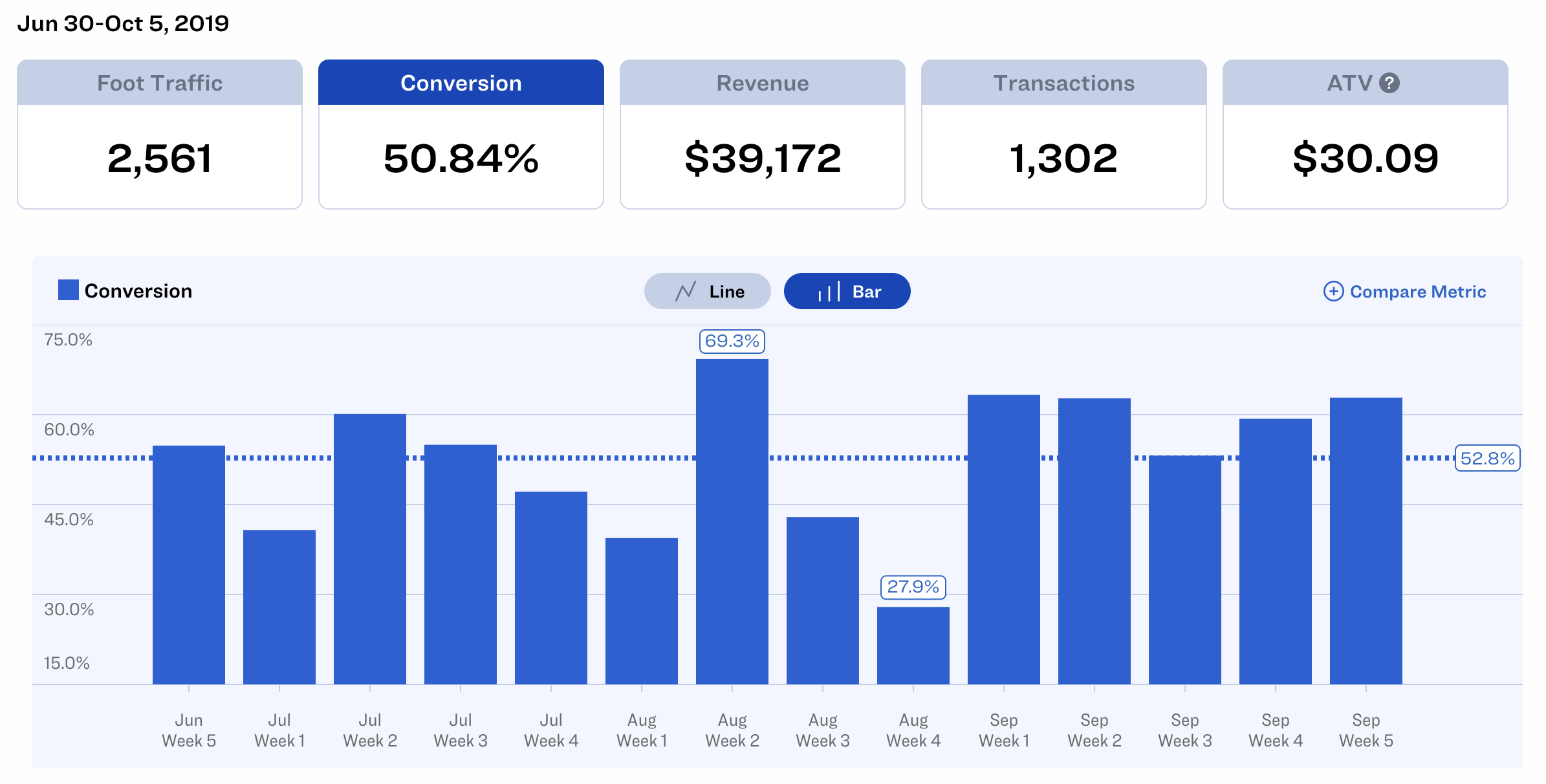 Newer solutions like Dor's battery-operated thermal people counter come equipped with user-friendly software that enables you to view and compare conversion rates from previous days, weeks or months or even contrast conversion rates across several stores, all on a single dashboard screen.
And you can easily integrate Dor to your Shopify POS, Square POS, Vend POS or Lightspeed POS.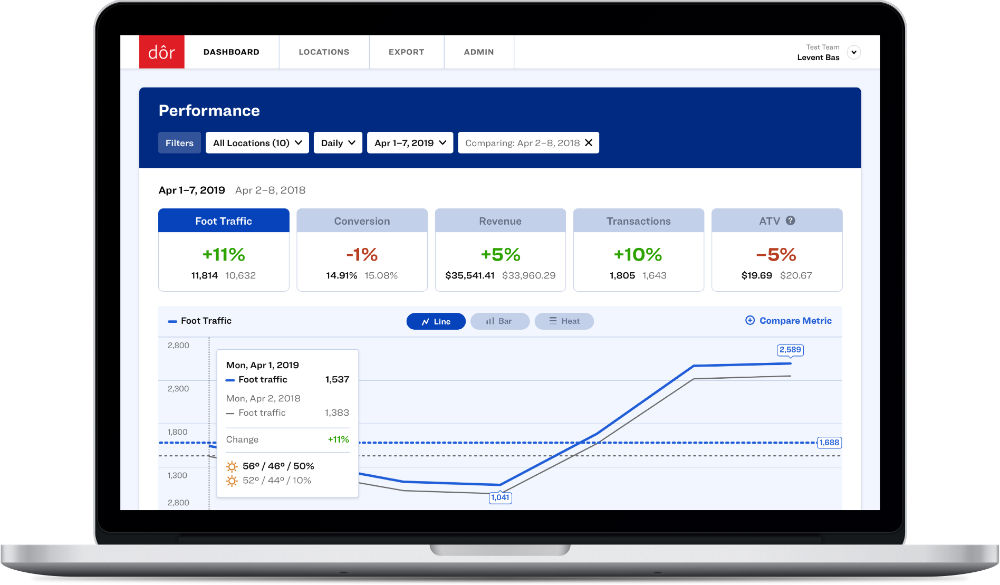 Click here to discover how a people counting solution like Dor can help you make better business decisions based on your store's foot traffic data.
Ready to purchase? Complete your purchase in just minutes!
What is the average conversion rate for retailers?
The conversion rate of each store depends on a number of factors, with location being among the most important.
Whether your store is located in an area with heavy foot traffic will invariably impact your conversion rate, as will additional factors like your operating hours, merchandising and marketing efforts.
Related: 15 Social Media Marketing Tips for Retailers to Increase Sales
Although these variables make it hard to estimate an average conversion rate across the board, various studies have shown the industry average to be around 20 percent for brick-and-mortar stores and anywhere from 20 to 40 percent for major retailers.
With online shopping becoming ever-present in recent years, these figures should come as no surprise. Still, regardless of the type of store in question, conventional wisdom dictates that a conversion rate of 15 percent or lower is bad for business and must be addressed.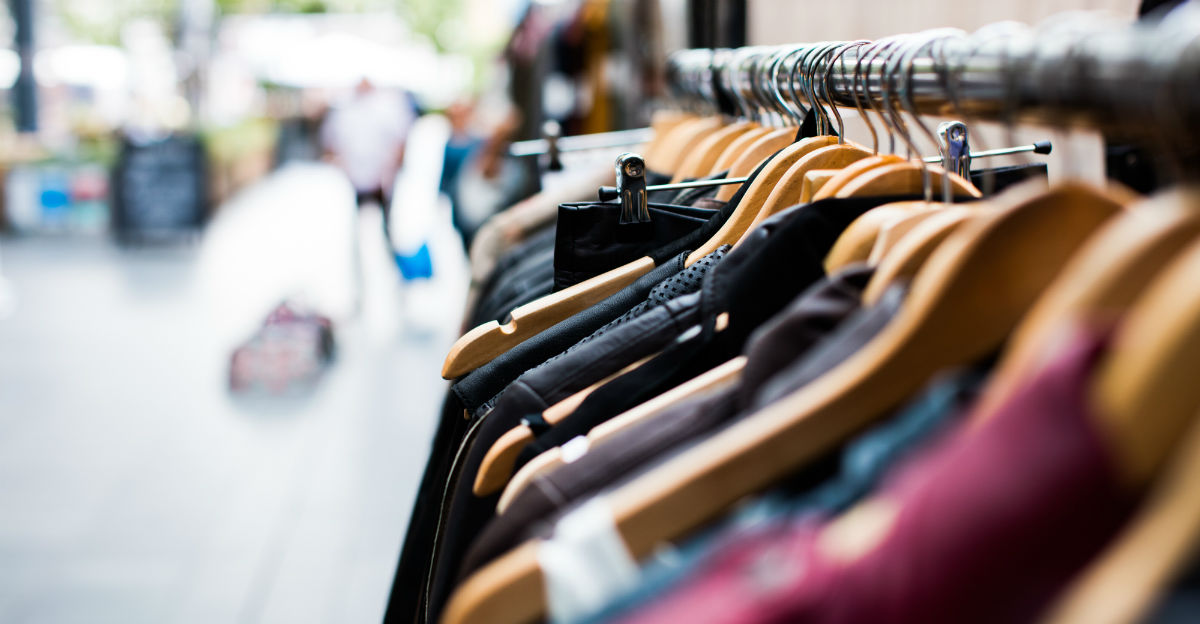 5 practical ideas to increase retail conversion rate
Once you know your store traffic and your store's sales performance, you can start thinking about ways to increase your retail conversion rate.
Here are 5 practical ideas that you can start using today to increase your retail store's performance.
1. Attract potential customers through smart positioning
One of the easiest ways to draw in more customers is to position your most eye-catching inventory near the front of the store.
If you're a clothing retailer, that means placing the new season's items close to the entryway while last season's or clearance items are located towards the back. Most major retailers already do this, but the idea works for smaller shops, as well.
If your store has a window display, you should also pay close attention to that area. It's not enough to make the display inviting to the customer; you should also change the design from time to time to keep it fresh. Regardless of what you sell, the window display is your first chance to grab potential buyers' attention, so use it wisely.
Related: 15 In-Store Promotion Tactics to Increase Retail Sales
2. Focus on training and staffing
Staffing properly trained employees during the busiest hours can drastically improve customer service at your store, which can lead to increased conversion rates.
If potential buyers are greeted by a friendly and knowledgeable member of your team who goes above and beyond to meet their needs, they're more likely to make a purchase and become a repeat customer.
As important as it is to train your staff and manage their timetables well, it's also important to have them engage with customers who might otherwise leave the store empty-handed. It may take trial and error to hit the perfect note in customer service, but you can start by ensuring that all employees are actively assisting buyers without being overbearing.
Related: 9 Practical Ideas to Improve Retail Employee Performance and Sales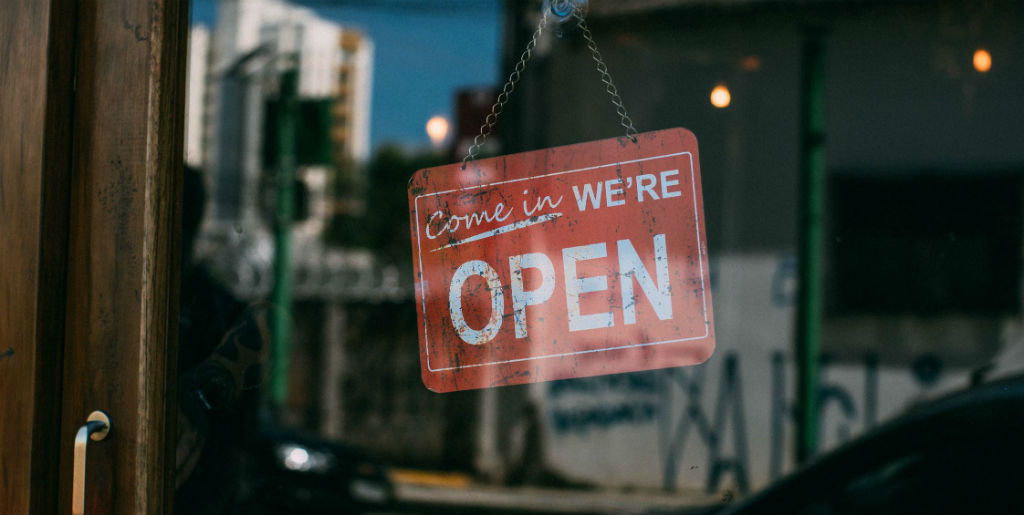 3. Optimize stocking and inventory
The art of keeping inventory involves a delicate balance.
On the one hand, you don't want too little inventory on the floor, which would leave potential customers without sufficient items to browse. On the other hand, you don't want too much inventory, as it will clutter up your space and lower the item's value in the customers' eyes.
To revisit our previous example of a clothing retailer, you may choose to limit your displays to one or two pieces per clothing size for each design, with the rest of your inventory stored in the back of the store. The specifics may change depending on the size and type of retailer you operate, but the idea is to keep the floor attractive to customers without being overstimulating.
This approach also has the benefit of giving your staff an excuse to engage with buyers and ask if they need assistance.
4. Simplify checkout
We all know that sinking feeling we get when we see a long checkout line – for some of us, it can mean the difference between buying or abandoning an item. If you're a retailer looking to improve conversion rates, it's crucial that you make the checkout process feel easy for your customers.
A rather simple yet elegant solution is to locate your checkout counters in the back of the store. Other similar ideas involve dispersing cash registers throughout the store or removing checkout lines from the ground floor altogether.
A newer and more tech-forward solution is to offer mobile POS systems, which allow customers to pay on mobile devices or sometimes even via their smartphones.
Once considered cutting-edge, these mobile payment technologies are rapidly becoming standard practice at major retailers with large stores.
5. Tweak advertising and marketing efforts
If you find that your store's conversion rates are stagnant, a good marketing campaign might be just what you need to drum up some new business.
Depending on your store, simply running a new ad online or in your local newspaper might do the trick, or you might find that seasonal sales are a hit with your customer base.
Related: 15 Email Marketing Tips for Retailers to Increase Sales
You can also get sales associates to promote specific items or discounts to customers in-store. Whichever option you choose, having the right systems in place will help you get an idea of how these efforts affect your conversion rates so you can take action and watch your business grow.
Click here to discover how a people counting solution like Dor can help you make better business decisions based on your store's foot traffic data.
Ready to purchase? Complete your purchase in just minutes!
---
Hi there! If you liked this post, please feel free to share it on social media to help us reach out to more retailers like you. You can also leave a comment below and let us know if you have any questions!
---
Start counting your foot traffic now
Get data faster with the world's first thermal-sensing, battery-operated people counter
Get a Demo
Recommended Articles