One of the pillars of retail marketing, emails can be a great asset for brands when used wisely.
Read on to discover the email marketing tactics that will help you stay ahead of the competition.
Why is email marketing important for retailers?
It's no secret that customers love receiving emails. According to a 2013 report by Marketing Sherpa, 72% of people prefer to receive promotional content through email, compared to 17% who prefer social media.
From the customer's perspective, one of the greatest advantages of email marketing is that it feels more personal, as if the brand is communicating with the customer directly.
Customers' appetite for email marketing is a huge asset for brands and digital marketers. For starters, it is much cheaper to acquire new customers via email than it is to bring them into your store via brick and mortar marketing techniques like flyers or word of mouth. In fact, for every $1 spent, email marketing generates an average of $38 in return on investment (ROI) for brands.
Related: 15 Social Media Marketing Tips for Retailers to Increase Sales
Add to that the influx of new algorithms making it more difficult for brands to have the organic social media reach they once had, and you'll begin to see why email continues to reign supreme in the digital marketing world.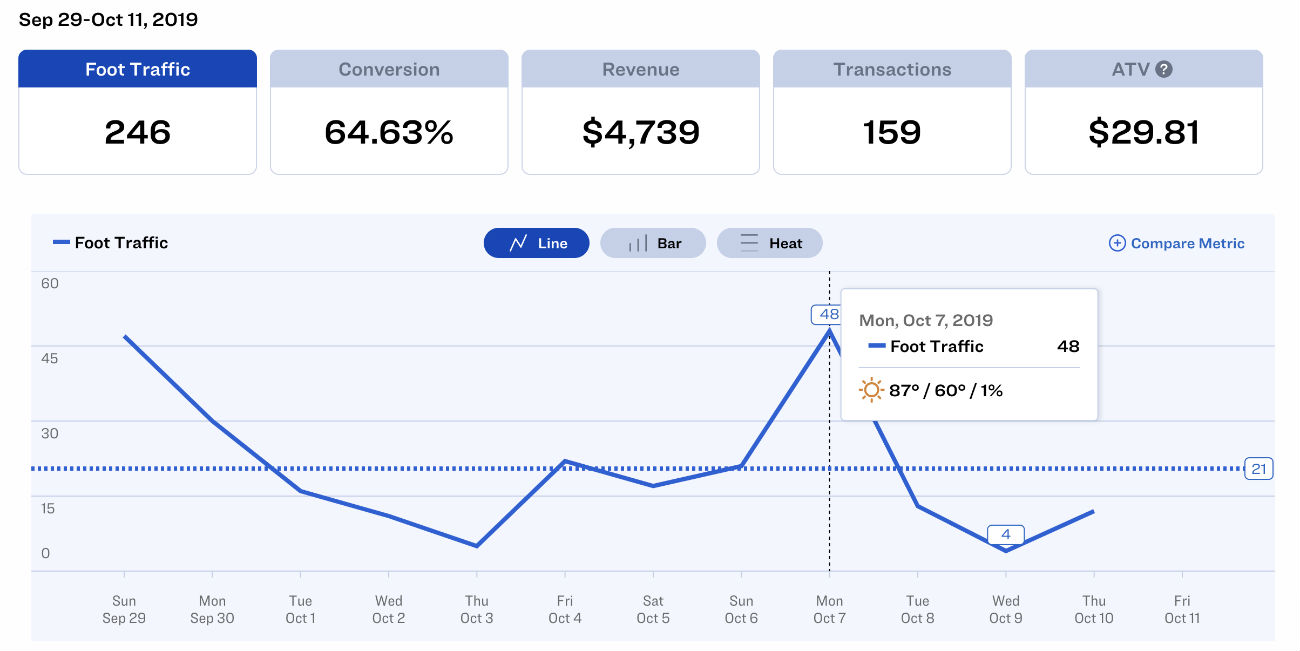 Click here to discover how your marketing efforts can increase your door traffic and how Dor can help you understand that data and other important metrics on a single screen.
Related: People Counters & People Counting: Everything You Need to Know
15 email marketing tips that will help you succeed
Thanks to advances in business analytics technology, retailers can now use email marketing in creative ways to not only acquire new customers but also to retain existing ones.
Here, we took a look at industry best practices—from personalizing your messages to obtaining email addresses from your social media followers—to help you increase sales and connect with your customers.
1. Personalize your emails
Do you remember the first time you received a marketing email with your name on the subject line? As thrilling as it might have felt to have a company communicate with us on an individual level, personalization in email marketing has come a long way since those early efforts.
Nowadays, brands can utilize information obtained from customer behavior like online searches to deliver hyper-tailored email marketing material.
Another source of information that can be used to generate dynamic email content is demographic data such as the age, gender, and location of your customers.
Best Buy does a good job of this; each month, the electronics retailer sends out emails featuring discounts to a randomly selected group of customers who have a birthday in the following month. Although not every person on Best Buy's email database is guaranteed to receive a discount code, the brand still manages to form a personal connection with some subscribers this way.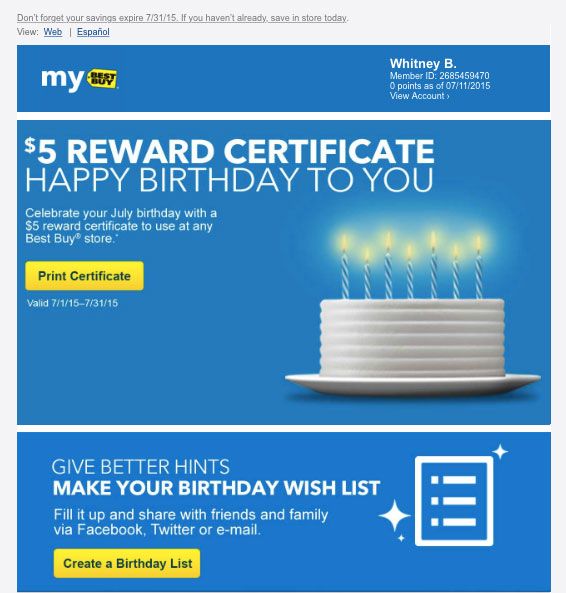 2. Don't let your transactional emails become a missed opportunity
We're all familiar with transactional emails—those automated messages you receive when you complete actions like sign up for an account, place an order or request a refund.
According to a report by Experian, transactional emails are eight times more likely to be opened or clicked on than any other type of email, and they have the potential to generate up to six times more revenue for retailers.
One way to achieve increased revenue is to approach transactional emails as an opportunity to include marketing content. Retail giant Walmart's order confirmation emails are a great example.
In addition to providing all the necessary information about your order—the items purchased, their price, shipment or pickup method and billing information—Walmart also blocks out a section of the email body to provide recommendations for related products, encouraging consumers to make another purchase immediately after their first one.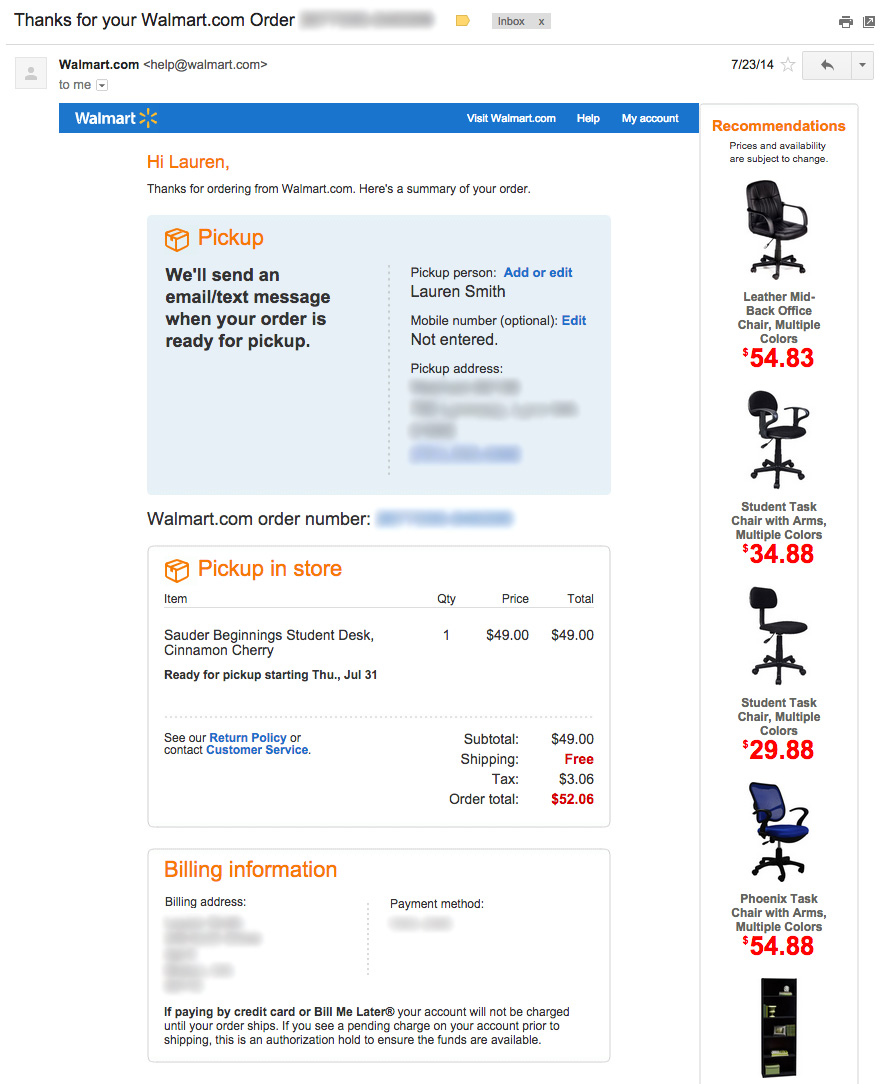 3. Ditch the paper receipts
As more and more companies are looking to appear eco-friendly to their customers, there's never been a better time to go paperless with your receipts!
On the customer side, emails are much easier to keep track of than paper receipts, while on the business side the practice comes with a multitude of benefits: Not only do e-receipts help conserve resources, but they also enable retailers to seamlessly gather email information from almost every customer.
With this information at hand, retailers can then design their emails to include not just purchase-specific information but also to promote other products and services they offer. Apple switched to e-receipts long ago, and by investing in the right tools, so can you.
4. Make sure your email content is mobile-friendly
As the use of smartphones has skyrocketed, so too has the need for companies to deliver emails that can be read easily across a range of devices. In fact, 60% of email campaigns were opened on mobile devices in 2019, according to Campaign Monitor.
One way to ensure that your emails connect with your customer base is to use responsive email design, which automatically alters the format of your emails to suit the device being used. Other best practices include keeping your subject lines short and catchy, including a compelling first line of text and directing any links or call-to-action (CTA) buttons to mobile-friendly landing pages.
Netflix's emails are always designed to appear the same on any device, which makes sense for a streaming service that allows users to view shows and movies on any platform.
5. Take advantage of triggered emails
As the name suggests, triggered emails are those which are "triggered" by a user's behavior on a website.
Although some people use the terms "triggered email" and "transactional email" interchangeably, the major difference is that trigger emails do not require the user to make a purchase at all—in fact, browsing but not making a purchase can prompt a triggered email of its own, where the retailer attempts to convert the website user into a customer.
According to a 2013 report by the UK's Direct Marketing Association, over 75% of email revenue is generated by triggered campaigns, rather than one-size-fits-all campaigns. Still, most brands aren't utilizing these emails to their maximum benefit. Research by The Relevancy Group found that only about 50% of companies send a welcome message to new customers, with less than 25% making any attempts to re-engage inactive subscribers.
One way to reactivate idle customers is to send "we miss you" emails, sometimes with a discount code included. Another method, as seen at Google Store, is to send triggered emails that highlight how many of a particular item are left in stock, thus creating a sense of urgency in customers and prompting them to make a purchase now rather than later.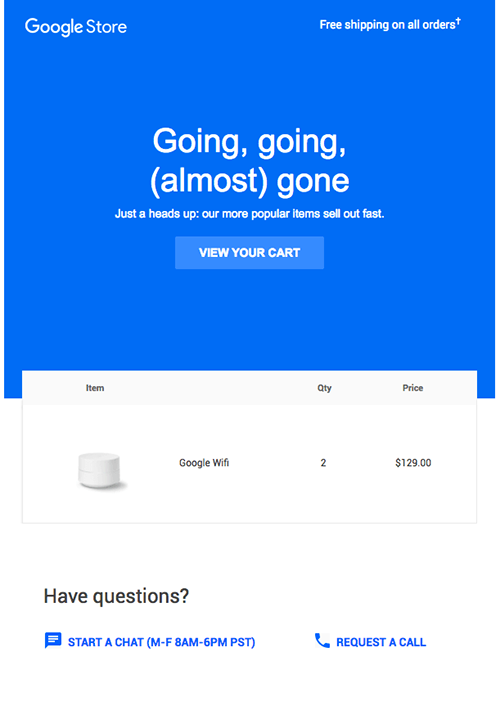 6. Automation is key
Given the long list of transactional emails most brands are expected to send out—from welcome emails to order and shipment confirmations, password resets, review requests and so on—it's crucial for retailers of any size to employ smart email planning and scheduling strategies.
One tried-and-tested method is to automate the entire email-sending process, both for transactional emails and for marketing emails.
Just imagine how many emails Amazon has to send out each day… In fact, the ecommerce giant has mastered email automation to the point where it now offers the Amazon Simple Email Service (SES) to other clients (such as Netflix) looking to streamline their own email operations.
7. Segment emails by customer base
Most retailers already possess a great deal of data about their customers, so why not use that information to help you increase sales? By segmenting your customer base into different groups, you can send email communication specifically tailored to each audience.
By incorporating customer relationship management (CRM) data into your email marketing efforts, you can customize your email marketing communication based on your users' purchase history. You may choose to send special offers to your VIP or repeat customers, or you may find it's in your best interest to offer a discount specifically for your newsletter subscribers. Another way to segment your customer base is by using demographical data such as age, gender, location and interests.
One example comes from the music streaming service Spotify, who regularly sends emails to premium members with personalized playlists and suggestions for upcoming concerts based on user listening trends.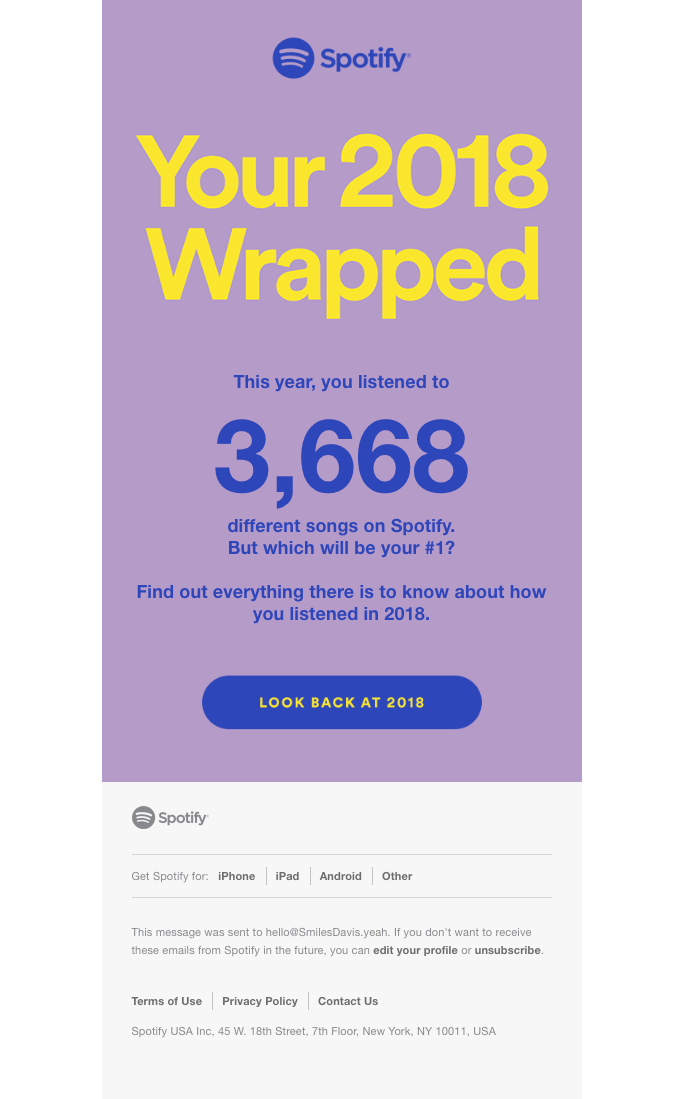 8. Include video
In today's fast-paced world of overflowing inboxes, brands have to get creative with their email marketing content to stand out from the crowd. One engaging way to do that is to include video in your email marketing efforts.
According to Experian's 2012 Digital Marketer: Benchmark and Trend Report, brands who included video in their email communications saw an average increase of 21% in their conversion rates.
One brand that does this particularly well is Nike, who sends emails with video content as well as discounts to celebrate the birthdays of its registered users.
9. Use your website to gather email addresses
One of the key factors affecting a brand's email marketing strategy is its ability to gather email addresses from potential customers before they make a purchase. This is why you'll often see retailers offering perks to web browsers for providing their email address.
Two of the most common ways of gathering email addresses is by having people sign up for a newsletter, or by offering a discount (or sometimes both). Brands generally feature this section prominently on their website, drawing attention to it via catchy CTAs, flashing signs or pop-up ads.
Footwear retailer Aldo is one brand that offers anywhere from 10% to 15% off your first order, depending on your location, when you sign up for its newsletter.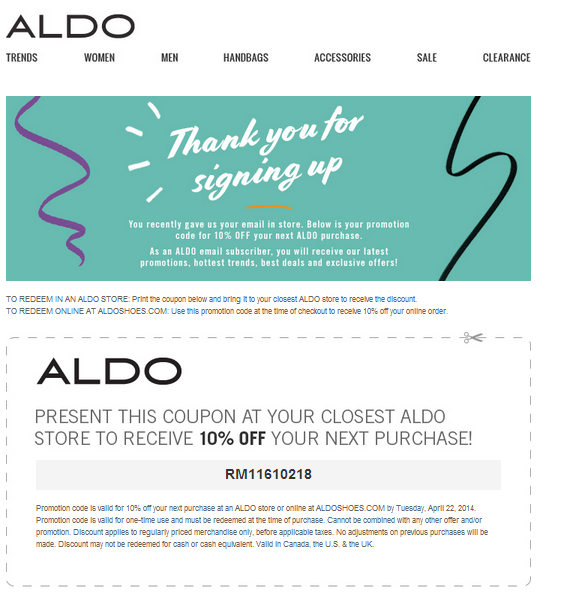 10. Use email marketing to draw people into your store
Email marketing certainly has an impact on ecommerce, but it can also be used to encourage customers to visit your physical store.
One idea is to send out emails to some or all of your customers with promo codes that can only be used in-store. Depending on the type of retailer you operate, you can also send e-invites to customers for exclusive in-store events.
Cosmetics brand Sephora frequently sends invitations to customers for special in-store events taking place at Sephora locations in their area. Not only does being invited to an "exclusive" event build brand loyalty among customers, but these types of events also enable staff to upsell or cross sell items once the customers are already in store.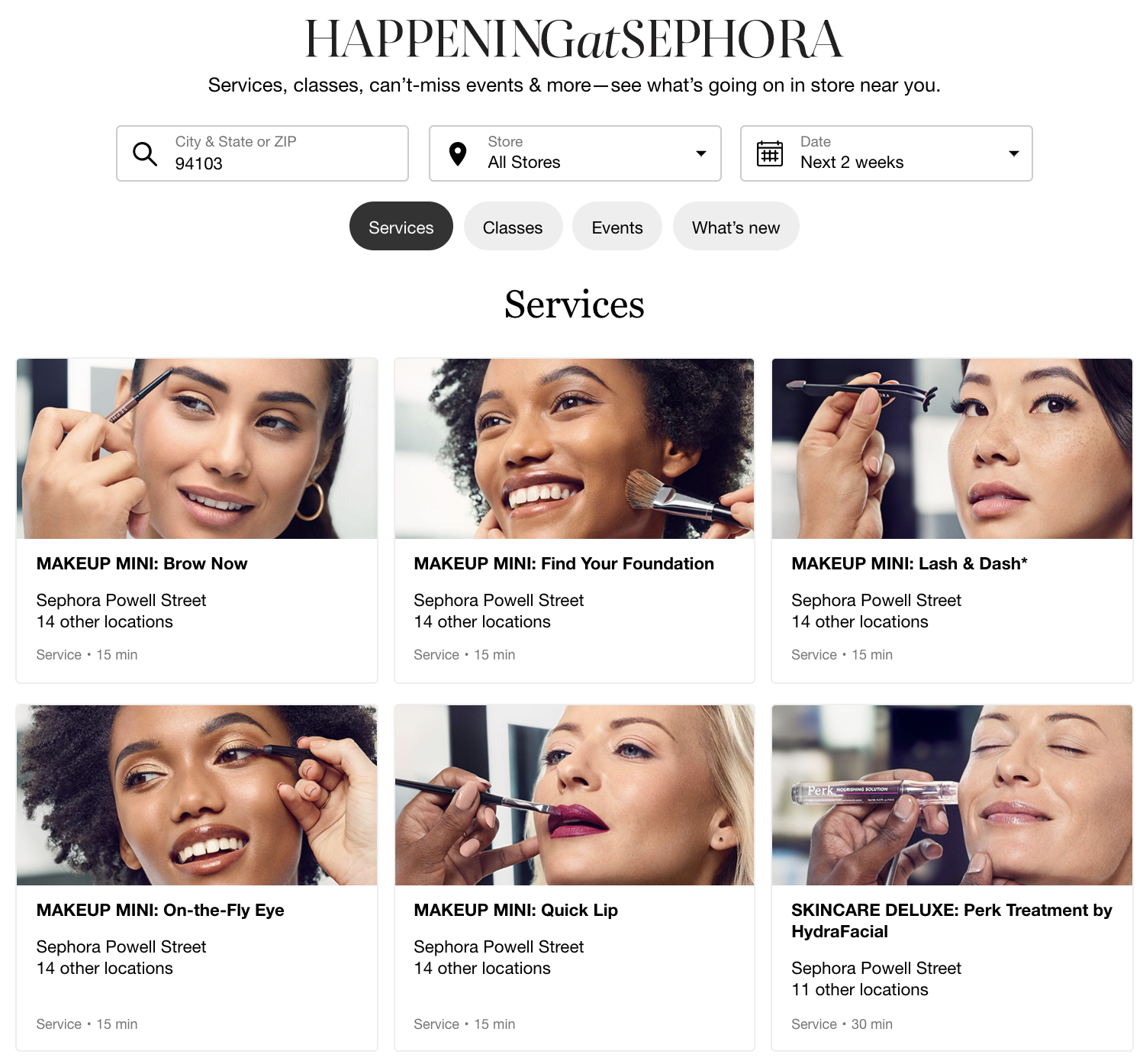 11. Vary your content
Another way to build brand loyalty among your subscribers is to vary the email marketing content you send.
One way to branch out from promotional emails announcing sales or new products is to offer free advice—clothing retailers can do a round of style tips, while food brands can provide complimentary recipes for their users. The key here is to get the customer to not only read the email but to form a positive connection with your brand.
One brand who excels in serving aspirational content to its subscribers is Netaporter, whose emails feature a wide variety of content ranging from features on best-selling products and new launches to stories on trends, blog posts and even the occasional celebrity collaboration.
12. Don't underestimate the power of social followers
With all the attention surrounding brands' social media presence, it's easy to get swept up and assume email is obsolete, but that is not the case. According to a recent study by McKinsey, email is still 40 times more effective at acquiring new customers than Facebook or Twitter, which means retailers looking to increase sales must find a way to convert their social media followers into email subscribers.
One way to do that is to follow Reebok's example. The sporting goods company's Twitter account is chock full of articles on health and wellness, success stories of athletes, gift guides, product highlights and more.
By teasing this content on social media, Reebok is able to get followers to click through to the website, which immediately redirects users to sign up for the brand's loyalty program using their email address.
13. Schedule your emails based on your customers' preferred timing
A quick internet search will reveal a wealth of information on the best days and times to send marketing emails, yet with so many factors going into the success of email marketing, it's inevitable that different studies yield different results.
Tuesdays are a popular choice, while others cite Thursdays to be the best for open rates. In fact, a recent study by GetResponse found no major difference between the days of the week—so long as emails aren't sent on weekends. By contrast, a 2017 report by Yes Marketing reveals that Saturdays bring a higher conversion rate to email marketing than weekdays, which would suggest it's better to send those emails closer to the weekend.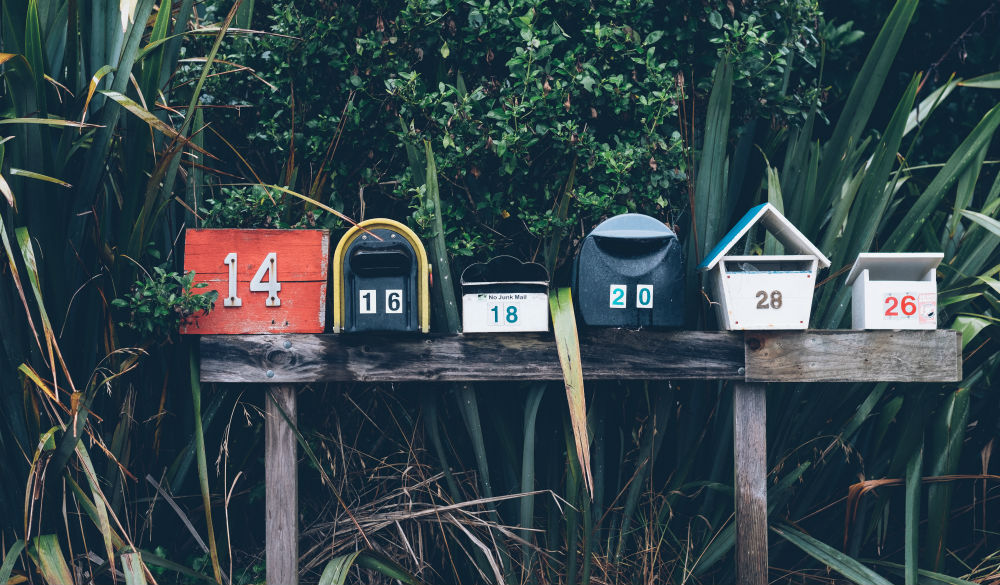 With so much conflicting information out there, the optimal time to send marketing emails will ultimately depend on your brand's customer base. Do you cater to young professionals, or are you more popular with young shoppers? Figuring out your target demographic will help you avoid traditionally bad times for marketing emails such as the morning commute or evening rush hour.
Uber does a great job at sending marketing emails based on data gathered from its users. In addition to sending e-receipts for each trip, the ride-hailing service also sends marketing emails featuring discounts and referral offers well in advance to help its users plan any upcoming trips accordingly.
14. Find the frequency sweet spot for promotional emails
When it comes to sending marketing emails, how often is too often? Again, the answer to this will depend on your specific brand, but a general rule of thumb is to keep your brand fresh in the mind of the customer without going overboard.
Starbucks, for instance, sends promotional emails once every two to three days.
If you're unsure of where to start, you can try sending marketing emails once a week and then building up from there. Keep an eye on your CRM data during this time—if you find that a lot of people are unsubscribing from your emails and citing frequency as the reason, you'll know it is time to dial back.
15. A/B testing is important
Also known as split testing, A/B testing is the practice of comparing two pieces of marketing material—whether it's an email, website or other feature—by changing at least one element.
In the realm of email marketing, it means testing two versions of an email before it's sent out to subscribers to determine which version brings you closer to the results you want.
According to Litmus, companies that use A/B testing on every email see 37% increased returns on their email marketing efforts compared to brands that don't do A/B testing. The same study cites Square as one example of a financial services company that employs A/B testing.
Most email campaign software, like Campaign Motor and MailChimp, comes with built-in A/B testing tools to make it easier for digital marketers to gauge reactions. The key here is to test one A/B feature at a time, like a CTA, a subject line, layout or images. Another important factor is that both versions must be tested successively, without allowing too much time to pass.
---
Hi there! If you liked this post, please feel free to share it on social media to help us reach out to more retailers like you. You can also leave a comment below and let us know if you have any questions!
---
Start counting your foot traffic now
Get data faster with the world's first thermal-sensing, battery-operated people counter
Get a Demo
Recommended Articles