With the growing influence of social media on retail marketing, brands these days find themselves competing in a whole new arena.
In contrast to brick and mortar marketing efforts such as traditional advertising and in-store promotions, social media marketing is much more complex, incorporating numerous sales channels and strategies at once.
In this article, we'll take a look at 15 industry-leading practices to help you stand out from the competition and attract more customers.
Related: People Counters & People Counting: Everything You Need to Know
Why is social media important for retailers?
Social commerce – or the use of social media channels to complete e-commerce operations – is fast becoming the preferred method of consumers to shop online.
According to eMarketer's Social Commerce 2019 report, referrals from retailers' social media accounts to e-commerce sites grew by a staggering 110% from 2016 to 2018. The same report also reveals that the percentage of Internet users in the U.S. who bought an item online after seeing it on social media rose from 23% to 29% in just four months, from December 2018 to April 2019.
While consumers opt for social commerce due to its convenience, retail brands can utilize these burgeoning sales channels to gather more information than ever before about their customers and their purchasing habits.
Related: 15 Email Marketing Tips for Retailers to Increase Sales
By obtaining data on every touchpoint of a customer's journey from referral through checkout, retailers can improve their operations and ultimately increase sales.
Moreover, adopting the right social media tactics can help you build a dedicated fan base for your brand.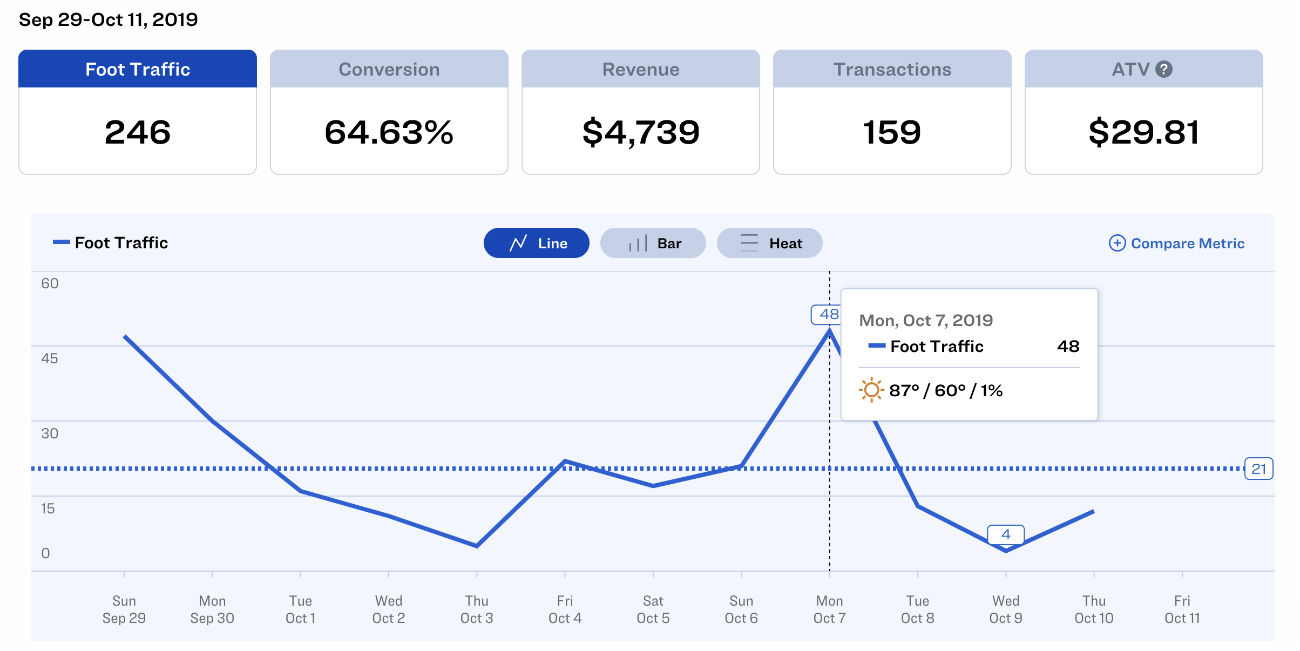 Click here to discover how your marketing efforts can increase your door traffic and how Dor can help you understand that data and other important metrics on a single screen.
What are the most important social media channels for retailers?
Since social commerce is about the customer journey, the ideal social media channel will vary according to your brand.
One of the first social media channels to come to mind is Facebook, and rightfully so – the social media giant offers a multi-functional platform where brands can promote their products through targeted ads and customers can easily ask their friends for product recommendations. What's more, retailers can use Facebook to interact with their consumers, as the platform allows users to leave reviews and ask questions directly to the brand.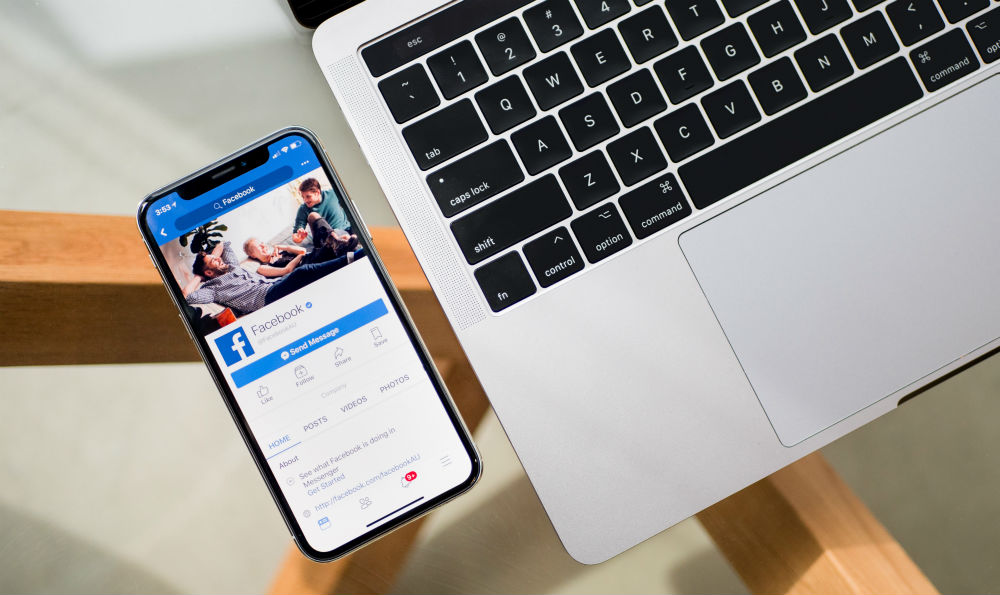 As important as Facebook is to retailers, Instagram is becoming an even more indispensable tool. In 2018, the platform first enabled its users to shop by clicking on an image and being redirected to a browser, and as of early 2019, users can complete checkout without leaving the app.
These new features have taken Instagram from a lifestyle-oriented visual marketing tool for younger audiences to a one-stop-shop for retailers to attract, entertain and sell to followers of all ages.
Social media channels that may not directly drive e-commerce are also important for retailers. Let's take a furniture store as an example. Although this particular retailer might make most of its online sales via Facebook and Instagram, the brand might still use Pinterest as a digital showroom of sorts, featuring images of its product portfolio with links to its own website.
Through its YouTube channel, the brand could share informative videos on topics like furniture assembly, interior design or even how to distress your own furniture at home.
Related: 15 Video Marketing Tips for Retailers to Increase Sales
Last but not least, the retailer could keep an active Twitter to announce last-minute sales or share furniture-related content with their followers.
The key here is to know your customer base and stay connected with them via their preferred social media channels.
15 social media marketing tips that will help you succeed
Here are the most important social media marketing tips and tactics for retailers that you can start trying today.
1. Keep all usernames the same
This may seem like a relatively simple tip, but with millions of existing users on any given social media channel, it may be easier said than done.
Keeping your usernames (or handles, as they're sometimes called) consistent across your social media channels will help avoid brand confusion and make your retailer's digital footprint appear more professional.
One retailer who does this particularly well is H&M, whose Facebook, Instagram, Twitter and Pinterest accounts all have the handle @hm.
If you haven't already done so, you should establish a clear handle for your brand and claim ownership of it before someone else does. If you find that your chosen handle is taken – or if you're starting a brand from scratch – you may want to consider the availability of your preferred username across all platforms before committing to a handle.
2. Ensure that your visual branding is consistent across platforms
Building and maintaining an intentional visual "language" for your retailer helps build brand recognition among your followers.
A great example to this is Toys "R" Us, whose Facebook, Instagram and Twitter accounts are all colorful and playful, evoking a childlike world of fun and play.
With a clear and consistent visual approach, you can subconsciously elicit your customers to trust your social media channels more – meaning they're more likely to make a purchase through your Instagram account if they can be assured it's actually your brand's account.
3. Adopt a distinct voice
Although this tip may not work for all retailers, if you've got a quirky shop or you operate in a niche industry, it just might be for you!
Adopting a distinct voice to use throughout your social channels will help you stand out from the crowd. Knowing your audience is key here – just look at what the fast-food chain Wendy's is doing with their Twitter account for inspiration on how to cater to a younger audience with a decidedly humorous voice.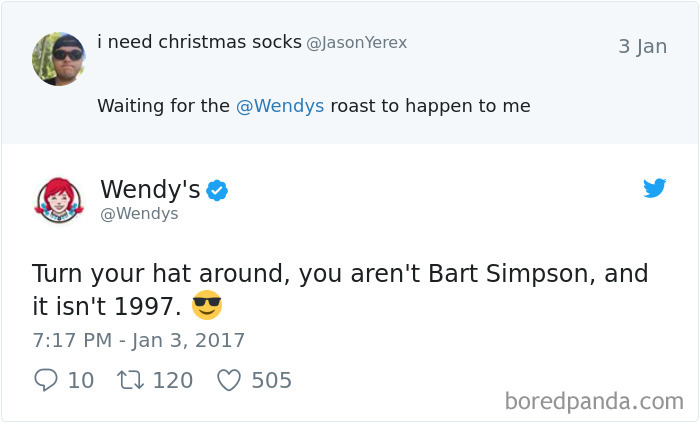 4. Schedule posts in advance
To keep up with the hectic pace of competition today, it's no wonder that many brands are opting to post on social media several times a day.
For retailers like the cosmetics brand Colourpop, that number jumps up to once every few hours – and when you factor in all the different channels where retailers are expected to be not only active but up-to-the-minute, it's no surprise that more brands are looking to automate their social media activities.
Whether you're a large retailer or a small boutique, one of the best investments you can make for your business is software that enables you to schedule your social media posts across multiple channels in advance – so you can make sure you're not missing out on valuable exposure.
5. Know that omnichannel is everything
Nowadays, it isn't enough to keep your verbiage and images consistent across your platforms – you must also offer your customers a seamless shopping experience whether they shop via social media, mobile web, desktop or a dedicated app.
Social media plays an integral role in this process, as it can be used to promote and sell just about any product or service your brand offers.
One retailer that has figured out how to do omnichannel shopping well is Sephora, as its local websites, social media accounts and mobile app integrate seamlessly to promote product launches and sales.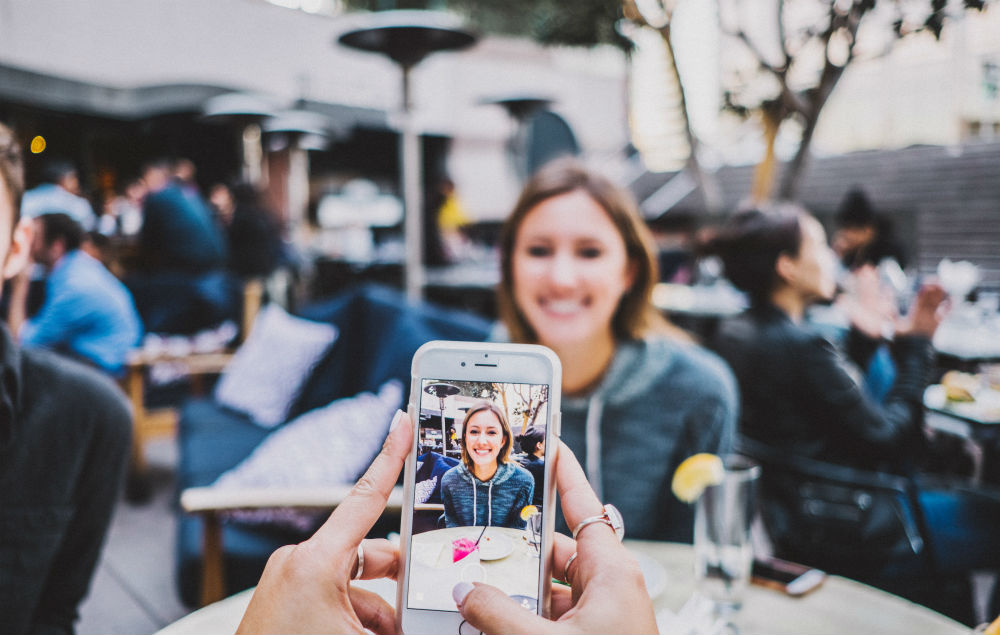 6. Cross-reference your social media accounts
If you're not quite at the omnichannel shopping level but you still want to take your customers from one channel to the next seamlessly, consider cross-linking your social media accounts.
Retail yogurt brand Chobani is a great example: A link on their Twitter account will take you to a website featuring images from their Instagram feed, each one leading to a product or recipe on their website, which can also be found on their Pinterest account.
By helping your customers access your content in various ways, you effectively envelop them in a world of your own curation – one where they're likely to be tempted to make a purchase.
7. Use social media to drive campaigns
Whether you're getting ready to offer a seasonal sale or launch a brand-new product, social media is a great tool for getting the word out.
One of the great advantages of online discount codes and promotional offers is that they can be shared by simply tapping a screen or clicking a button – helping you potentially increase visibility for your brand without much effort on your part.
Another way you can use your social media accounts effectively is to generate hype about product launches. Apple is one brand that does this well – although its social media presence is not as pronounced as other brands, Apple often publishes engaging and enticing content near product launch time to drum up interest.
8. Make use of retargeting ads
Retargeting ads are a great way to remind customers who recently visited your website about the specific products they browsed as well as general offers and deals.
Not only do dynamic retargeting ads help to lower cart abandonment rates by encouraging customers to revisit your website and complete their purchase, but these types of ads also serve to remind users about your brand's social media account, in case they were not aware you had one.
One brand that excels in using dynamic retargeting ads is online travel platform Expedia. Once you've visited the website and searched for a specific location on your browser, you can expect to come across sponsored ads for hotels in that area on your social media channels.
9. Use social media to receive feedback from customers
More and more brands are turning to social media to engage with their customers in ways that drive brand initiatives like launching new products and services. By tuning into what shoppers have to say about your brand and your products online, you can generate valuable data that helps you improve your products.
Another bonus to engaging with consumers on social media is that it gets them engaging with your brand on a personal level.
Take Lego for example – by encouraging their customers to share their own Lego creations with the #LEGO hashtag, they not only generate free publicity for the brand, but they also build a connection with customers vying to be featured on the brand's social media channels.
10. Perfect your customer service with social media
As retailers strive to succeed in an ever-more competitive marketplace, it's imperative that they pay the utmost attention to their customer service. Nowadays, more and more brands are opting to connect with their customers – both the disgruntled and the contented – via social media.
Not only can you reach people on an individual level, but utilizing social media also helps you assess brand sentiment at large. Nike's social media presence is a great example of best practices in customer service.
Of course, responding to every inquiry via social media might require more resources – like labor – than your retailer currently has. Thankfully, you can adopt solutions like Facebook auto-responder to give yourself some leeway in replying to your followers in a timely fashion.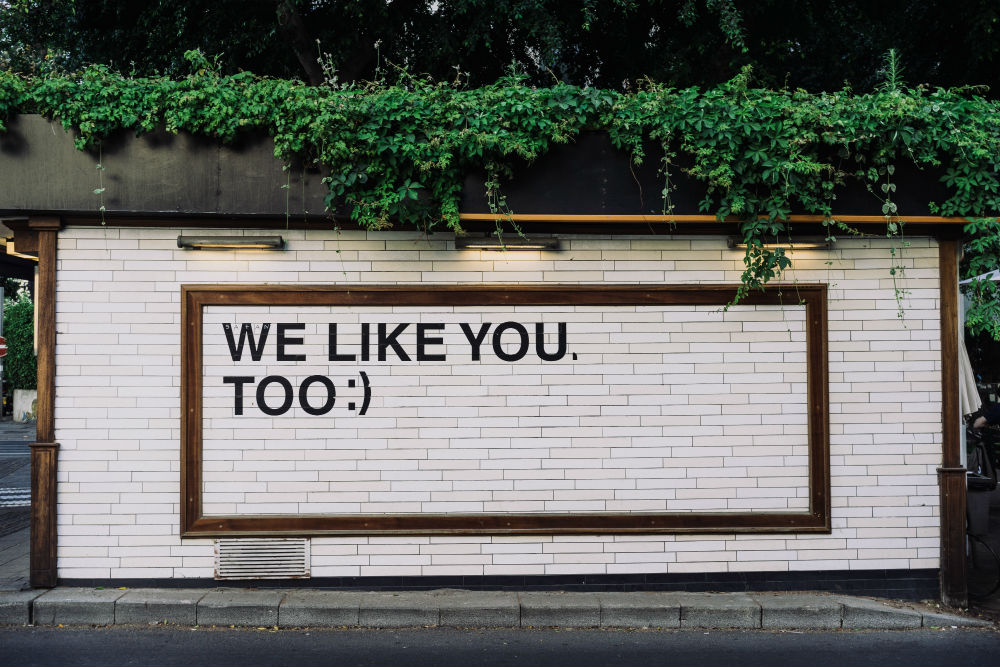 11. Showcase success stories
More and more brands are relying on user-generated content (or UGC, for short) to beef up their social media feeds.
By featuring customer reviews and images, brands not only generate free exposure, but they also give customers an incentive to review their products, as they hope to be featured on the brand's social media channels. U.S.-based cosmetics company Drunk Elephant does this quite effortlessly, featuring UGC by both celebrities and regular users alike.
If you'd like to encourage your customers to share their own content with your brand, it's a good idea to adopt branded hashtags and ask your customers to mention your brand in their social media channels. By incorporating this information on your merchandise or packaging, you can ensure that buyers know what to do.
12. Host giveaways
Everyone loves free stuff, so it should come as no surprise that social media users love giveaways.
The idea behind giveaways is rather simple: By having your existing followers tag other social media users to win a prize, you raise brand awareness and generate buzz around your products.
One brand that excels in this is The Body Shop, which frequently holds giveaway contests on its local Instagram accounts.
13. Channel the force of brand ambassadors & influencers
It's no secret that influencers loom large in the world of social media.
To generate more revenue for your brand, you could always follow Coca-Cola's example and team up with celebrities (or more attainable yet still well-known figures) to promote your brand.
14. Invest in educational or behind-the-scenes content
Not all content you provide to your followers on social media has to be directly promotional or sales-directed in nature. Sometimes, helping your customers understand a topic or providing them with instructional videos can go a long way in building brand loyalty.
Not only does offering this type of information readily set your brand up as an authority or thought leader on the subject, but this type of content also increases exposure for your brand, as it boosts your chances of being a featured result on search engines when people query for certain topics.
One brand that does this quite successfully is American retailer Lowe's, whose YouTube channel often features how-to videos and product promotions related to home improvement projects.
15. Highlight social good
Although this may not impact your sales as directly as social media marketing, highlighting the social contributions of your brand can go a long way in building brand loyalty among followers.
One of the best industry examples for this "do-good" effect comes from Toms shoes, who donate $1 for every $3 they make to humanitarian organizations. The brand frequently showcases the good work it does to more than 940,000 followers on Instagram via inspirational posts.
---
Hi there! If you liked this post, please feel free to share it on social media to help us reach out to more retailers like you. You can also leave a comment below and let us know if you have any questions!
---
Start counting your foot traffic now
Get data faster with the world's first thermal-sensing, battery-operated people counter
Get a Demo
Recommended Articles