The challenge of increasing foot traffic is something that virtually every retailer faces. And in today's increasingly competitive landscape where consumers have a ton of choices, it's more important than ever to come up with ways to get people walking through your doors.
The good news? There's no shortage of ideas for how to boost foot traffic in your location. In fact, in this post, we'll shed light on 40 things you can do to attract more customers to your store.
Check them out!
1. Set up a sandwich board
If you want to stop people in their tracks (literally), then a standalone sandwich board right outside your store could do the trick.
Sandwich boards are inexpensive (you can get one for less than 20 bucks) and they're easy to set-up. Place one right outside your store with a compelling offer or even just a witty statement. You're bound to attract eyeballs, and, in turn, visitors.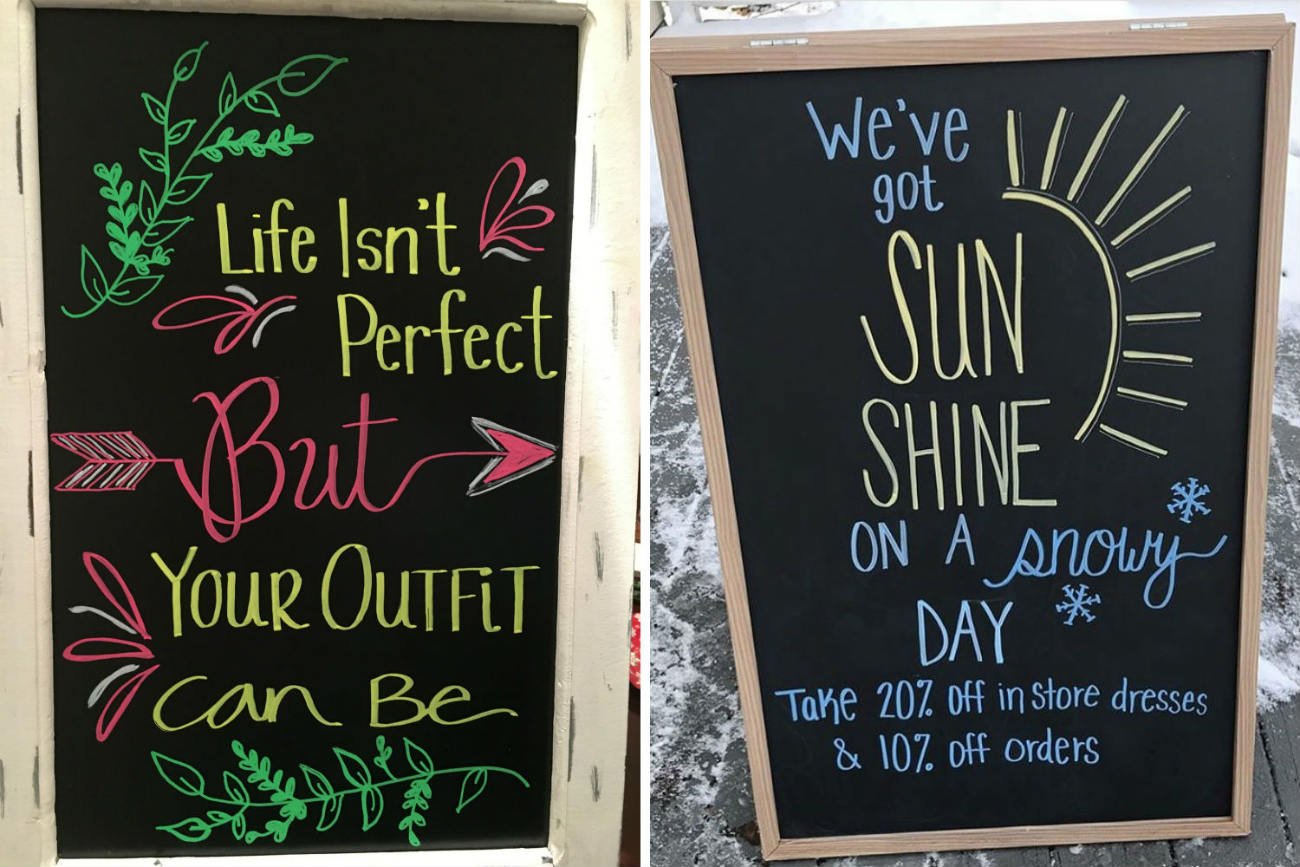 2. Invite an expert to your location
Team up with a prominent figure or expert in your industry and invite them to speak or present at your store.
Vroman's Bookstore in Pasadena, CA, for instance, regularly has authors speak and do book signings in its store. The practice enables Vroman's to tap into the authors' audience and helps put the bookstore in front of readers who may not have been familiar with the shop.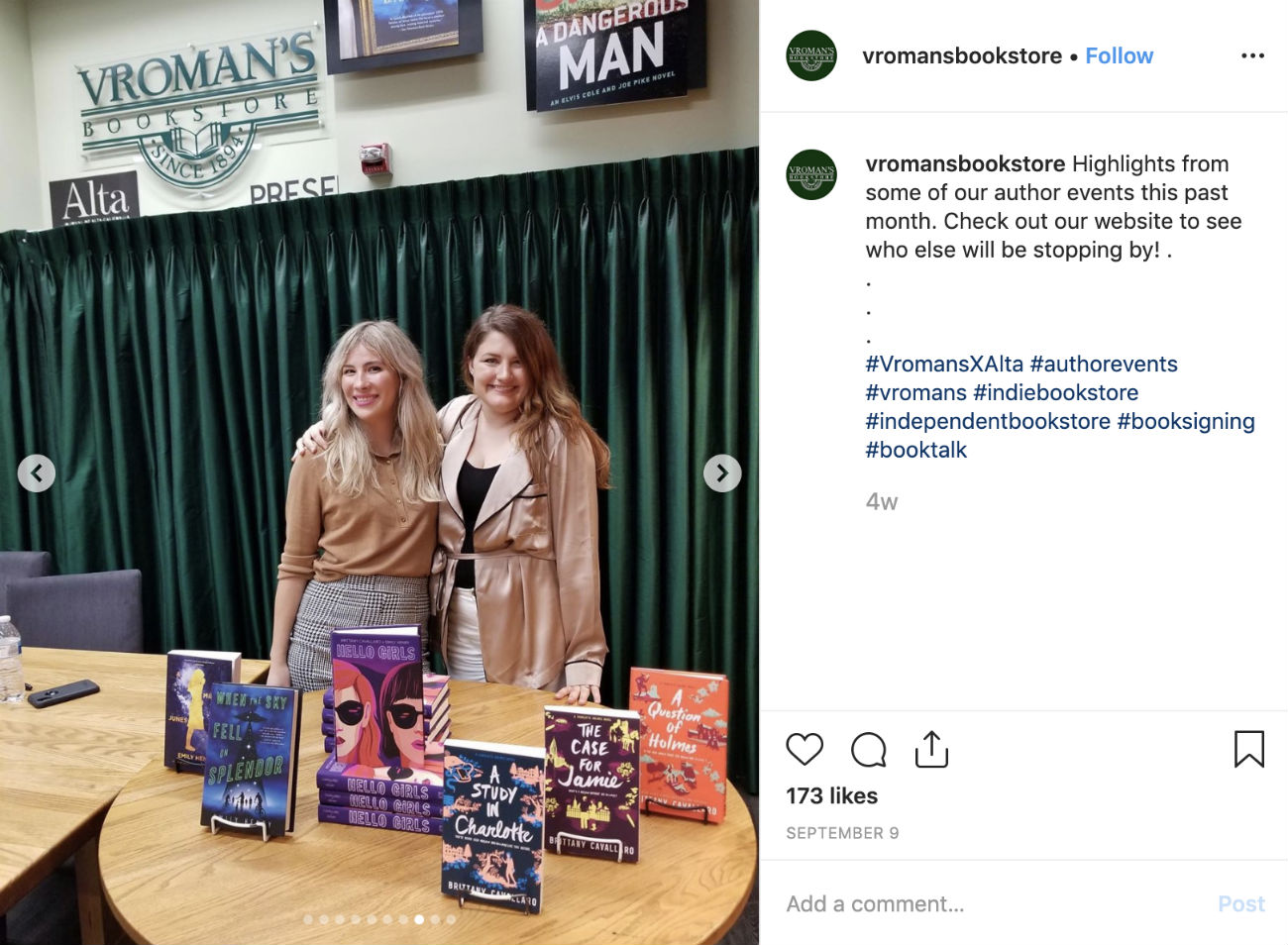 3. Have an influencer promote your location
Influencer marketing isn't only for e-commerce merchants who are looking to get more product reviews on social media.
As a brick-and-mortar store, you too can leverage the power of influencers by inviting them into your shop. Show them around, offer them product or service samples, and give them LOTS of opportunities to take photos.
One brand that did this well is the skincare company Caudalie, which invited the micro-influencer @skinandkisses to one of its locations: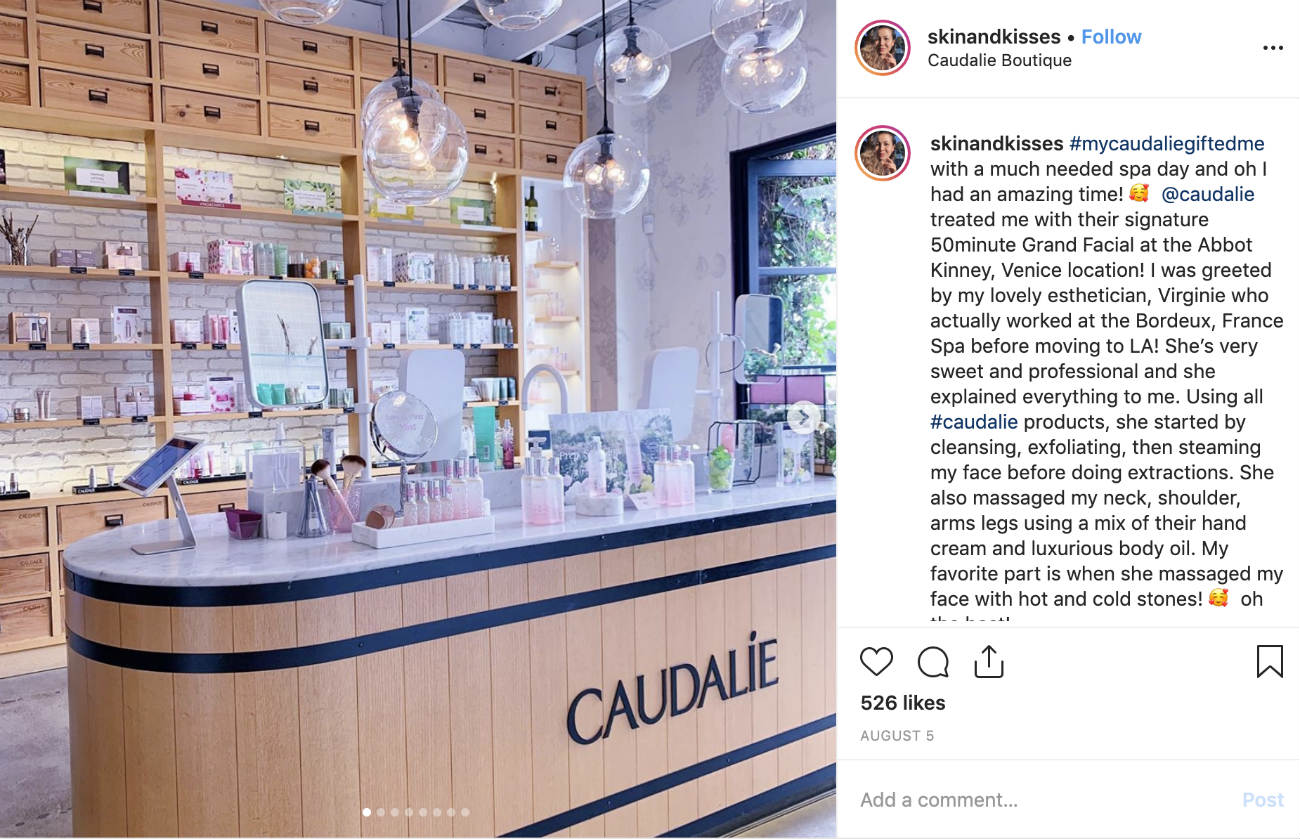 4. Use retail analytics
You can't improve what you don't measure.
The best way to boost your retail marketing and traffic-generation efforts is to measure the performance of your campaigns.
Accomplishing this starts with implementing retail analytics and counting traffic. For instance, if you set up a new window display or promotion, you can measure the lift (or decline) in foot traffic that your efforts generated.
Retail analytics also make it easy to understand traffic patterns in your store. You can glean insights into your peak hours then craft retail marketing campaigns accordingly.
So, do your business a favor and arm yourself with a robust retail analytics solution. Consider Dor, which enables you to count your foot traffic so you can measure your store's performance and make smarter marketing decisions.
You can deploy Dor across your stores quickly and efficiently. The device ships in days, and you can install the sensors yourself.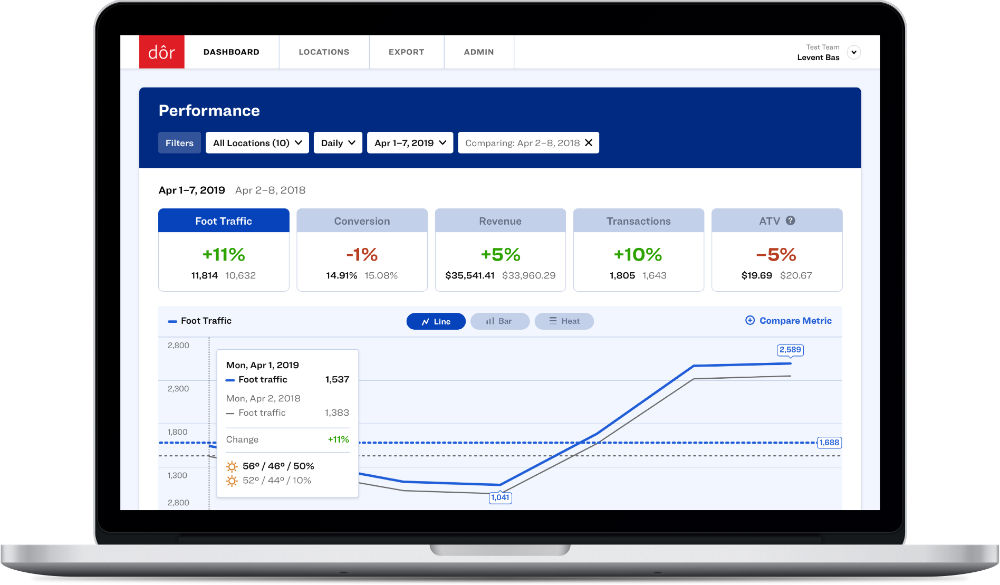 Click here to learn how our foot traffic analytics solutions can take your marketing and operations to the next level!
Ready to purchase? Complete your purchase in just minutes!
5. Beef up your Google My Business listing
Fact: Google can help drive in-store traffic.
Industry data shows that 46% of all searches on the site have local intent and Google itself saw a 500% growth in "near me" searches that contain variations of "can I buy" or "to buy."
It gets better.
According to the search giant, 88% of people who run a local search on their smartphone visit a related store within a week.
These numbers tell us that more and more consumers are using Google to find local stores in their area. So, if your business isn't visible on the site, you're missing out on foot traffic opportunities.
Fortunately, it's easy to increase your Google presence.
If you haven't done so yet, set up a Google My Business profile and create your listing. Be sure to add as many details about your business as possible — including your address, phone number, hours of operation, special features, and more. And don't forget to add pictures! The richer and more attractive your GMB profile is, the higher the chances that people would notice it.
Need a retailer to show you how it's done? Have a look at Pavilion Broadway, a luxury furniture store in the UK.
In addition to having a completed Google profile, Pavilion Broadway also uploaded a handful of photos and even collected several customer reviews.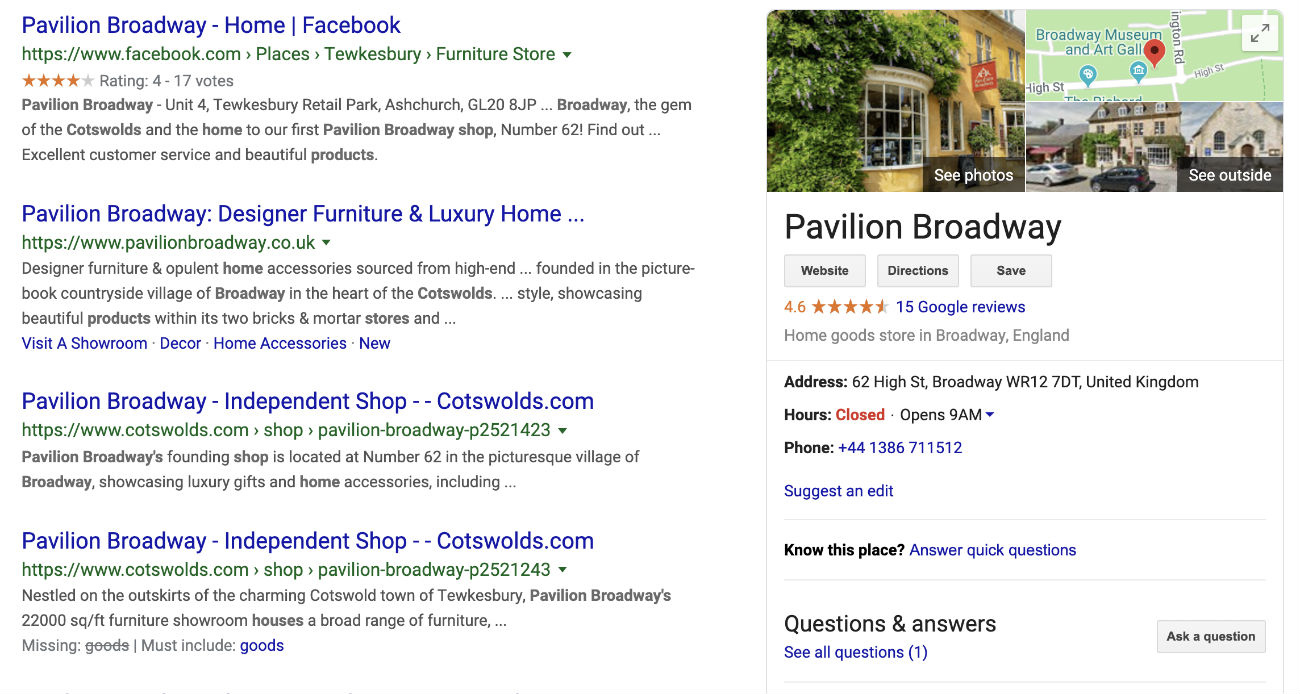 6. Create photo opportunities
Modern consumers — younger ones in particular — will go to great lengths to "do it for the 'gram." As such, one way to attract them is to set up photo opportunities in your location. Create an Instagram wall or dedicate a nook or corner in your store for taking pictures.
Doing so creates a two-fold benefit: you'll attract people who want to take in-store photos and you'll increase your social visibility thanks to all posts your guests share online.
The ice cream shop Cauldron does a killer job at this. Aside from creating beautiful ice cream cones, Cauldron has an Instagram wall in its stores to encourage customers to take pictures.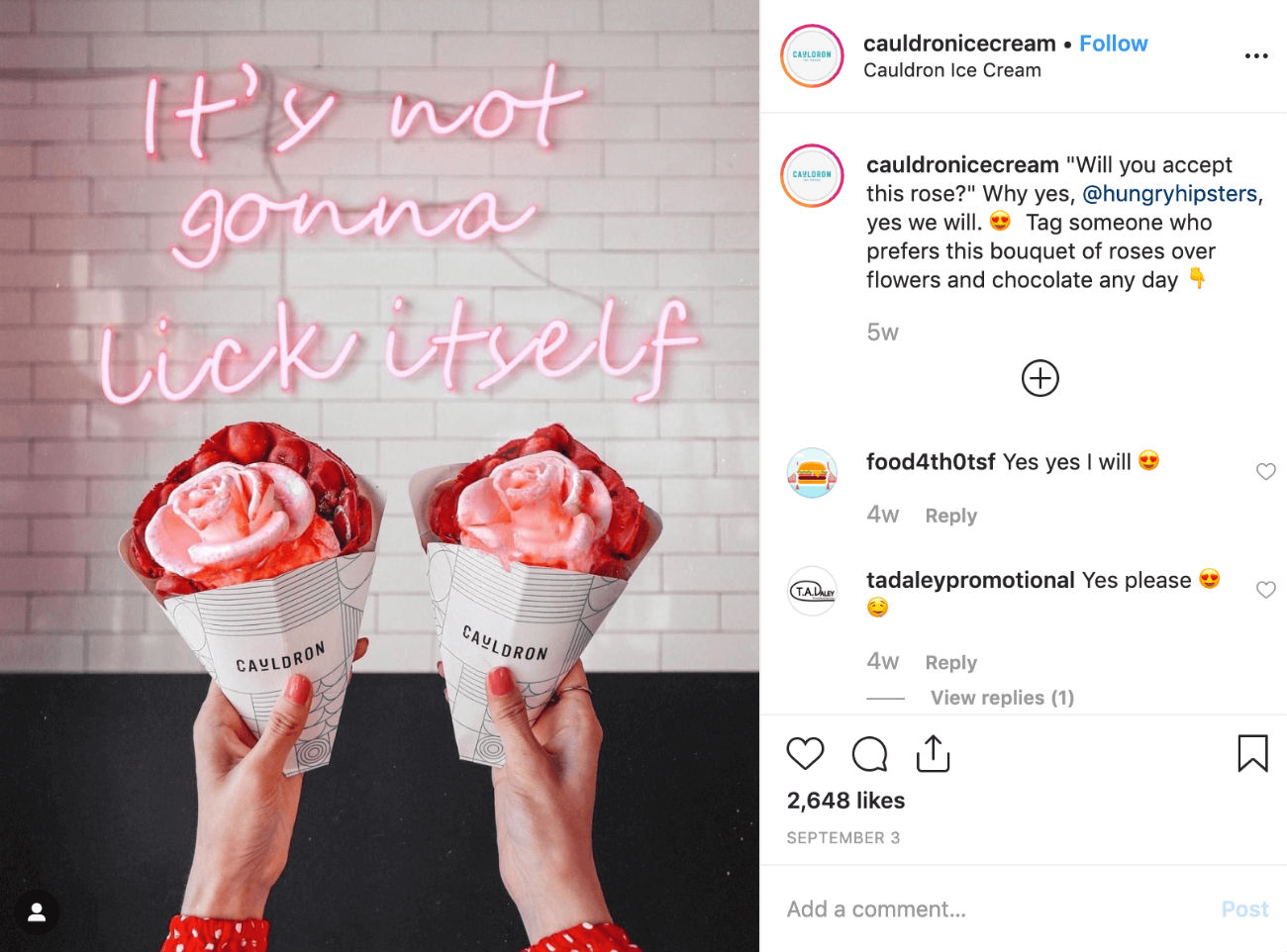 7. Set up enticing window displays
No conversation about retail foot traffic would be complete without talking about window displays. Your windows heavily impact people's decision to walk into your store, so you want to make sure they're a hit.
Each store is different, so we can't give any specific tips that would work for everyone. But here are some general best practices:
Put key merchandise at eye level. Remember, "eye level is buy level." Research shows that merchandise placed 4 to 5 feet from the ground receive 35% more attention.
Have just the right amount of space between products and fixtures. Space conveys value in retail. The more open space you have, the higher the perceived value of your merchandise. So, if you're a high-end retailer, make sure to have a lot of space between products. If you're a bargain store, then you don't have to space out different items as much.
Update your windows regularly. Don't let your displays go stale. Update them at least every two weeks (more often if it's the holiday season) to always give people something new to look at.  
8. Keep your in-store merchandising fresh and updated
Speaking of keeping things updated, do the same thing for the inside of your shop. Having the right external elements can attract new visitors, but if you want to keep driving traffic, your store needs to feel fresh and updated.
Regularly bring out new merchandise and rotate your displays around the store. Mix things up to ensure that there's something new to see in your location.
9. Have something seasonal in-store
It also helps keep your store in line with the seasons. People shop for different things, depending on the time of year. If you want to attract seasonal traffic, your store should carry items that are relevant to the needs of shoppers.
If it's the holiday season, stock up on gift items. Is Halloween right around the corner? Consider selling candy or spooky decor. Whatever the case, pay attention to what's going on year-round then adapt.
10. Optimize staff scheduling
Your employees play a key role both in converting visitors into paying customers AND in getting those shoppers to come back. That's why it's essential to keep your store adequately staffed. See to it that you always have enough employees on the sales floor, so no shopper feels neglected.
The best way to accomplish this is to use a foot traffic analytics solution like Dor to ascertain the peaks and valleys of your foot traffic. Once you're aware of your store's busiest hours, you can schedule shifts accordingly.
Click here to learn how our foot traffic analytics solutions can take your marketing and operations to the next level!
11. Level up your customer service
Still, on the topic of retail staffing, it's not enough to have the right number of employees in the store. You should also ensure that your team members wow every customer who walks in.
Strive to build up a reputation for providing excellent customer service. Doing so increases customer loyalty and drives positive word of mouth — both of which can boost foot traffic.
Stacy Tuschl, the founder of the Foot Traffic Formula and host of the Foot Traffic Podcast, emphasizes the importance of customer service in driving in-store visits.
One of her top examples of a retailer that does this well is Nordstrom, which is "doing a really good job of getting people in the door and creating loyal customers."
"They created a store that is centered around customer service. You will never see a Nordstrom associate point or tell you where something is. They go that extra mile to guide you to where you want to go or make sure to ask what you are looking for," she explains.
12. Offer click and collect
If you have an e-commerce site, give people the option to pick up their purchases. This is one of the easiest ways to drive in-store traffic.
Even better, you can even increase sales while you're at it.
According to the ICSC, 69% of shoppers who use buy online pick up in-store made additional purchases when they visited the retailer.
13. Hold in-store classes
In-store classes are a great way to attract visitors and build stronger customer relationships in the process. Find a topic that's relevant to your niche and offer free learning sessions.
Many retailers are already implementing this.
Sephora has beauty-centric classes that cover everything from makeup 101 to skincare.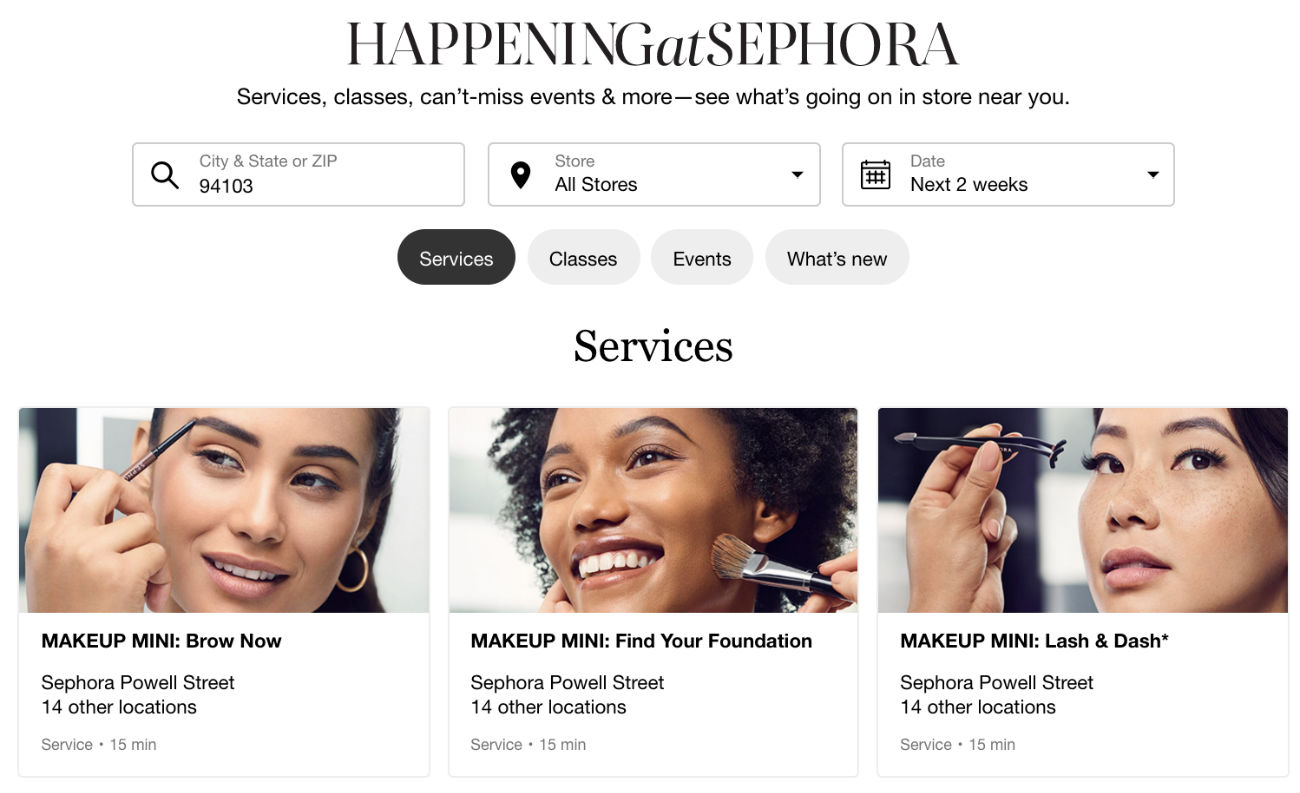 Total Wine & More, on the other hand, holds regular classes on various types of beverages.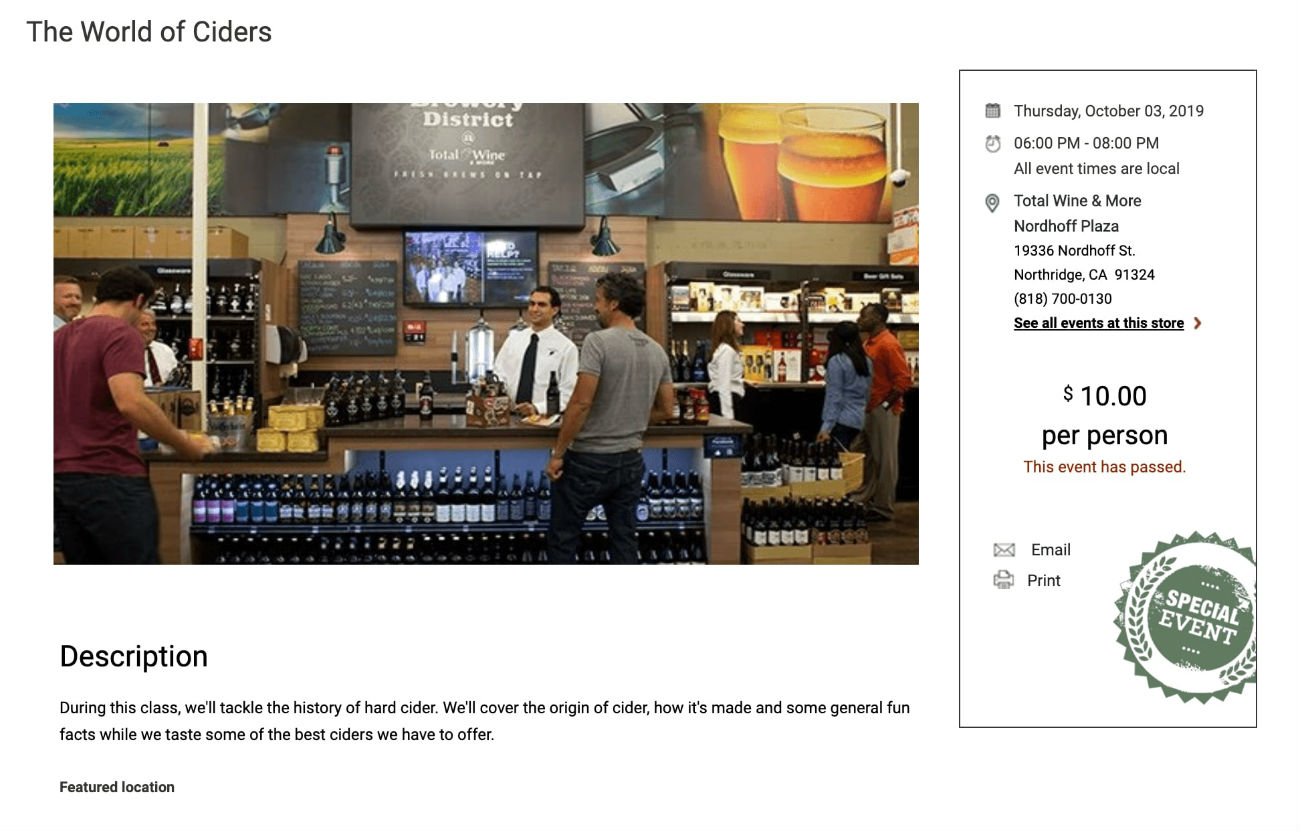 Take a leaf out of their playbooks and see if in-store classes work for you.
14. Keep your existing customers coming back
Getting new people into your store is exciting, but don't forget about your existing customers. Nurture your relationships with people who've purchased from you in the past, so you can drive repeat visits. Stay top of mind by keeping in touch via email and by offering customer-exclusive offers.
Take Target, which emails customers on a weekly basis with information about deals, new arrivals, promotions, and more.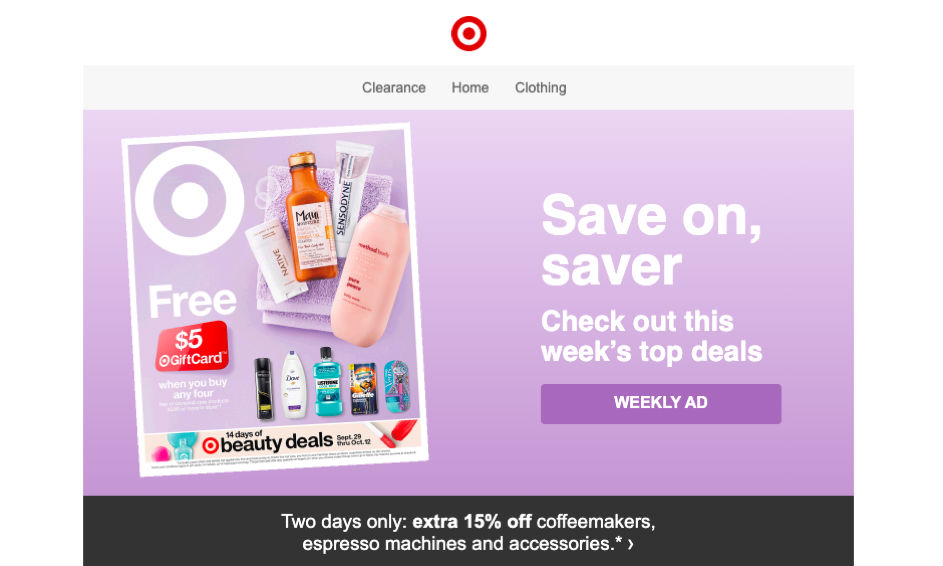 15. Advertise your store and products
Advertising is one of the oldest tricks in the book, but it works. And the beauty of living in today's digital age is that robust advertising solutions are more accessible than ever.
Both Facebook and Google offer excellent audience targeting capabilities that let you get in front of people from specific locations and fall into certain demographics. Use these tools in your advertising efforts to put your store on the radar of potential customers.
For instance, when Rivet, a furniture brand by Amazon, launched a pop-up store in Los Angeles, the company ran Facebook ads geared towards Southern California residents inviting them to check out the space.
16. Get yourself some media coverage
Reach out to journalists who cover your industry and see if they'd be willing to feature your store. Journalists and bloggers are always looking for interesting stories and sources, so if you can come up with a unique angle or if you position yourself as an expert, you stand a good chance of getting noticed.
How do you find media opportunities?
Use a service like HARO (short for Help a Reporter Out) to connect with members of the media who are looking for sources for their articles. You can also pitch a story by personally reaching out to people who are writing about your industry.
17. Encourage customers to talk up your brand
Word of mouth can help you boost foot traffic.
In addition to building up a great reputation (which we talked about earlier), you can increase positive word of mouth by actively encouraging customers to talk up your brand. Literally ask your customers to tell their friends about your store. This works particularly well if you're running a special offer.
Related: 15 Social Media Marketing Tips for Retailers to Increase Sales
If you want a more subtle approach, you can encourage social media shares by sticking hashtag stickers in certain parts of your store.
Vroman's Bookstore, once again, excels at this. The bookstore's restroom mirror has stickers with the words #lookinggood and the store's Instagram handle (@vromansbookstore) — both of which subtly encourage people to snap pictures and get them talking about the brand on social media.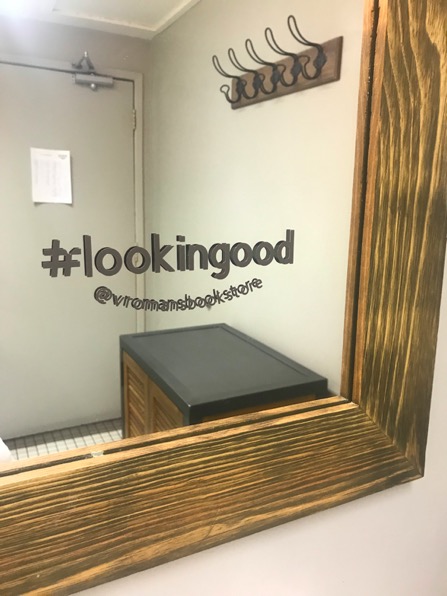 18. Pay attention to weather data
The weather can influence people's shopping behaviors. It can affect what shoppers are in the mood for and can even impact their decisions on which stores to visit.
As such, it's important to determine how weather changes affect your foot traffic. Let's say your visitor count decreases on colder days. Having that knowledge will help you to proactively come up with ways to get people to come out when temperatures drop.
Related: 7 Factors That Affect Foot Traffic for Retailers
So, how do you glean these insights?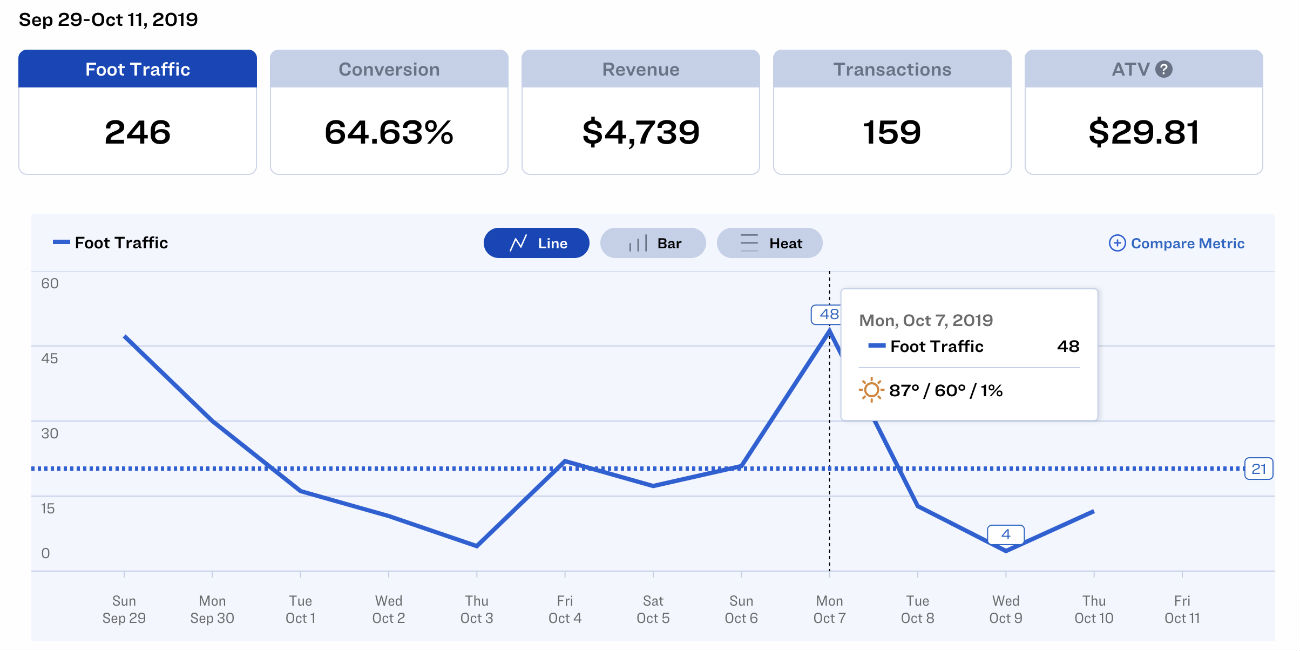 Answer: use a retail analytics platform that factors in the weather. Consider Dor, which delivers real-time weather analytics. Dor helps you understand how the weather affects your foot traffic.
This, in turn, enables you to anticipate visitor fluctuations and shopper needs, so you can run better promotions and make appropriate staffing decisions.
Click here to learn how our foot traffic analytics solutions can take your marketing and operations to the next level!
19. Encourage shoppers to bring a friend
Another idea to get more people through your doors?
Encourage your existing customers to bring a friend or two. You can even make a promotion out of it, like what Almawi did when it gave a 20% discount to their customers who brought along a friend to their trip to the store.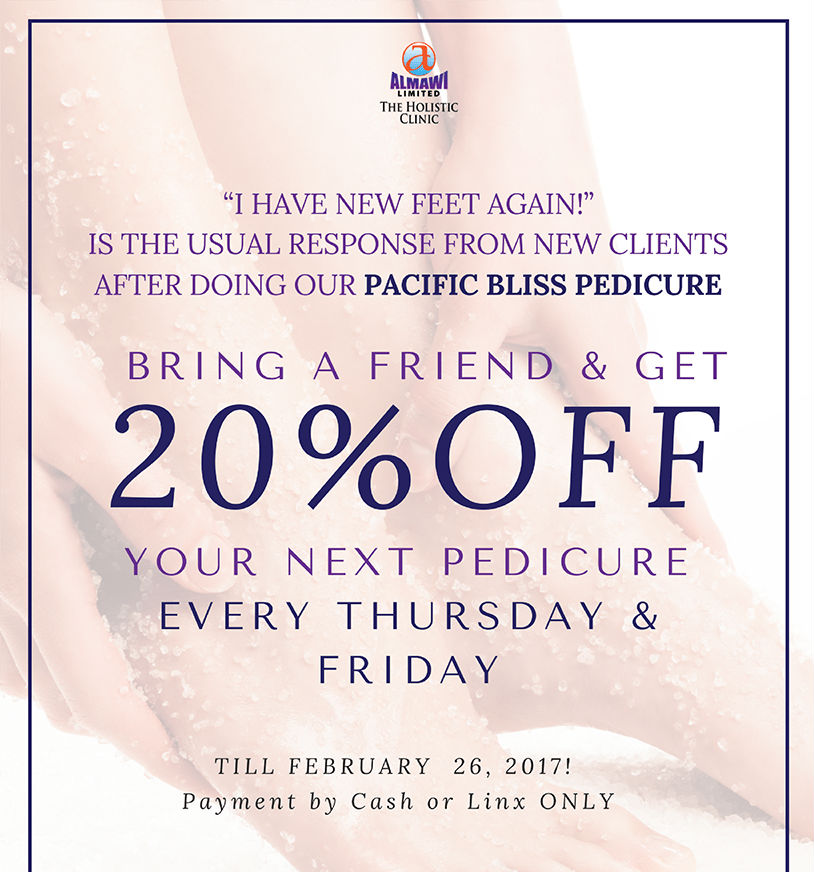 20. Offer convenient in-store services
We live in an age when people can buy nearly anything they want using their phone or computer. So, if you want shoppers to stop by, you need to offer something beyond "stuff."
One idea is to provide services.
"From my experience at Camera House, the best way to increase foot traffic into a store was to increase value-driven services," shares Simon Hornstra, the territory manager at Pelican Products, Inc.
"We had photo printing, passport photos, trade-in deals for your old camera and great work culture of fun and value that drove the funnel into camera sales. Once someone wanted to buy a camera, I had a list of 40+ different accessories to increase value to the customer and make their photography journey more exciting, fulfilling and get the results they were looking for. This, in turn, brought more referrals from a more fulfilling purchasing experience."
Try to do something similar in your business. Come up with relevant services that you can offer shoppers to encourage them to pay you a visit.
21. Keep the in-store experience on point
Brandon Rael, the director of retail performance improvement at Alvarez & Marsal, said it best: "Boring brick and mortar is a dying breed. However, experiential retail, where the retailers and brands are using the physical space as a way to connect, engage and educate will do quite well."
Indeed, if you want to connect with your customers — and increase traffic in the process — you need to offer compelling in-store experiences.
The right "experience" varies, depending on the store. Some retailers, such as TJMaxx and Ross, thrive on "treasure hunt" experiences which encourage people to discover limited deals and products.
Other stores create large attractions that immerse people in their brand stories (the flagship stores of global brands like Nike come to mind).
Meanwhile, other retailers offer convenience so people can get in and out of the store as quickly as possible.
The key is to find the experience that works for your retail store and execute it well.
22. Have an active social media presence
Seventy-six percent of consumers buy products they discover on social media. Sites and apps like Facebook and Instagram can effectively put your merchandise — and store — in front of your target audience.
Identify the social networks that your customers are using and maintain an active presence on those sites or apps. For best results, mix up your content by publishing multiple types of posts (a mix of memes, promotions, customer features, etc.) and by varying the content format (video, images, text).
Pro tip: Tag your location to give people a subtle reminder to check out your store.
Take a look at Gums Mall of Antiques in Hawaiian Gardens, CA. The Gums team regularly publishes new content on Instagram, and whenever they do, they make it a point to tag their location.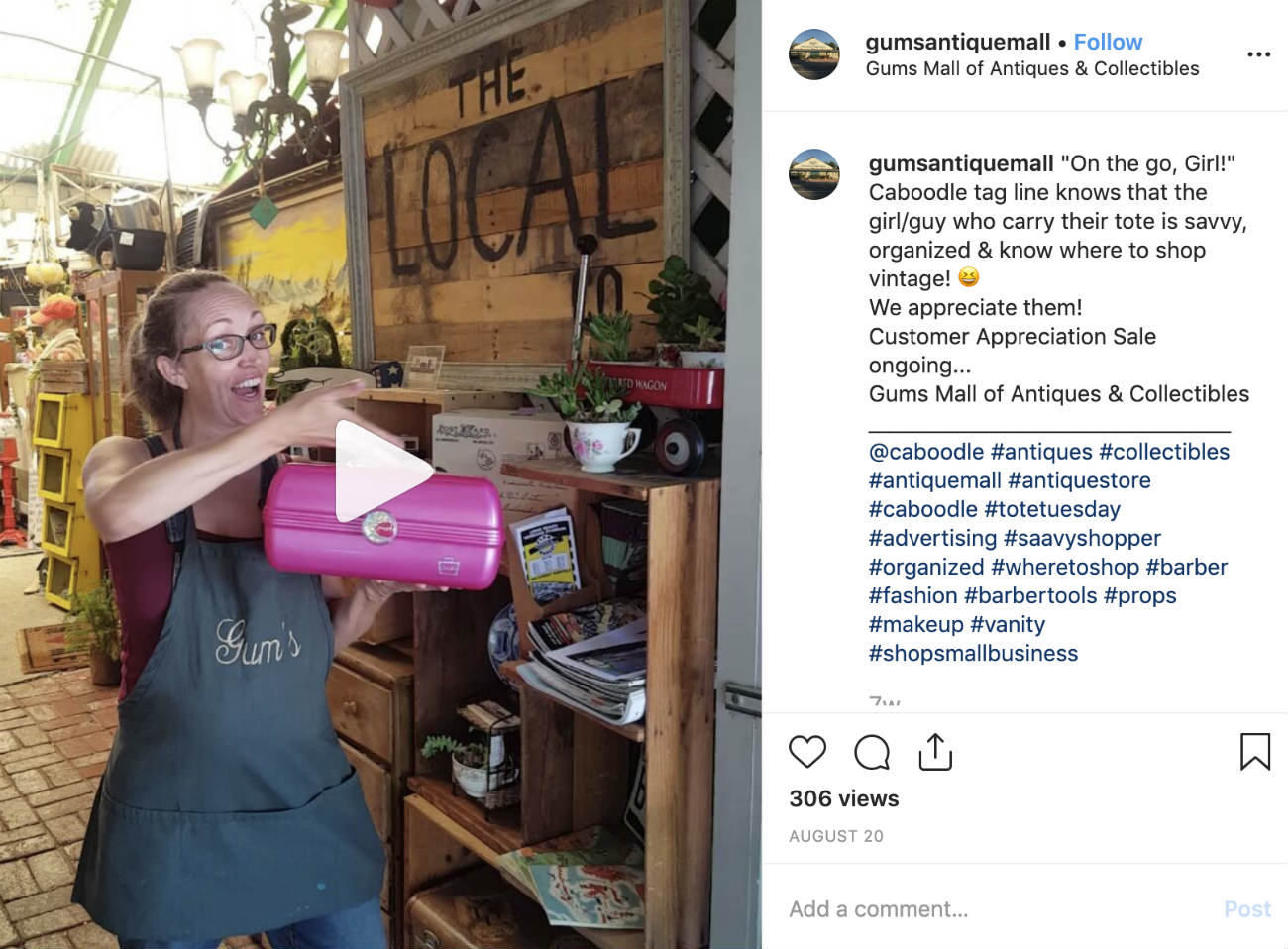 23. Improve your presence in the local community
The best people to market to are those who live right in your neighborhood. Get in front of the locals by being more active in the community. Support your neighborhood organizations or sponsor community events.
Here's an example from Wisecuts Babershop, which sponsored a local high school event.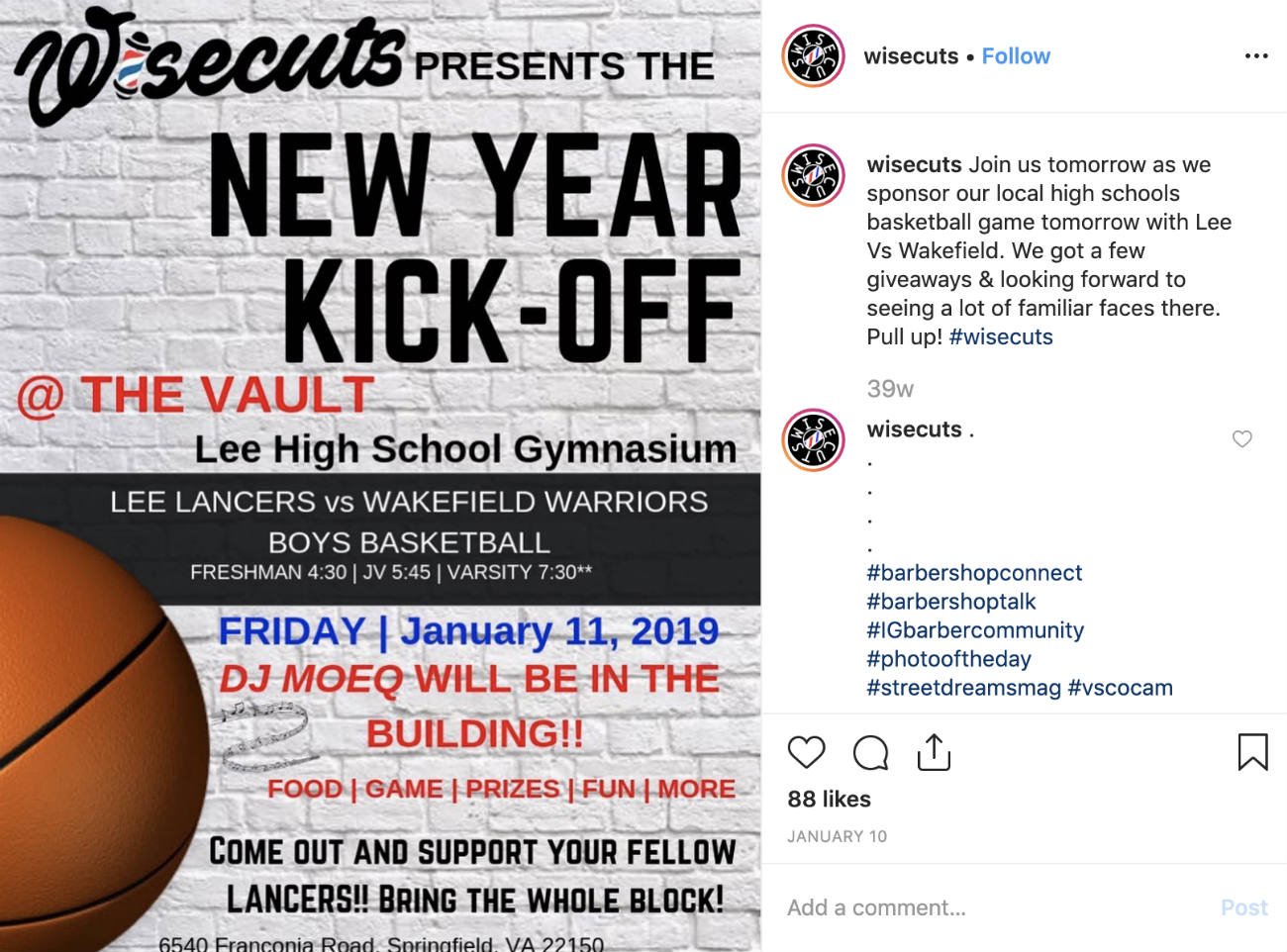 24. Invest in visible signage
Highly visible signage can do wonders for your in-store traffic. Step outside your store and evaluate your store's signage. Is it visible from 10, 20, or even 30 feet? Is it recognizable from across the street? Can people see it at night?
If you answered "no" to these questions, you may want to revamp your signage. There aren't any hard and fast rules for this, as the type, size, and material you use for your signs will depend on the type of store you have, the shopping center that you're in, and even your local zoning laws.
Whatever the case, investing in high-quality and high-visibility signage will drive more traffic.
25. In-store only promotions
"One of the most effective ways to increase foot traffic into your retail store is to offer exclusive promotions that can only be redeemed in-store," says Lizzie Dunn, a content associate at Fundera.
"With the rise of e-commerce, email marketing, and frequent coupon-coding, shoppers expect to receive similar discounts and savings across all experiences. An omnichannel approach to this is announcing, promoting, and sharing these deals in-store to your website, social media channels, print, and other promotional collateral," she continues.
26. Offer a discount on their next visit
An effective way to encourage repeat visits is to give shoppers an offer they can redeem on their next purchase.
One retailer that does this is Target.
Many Target stores give out $5 and $10 gift cards if you spend a certain amount on select products. But these gift cards are only activated after the checkout process, which means customers can redeem it on a future purchase.
Knowing that a discount is waiting for them at the next store visit is enough to prod people to come back!
27. Maintain your storefront
It doesn't matter how great your merchandise is, if your storefront looks dirty or unkempt, people won't be enticed to come in.
Keep your storefront well-cared for. Have a checklist of daily and weekly maintenance tasks. Items could include shining your glass windows, sweeping up your curbside, wiping down walls, etc.
Keep that list visible in the staff room and instruct your associates to perform the tasks every morning. These jobs don't take a ton of effort, but they can go a long way in keeping your storefront attractive.
28. Set up displays that people don't see every day
Sometimes, a unique gimmick could be just the thing to get people walking into your store. Cook up an interesting display — something that people don't see every day — and bring it to life either in your windows or outside your store.
Check out what Kate Spade did a while back when the company brought real -waiting to be adopted- cats to help promote its pop-up store.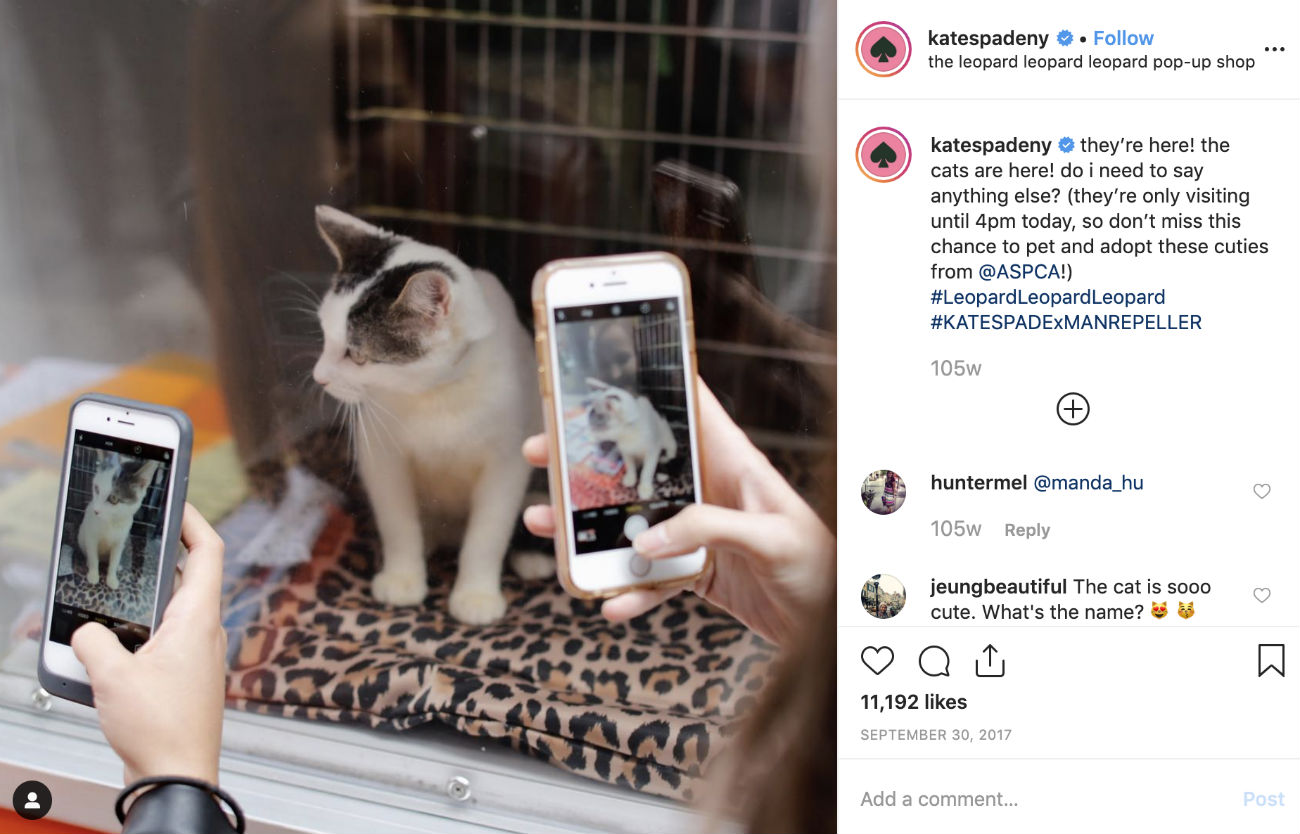 29. Use your website to encourage in-store visits
While your e-commerce site's primary focus is to drive online sales, you can also use it to market your brick-and-mortar location.
For inspiration, take a look at We Built This City, a London-based store that sells the works of local artists. On its homepage, WBTC has a banner promoting its new store arrivals.

30. Keep up with pop culture
If it makes sense for your business, incorporate elements of pop culture into your store. Find a popular trend or a hot topic among consumers and leverage it in your marketing.
Remember when people couldn't get enough of Game of Thrones?
The jewelry retailer Alex and Ani capitalized on GOT by having a special jewelry line for the show. And to promote it in-store, Alex and Ani set-up a GOT-themed window display plus outdoor signage inviting people to check out the products.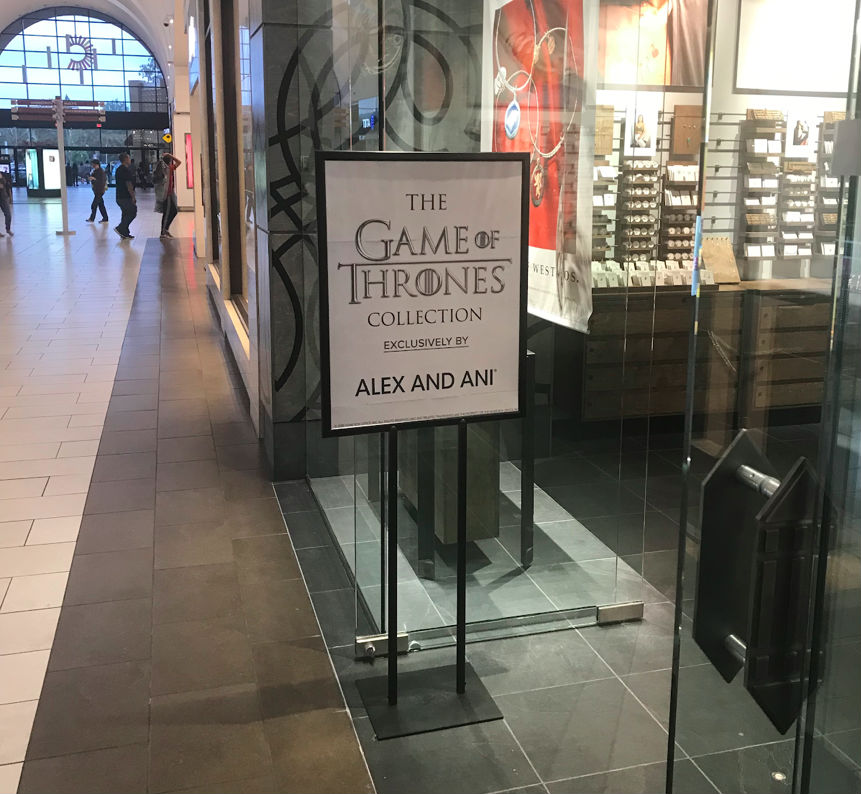 31. Revamp your storefront
Sometimes, you have to go beyond basic maintenance. If your storefront is looking a bit dated, it may be time to give it a revamp.
"Give your exterior a facelift," advises Meaghan Brophy, a retail analyst at Fit Small Business. "Pedestrians have to know that your store is there in order to walk inside."
Brophy recommends taking "a hard look at your store's exterior" and asking yourself if it stands out from other stores and businesses in the area. If the answer is no, then take the necessary steps to improve it.
32. Make it easy for customers to get to your store
Make your store as easy to get to as possible. While this largely depends on where you're located (e.g., strip mall vs. neighborhood street), try to find ways to improve accessibility.
Can you reserve a few parking spots outside your shop, so people don't have to walk? Does it make sense to unlock the rear door and use it as a second entrance? Identify points of inconvenience around your store then come up with ways to eliminate them.
33. Ask your customers what would get them through your doors
It's fine to brainstorm marketing ideas and campaigns with your team, but don't forget to seek the input of the most important people in your business: your customers.
As Chuck Gorman, an independent corporate executive strategy consultant puts it, you shouldn't assume who your customers are. He points out that retailers should "be engaged in interacting with them both on their visits and digitally."
"Continually revisit your assumptions and make sure they are correct," he adds. "By doing that you can make sure that you are creating the experience that resonates with them and will drive return or new customer visits."
34. Have the right products at the right time
People will be more likely to visit your shop if you offer products they want and need at the right time. That's why you need to keep your inventory on point.
Adopt a modern stock control system that lets you track sales and product movements. Get insights into your top sellers and slow-movers and then make forecasting and buying decisions based on that data.
35. Host in-store events
"I think one of the best ways [for retailers] to drive foot traffic is to host in-store events that resonate with their target customer," says Lauren Goldberg, a principal and marketing consultant at LSG Marketing Solutions.
"Give people a reason to walk through your door besides shopping. Be it a charity event, an activity or something educational, if done right, events can drive traffic that day and back again."
Goldberg also mentions retailers that are doing a great job with events.
"Some examples of retailers who are doing it well include Menchie's (just went to a school fundraiser last night and it was packed!), Barnes and Noble (Saturday storytime), [and] Home Depot's DIY clinics."
36. Leverage mobile
Do you collect your customers' mobile numbers? If so, put that information to good use — with their permission of course.
Text shoppers who haven't stopped by in a while and let them know you miss them. While you're at it, why not throw in a special promotion to really get their attention?
Here's an excellent example from Kape Republik: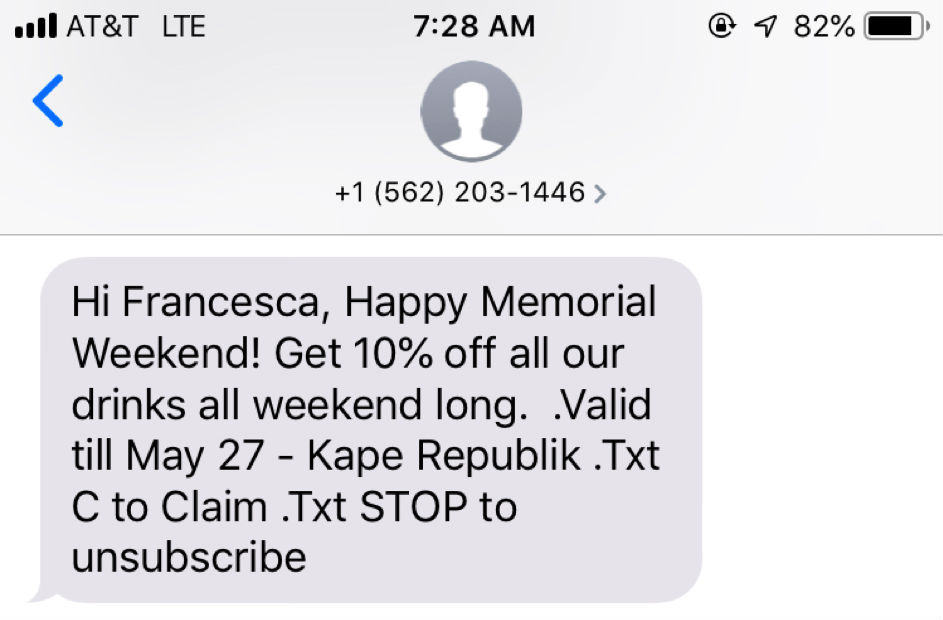 37. Take care of your customers' companions
Imagine you're a mom with kids walking through the mall and trying to decide where to shop. Would you rather walk into a cramped store with no seating or space for a stroller? Or would you choose a welcoming retail shop with ample space and entertainment for the kids?
We're willing to bet you'd pick the latter.
When looking to attract your target customers, you also have to consider the people they're with. Are they usually with their significant other? With their kids? Your customers' companions can influence their shopping decisions, so be considerate and find ways to cater to their needs.
Set up couches where the significant others can hang out. If you're dealing with parents, create a kids area in-store.
One retailer that does this, according to Tuschl, is Festival Foods in Wisconsin. "It created a tot spot: a place where moms can shop while the kids play with a free babysitter on-site," she shares.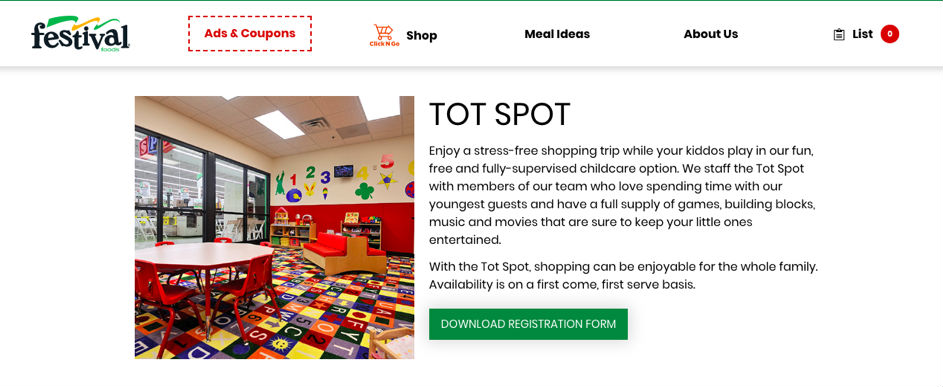 38. Partner with other brands
Two heads are better than one, even in retail. If you're struggling to drive in-store traffic, join forces with another business and find ways to collaborate. You could co-host events or do joint promotions.
Or you could keep things easy by simply mentioning each other on social media. Check out this example, in which B Fit Meals, a healthy planning service, gave a shout-out to Circle Nutrition Center (another local business) on Instagram: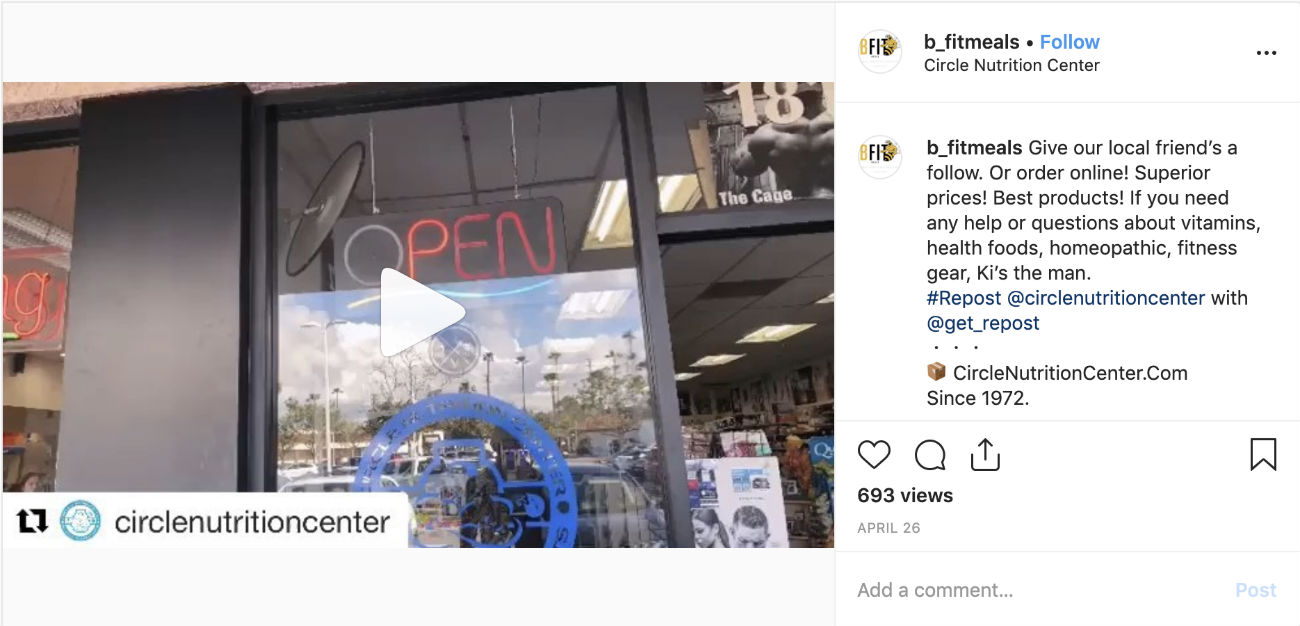 39. Provide digital amenities
Free WIFI and charging stations can also attract people into your location. For modern consumers, the lure of these digital amenities is hard to resist, so consider offering them in-store.
You might be wondering: won't you attract people who are only there for the free services?
Sure, you will. But you'll also attract shoppers who wouldn't have walked in otherwise. And some of them could end up making a purchase.
40. Optimize your conversion rate
All your investments in foot traffic will go to waste if you don't convert your visitors into paying customers. So, for our final tip, we want to emphasize the importance of optimizing your conversation rate.
After all, when it comes to retail success, foot traffic and conversions go hand-in-hand.
Related: 15 Key Metrics (KPIs) to Measure Retail Store Performance
The first step to improving your conversion rate is to measure it. Hook up your foot traffic counter to your point of sale system so you can measure how many visitors ended up making a purchase. From there, you can dig into the data and find ways to improve it.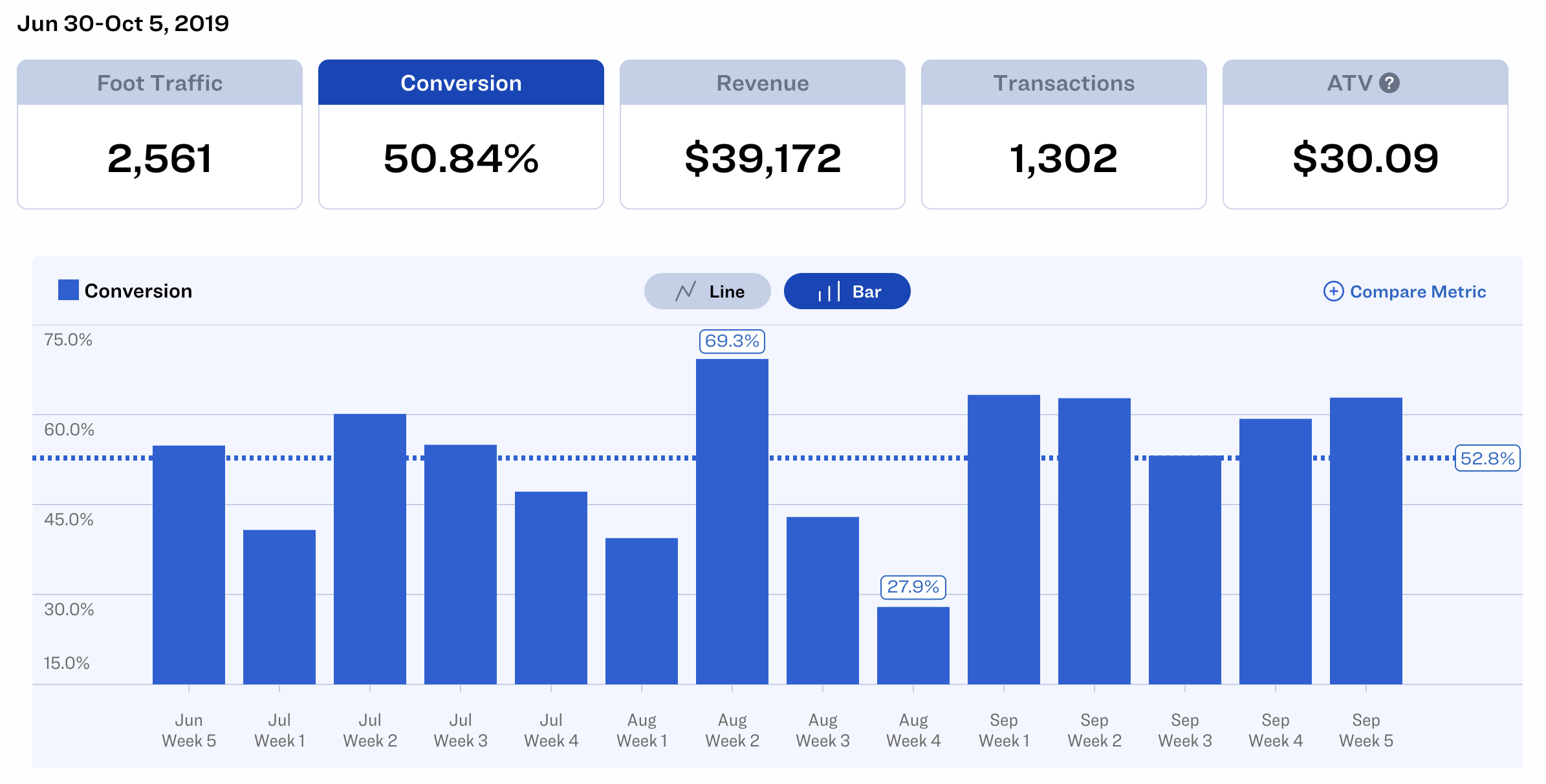 For instance, you could test out a new sales tactic, see how it affects your conversion rate, and make tweaks based on the results.
Need help tracking your conversions? Dor integrates seamlessly with your POS system so you can glean instant insights into how well you're converting traffic.
Click here to learn how our foot traffic analytics solutions can take your marketing and operations to the next level!
Ready to purchase? Complete your purchase in just minutes!
---
Hi there! If you liked this post, please feel free to share it on social media to help us reach out to more retailers like you. You can also leave a comment below and let us know if you have any questions!
---
Start counting your foot traffic now
Get data faster with the world's first thermal-sensing, battery-operated people counter
Get a Demo
Recommended Articles