Whether you're a big fan of Valentine's Day or you can't stand the thought, there's no denying that the mid-February celebration is a great opportunity for retailers looking to boost revenue. After all, why else would brands try to come up with fresh Valentine's Day promo ideas year after year?
In fact, the U.S. spent nearly $21 billion on V-Day back in 2019, and that number is only expected to increase over time. If you're looking to get in on the action, here are some Valentine's Day promotion ideas for retail guaranteed to keep the love in the air.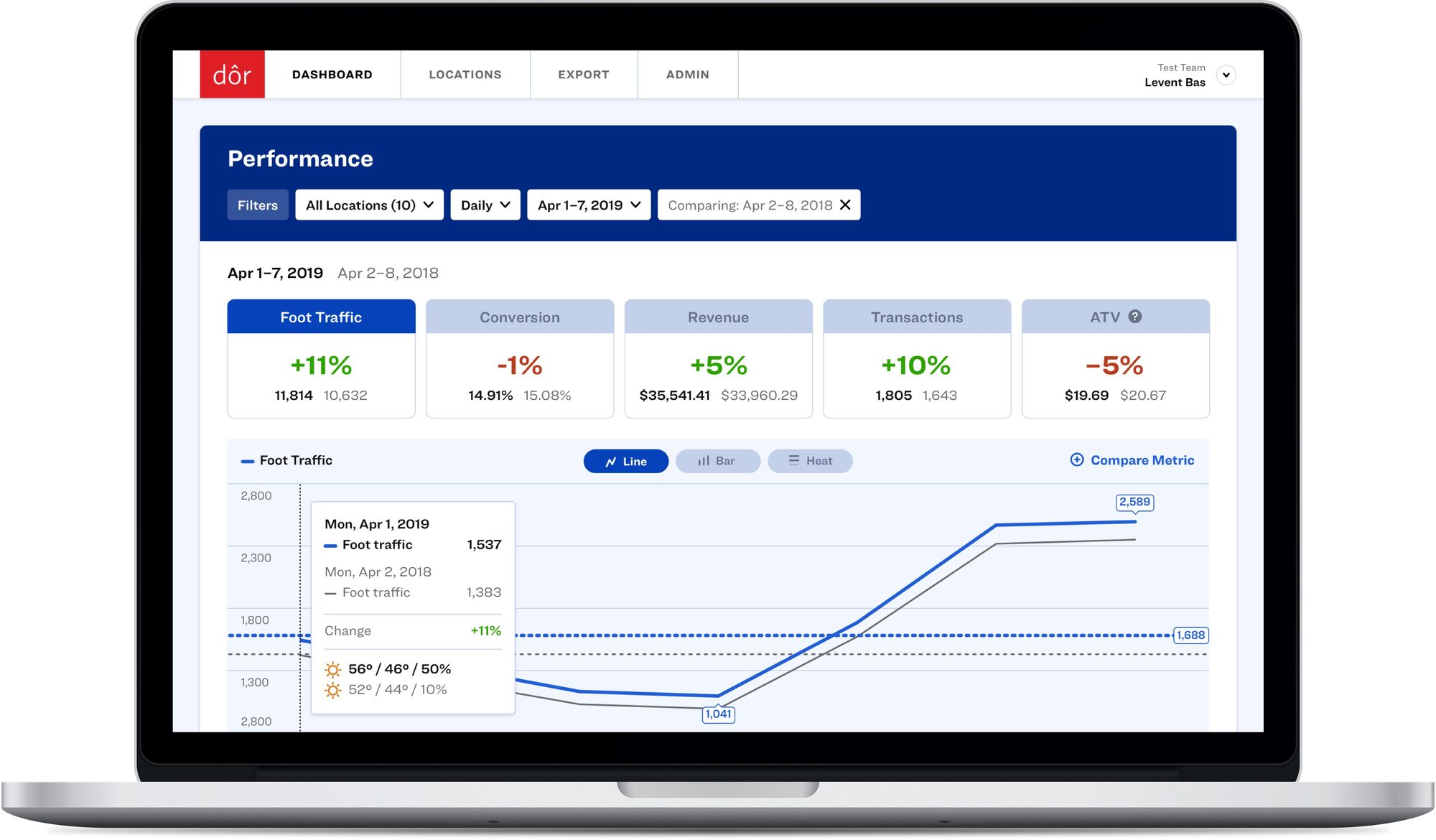 Did you know that a 1% increase in your store's conversion rate can mean a 10% increase in revenue?
Click here to discover how Dor can help you understand your foot traffic data and make more profitable business decisions.
Ready to purchase? Complete your purchase in just minutes!
1. Set the scene

First off, to get your Valentine's Day sale ideas to work, you have to focus on making a good first impression with customers. For brick-and-mortar stores, that means sprucing up the sales floor with seasonal décor. Some inexpensive display ideas that might do the trick include flowers, heart-shaped cutouts, chocolates, and candy—anything to set the mood for this romantic day.
2. Team up with local businesses

If you're looking to deck out your store for V-Day without breaking the bank, another good option is to team up with a local business to offer their products at your store. For instance, if your retailer doesn't normally offer food, you can partner up with a local bar or bakery to serve sweet treats for a limited time—after all, we all know that a way to someone's heart goes through their stomach!
Another potential collaboration could be with your local flower shop: a partnership like this could benefit both retailers, giving the flower shop a second location to display their floral arrangements and letting you improve the look (and scent) throughout your store without spending a dime!
3. Get creative with bundles & gift baskets

Valentine's Day is the perfect time to bundle items from your inventory that you wouldn't necessarily sell together at other times throughout the year (like chocolate boxes and candles, for instance). Creating romance-themed sets or gift baskets out of what you already have in stock could also allow you to cross-sell traditionally slow-moving items. For grocery stores, this could mean bundling chocolates, strawberries, and flowers in a separate display area, while for clothing retailers, it could take the form of lingerie-and-perfume sets.
4. Tackle marketing from a more amorous angle

Of course, not every retailer will have a selection of products that are typically associated with romance. But even if your retailer has a decidedly unromantic theme like sporting goods, you can market a selection of your best-selling items as "gifts for your sweetheart" to help customers make the mental connection with V-Day. Creating online lookbooks or gift guides and promoting them on your social media channels is another great way to help customers view your product range in a new light and entice them to shop before they even walk into your store.
5. Host a contest or giveaway

Looking to generate some buzz around your business this February? Try running a contest or giveaway with a special prize for Valentine's Day. Depending on the type of event you organize, you can get customers to apply in-store, via social media, or both. If you decide to go this route, it's important to market the event well in advance and to conclude it in a timely manner so that you can ensure the gifts reach their recipient(s) by February 14.

6. Consider hosting an in-store event

Since Valentine's Day falls on a Monday this year, savvy retailers can use that to their advantage and host a mini after-work celebration at their store. Throw in some live music, champagne, and canapes (another great opportunity to partner with local businesses), and you've got yourself a nice little party for busy couples looking to unwind after a long day—and possibly surprise one another with a spur-of-the-moment gift from your store.
Of course, before planning any indoor event, it's crucial that you consider your local restrictions and take necessary precautions to safeguard against the spread of COVID. If your local weather permits, you could even consider hosting the event outdoors to minimize the risk of contact.
7. Offer free shipping & in-store pickups

If you live in an area where local COVID precautions prevent you from throwing an in-store event or drastically limit the amount of foot traffic you can expect to get at your location, consider offering free shipping for the first couple of weeks in February, leading up to Valentine's Day. You can announce this special deal on your website and social media channels, or even take out a Facebook ad to promote it. Another hassle-free option is to let customers order online and pick up in store (or curbside) to minimize contact.
8. Show appreciation for your repeat customers

While Valentine's Day is an excellent opportunity to attract new shoppers, it's also a great time to show your loyal customers how much you appreciate their business. Consider doing an email marketing campaign specifically for your longtime customers by offering them either a free product or service or a promo code for discounts.
While you're at it, don't forget to show your employees some love, too—even if you're not in a position to go all out and hand them a hefty bonus this soon after the holidays, you can still offer coupons, gift cards, or discounts. After all, you know how they say it's the thought that counts.
9. Don't forget your unattached customers

With all the focus on romantic love around Valentine's Day, it might be hard to remember that committed couples are only a segment of the population. If you want to make sure you're boosting store revenue and being inclusive toward all your customers, it's a good idea to reflect that in your seasonal promos, as well.
Be sure to factor in groups who celebrate Valentine's Day on February 13 to honor their friendships with close girlfriends, as well as single customers who prefer to dote on their pets instead of a significant other. Last but not least, be sure to include some enticing options for shoppers looking to practice self-love on this V-Day.
10. Remind everyone that sharing is caring

Another great way to honor this love-filled season is to donate a part of your proceeds to a heart-warming cause, like rescuing stray animals, aiding frontline workers, or helping members of the local community who may have been impacted by the pandemic. Whether you choose to donate proceeds from all purchases or only a select category of items will naturally depend on the financial status of your store, but whichever you choose, make sure your charity scheme is well-advertised to your customers so they're encouraged to get involved in the good deed.
---
Hi there! If you liked this post, please feel free to share it on social media to help us reach out to more retailers like you. You can also leave a comment below and let us know if you have any questions!
---
Start counting your foot traffic now
Get data faster with the world's first thermal-sensing, battery-operated people counter
Get a Demo
Recommended Articles