Thanks to recent advances in technology, we are now experiencing the rapid rise of video marketing in retail, with many brands around the globe embracing new outlets to reach wider audiences and increase their foot traffic & sales.
In this article, you'll find some tried-and-tested video marketing tactics that can take your brand to the next level.
But first...
Why is video marketing important for retailers?
Video is fast becoming a fundamental aspect of retail marketing.
In fact, 79% of customers would rather watch a video than read text, according to U.K.-based video marketing company Wyzowl's State of Video Marketing 2019 report. Not only is watching videos easier—and often more entertaining—than reading text, but a well-produced video is more likely to convince customers to buy a certain product.
On the business side, retailers can use data obtained from their video marketing efforts to track trends and gauge customer behavior. In the past, retailers had to rely on feedback from their brick and mortar marketing efforts to make decisions regarding their business, but thanks to technology, those days are long gone.
Nowadays, new-generation retail analytics solutions make it easier than ever before to track data such as Return on Advertising Spend (ROAS) across both online and offline video marketing efforts, which must be why 87% of businesses surveyed by Wyzowl harness the power of video as a marketing tool.
Last but not least, well-crafted video content can help retailers position themselves as industry leaders or credible sources on certain topics.
This is particularly true for brands who are devoted to social causes, as these videos can be used to convey the brand as an actor for change. Even if your brand doesn't have a specific social message to share, you can still use video to establish a lasting connection with the customer through content that is informative or entertaining (or both).
Related: People Counters & People Counting: Everything You Need to Know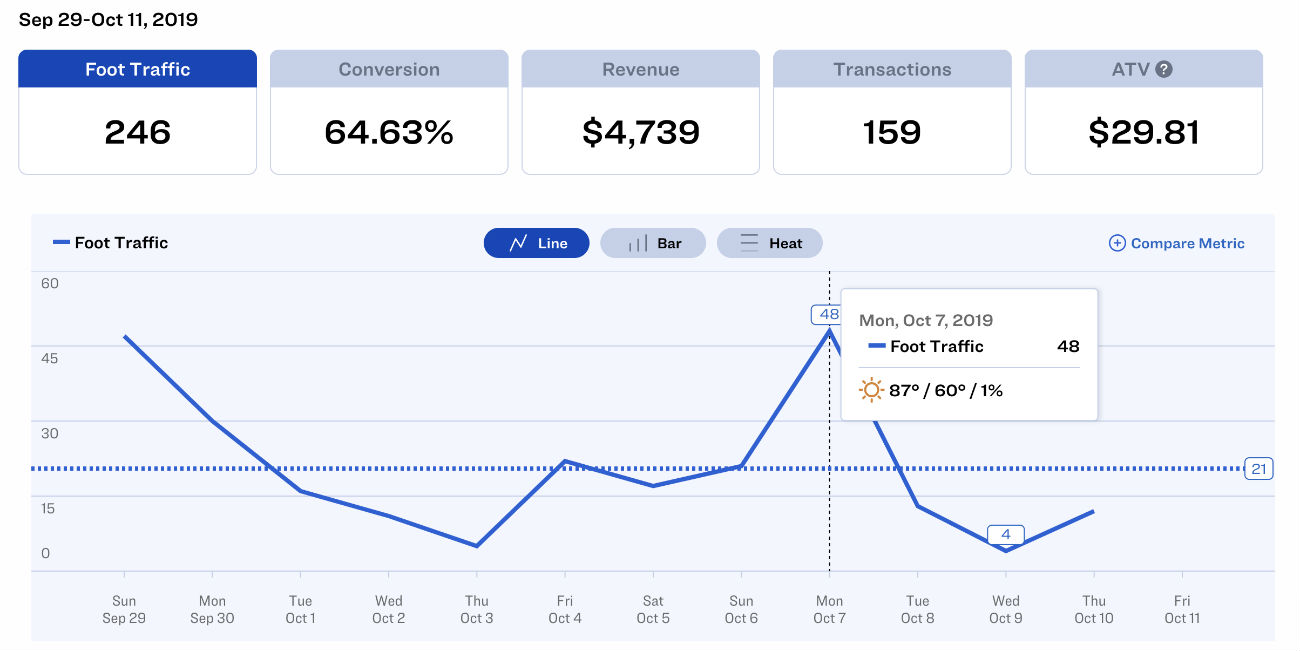 Click here to discover how your marketing efforts can increase your door traffic and how Dor can help you understand that data and other important metrics on a single screen.
15 video marketing tips to increase brand awareness and sales
Let us tell you 15 practical video marketing tips you can start trying right away to increase sales and brand awareness for your retail brand!
1. Add video to your website
One of the easiest ways to drive more traffic to your website is to include videos on it.
That way, you can increase your chances of having Google flag your website as one with "good content," which will ultimately boost your search engine ratings. In fact, your website is 53 times more likely to rank on the first page of Google search results if it features video, according to a 2009 study by Forrester Research.
One retailer that does this well is Old Navy, whose website frequently features videos of models wearing the brand's apparel. By combining video with still images of clothing on its website, Old Navy not only helps customers make more informed decisions about their purchases but also gets them to spend more time on the site, thus increasing the chance that they'll buy additional items.
2. Showcase your products via unboxing videos
Particularly popular with online retailers, unboxing videos are clips where influencers or regular consumers open packages featuring the brand's products, often reviewing the items contained.
The creators of these videos sometimes focus on pricey and often high-tech items like smartphones and tablets, but if the value of the individual items is low—as is the case with most clothing and accessories—these clips can take the form of haul videos where shoppers review their purchases in detail.
Whether you're an ecommerce brand or a brick-and-mortar retailer, you can utilize unboxing videos to your advantage to generate interest in your products and augment the aspirational effect on your consumers. Just take a cue from Walmart, who has teamed up with eight-year-old YouTube sensation Ryan Kaji of the toy review account Ryan's World. The mega-retailer now seeks to capitalize on Ryan's huge internet presence by offering a brand-new range of toys, aptly titled Ryan's World Toys.
3. Generate hype for new product releases
Another way retailers can use video to their advantage is to release attention-grabbing announcements ahead of new products or services. Instead of waiting until these products hit shelves, you can opt to generate interest beforehand with a catchy video marketing campaign, which will likely boost the perceived value of the item in your customers' eyes, thus increasing demand.
At the end of December 2019, tech giant Samsung posted several short but engaging videos on its YouTube channel introducing the new 2TB 970 EVO Plus NVMe SSD (solid state drive), even though the 2TB model won't be available until 2020.
By introducing the product far in advance, Samsung accomplishes two things: Not only does it manage to drum up interest from potential shoppers, but it also ensures that its loyal customers won't look to other brands for comparable products in the meantime, instead choosing to wait it out until the release.
4. Keep your customers' needs in mind
Considering the time and effort it takes to put together compelling video marketing material, it's no wonder very few brands tackle anything but promotional content.
Yet by creating videos that meet your customers' needs without necessarily selling them something, you have a chance to build trust among customers and position yourself as an authority figure in your industry.
One retailer that has its customers' needs in mind is Home Depot, whose YouTube channel features a wealth of video content. In addition to product how-to videos, Home Depot also provides informational videos on topics such as repairing leaking gutters or replacing sink traps—ensuring that they'll be the first brand their customers think of when it comes to home repairs.
5. Evoke an emotional response
Whether you manage a large retailer or a mom-and-pop store, you've likely heard feedback from customers who love your products and services. But have you ever considered that this feedback could make for a compelling video?
As consumers grow savvier by the day, they become interested in more than just the products a brand has to offer, seeking instead to form a lifetime relationship with brands based on shared values. To cultivate such relationships, more and more brands are turning to "authenticity" as a marketing tool, and their video content is no exception. By taking a closer look at case studies and testimonials from their business, retailers can tell stories about their brand to evoke a connection with the consumer.
One brand who made headlines recently was Burger King, whose 2017 anti-bullying ad campaign "Bullying Jr." featured young customers speaking candidly about their experiences with bullying. Although the video campaign was less sales-focused than Burger King's other promotional material, it certainly did a lot to cement positive associations with the brand in customers' minds.
6. Keep it real with real-life customers
Another way retailers can channel authenticity in their video content is to get actual customers instead of actors to star in their videos.
Not only is this option cheaper for brands without a lot of capital, but it also puts the customer front and center. Plus, any person(s) starring in your video are likely to share it with their close friends, earning you potential customers who are primed to have a personal connection to your brand.
A classic example of a brand that uses customers instead of actors in its commercials is Dove, whose "Real Beauty" campaign has been an industry staple for more than a decade. By elevating their customers in this way, Dove successfully positions itself as a brand that cares about its consumers, thus helping to drive brand loyalty.
7. Incorporate stop motion and animation
Video's greatest asset might be that it combines images and sound, but there are exceptions to every rule. When it comes to creating memorable video content to promote your brand, captivating images and smart editing can sometimes be more effective than dialogue.
A recent example of a video marketing campaign gone viral is the £10m "Sweeter Together" campaign by British snack food brand McVitie's. Launched in 2018, this animated advertisement was praised for tackling the issue of loneliness in modern-day society through the story of a single crane worker—all without a line of dialogue.
8. Make use of in-store mobile video
While the smart use of video can be instrumental in getting customers into your store, did you know that you could also use video to keep them in there longer?
By taking advantage of mobile technologies, many large retailers are able to offer in-store video experiences to help guide their customers' shopping decisions. From how-to videos to product simulations, these in-store videos are especially useful for customers purchasing big-ticket items like furniture and household appliances, as it gives them a chance to imagine how these items would work in their homes.
Famous department store Harrods has embraced mobile video technology, offering a mobile store guide via the Harrods app since early 2018. By incorporating the full directory of brands as well as video content and interactive maps for every floor, the store manages to keep the customers browsing—and hopefully buying—for longer.
9. Show videos near checkout
A smart way brands can utilize video content is to show it near the checkout, where customers are likely to be standing idly.
In fact, placing videos near checkout could be hugely effective in promoting and moving products on sale, especially if they're conveniently located near the cash registers. Again, the key here is to have engaging content that draws the customer's eye and makes him or her want to buy the product.
American retailer Target recently collaborated with Will Smith on a video project where shoppers ringing up their purchases in the self-checkout aisle got to interact with the actor via a monitor. Although the video campaign was not promotional in nature, it proved to be a hit with customers, helping the brand to amass even more user-generated content in the form of surprised shoppers on video.
10. Create video content with an eye on social media
According to a 2012 infographic by M Booth and Simply Measured, video is 12 times more likely to be shared across social media than links containing text, so there's never been a better time to invest in video content for your social media channels.
When creating video content for use across different channels, it helps to keep in mind the specific requirements of each outlet. Instagram, for instance, allows users to host live video for up to 60 minutes, post 60-second videos, and share Instagram Stories that are each 15 seconds long.
Related: 15 Social Media Marketing Tips for Retailers to Increase Sales
If you've already created video marketing material in the past, take a look at your existing footage. Could it be split into two or more videos through smart editing? Could it be teased across different outlets?
One brand that serves as an endless source of inspiration for social media content is Oreo, whose Instagram account features enticing videos created specifically for the outlet.
11. Consider offering rewarded video content
Another potential outlet for your video marketing content is rewarded ads. Best suited for mobile apps—particularly gaming-focused ones—these ads generally last 20 to 30 seconds in duration, and app users are given a "reward" for watching them. The music streaming app Spotify, for instance, allows free users 30 minutes of uninterrupted music for watching a rewarded ad.
By streaming rewarded ads via an app that makes sense for your particular industry and target audience, you can build brand recognition among users, who will have a positive association with your brand and be more likely to purchase it when they see it in store.
12. Host Q&As with experts
One way to create engaging video content is to channel the authority of experts in your field by hosting interviews or Q&A sessions on various topics. By bringing in professionals who can discuss matters related to your business, you can position your brand as a thought-leader and an objective source of knowledge.
If you're able to hold Q&As featuring questions submitted by your customers, even better—that way, you can maximize the interaction between your fan base and your brand.
New York-based electronics superstore B&H Photo Video is a great example of a retailer using its online presence to educate its customers. In addition to product-related content, the brand's YouTube channel also features interviews with well-known photographers, filmmakers and other artists.
13. Don't put all your eggs in one basket
As important as it is to invest in high-quality video content for your brand, you must also avoid the temptation to stick only with what you know. It's important not to seem like a one-note brand, and seeming too conservative in your content could even alienate potential customers.
One smart strategy is to offer a mix of both live video and scripted content, which can be used across different channels like Facebook, Instagram, YouTube, and your website. Once you find out what your audience loves—whether that's unboxing videos or stop-motion animation—you can focus more of your time and energy to that type of video, but it's worth exploring all the options available to you.
Although not a retailer per se, Disney can serve as a source of inspiration for other brands. The media and entertainment company does a great job at offering diverse content via its YouTube channel, which includes an assortment of interviews, behind-the-scenes videos, trailers and sneak peeks as well as animated features.
14. Stand out from the crowd
Have you ever seen a video so bizarre that you couldn't get it out of your mind?
It's no secret that people tend to remember unusual things more, so why not channel that knowledge to create some memorable video content for your brand? Depending on your product and industry, a quirky video marketing campaign might be the perfect way to distinguish yourself from the competition.
One recent example to this marketing technique comes from KLM Royal Dutch Airlines, who launched a campaign in summer 2019 titled "Fly Responsibly."
Instead of encouraging passengers to buy tickets as would normally be expected from an airline, KLM decided to break convention and urge customers to fly less to help mitigate the aviation industry's negative impact on the environment. Whether or not the campaign proves to be a success, it certainly got people talking about KLM.
15. Embed video in your emails
Did you know that including video in your email marketing efforts increases click through rates by 96%?
Related: 15 Email Marketing Tips for Retailers to Increase Sales
This indicates a great opportunity for digital marketers, who can use the video embedded in emails as another touchpoint to access information about consumer behavior. By analyzing the data, marketers can glean insights such as how long people spent watching the video, how many times they viewed it or whether they shared it with other people.
Outdoor clothing and equipment retailer Patagonia includes video in its emails, using story-like content to form a connection with customers and ultimately drive them to its website.
If you'd like to use video but don't think you have the necessary resources to do it properly, you can always test the waters by incorporating GIFs into your email marketing efforts and seeing how your customers respond.
---
Hi there! If you liked this post, please feel free to share it on social media to help us reach out to more retailers like you. You can also leave a comment below and let us know if you have any questions!
---
Start counting your foot traffic now
Get data faster with the world's first thermal-sensing, battery-operated people counter
Get a Demo
Recommended Articles