One of the keys to being a successful retailer lies in your ability to keep up with your customers. You need to be where they are, and you need to engage them on their own terms.
This is where retail digital marketing comes in. Consumers are increasingly spending more time on digital channels like social media, search engines, websites, and apps.
Research from Hootsuite and We Are Social revealed that in 2019, there were 4.39 billion internet users and 3.48 billion social media users.
Those are significant chunks of the global population, and for this reason, your retail marketing strategy must have a digital component to it. How else are you going to get on the radars of modern consumers?
So, if you haven't mapped out your retail digital marketing initiatives yet, it's high time to do so.
Here's how.
Lay the groundwork for your digital marketing strategy
Before investing in any tools or channels, you first need to clarify your goals, target audience, brand positioning, and budget.
If you fail to take this step, your efforts will be doomed to fail.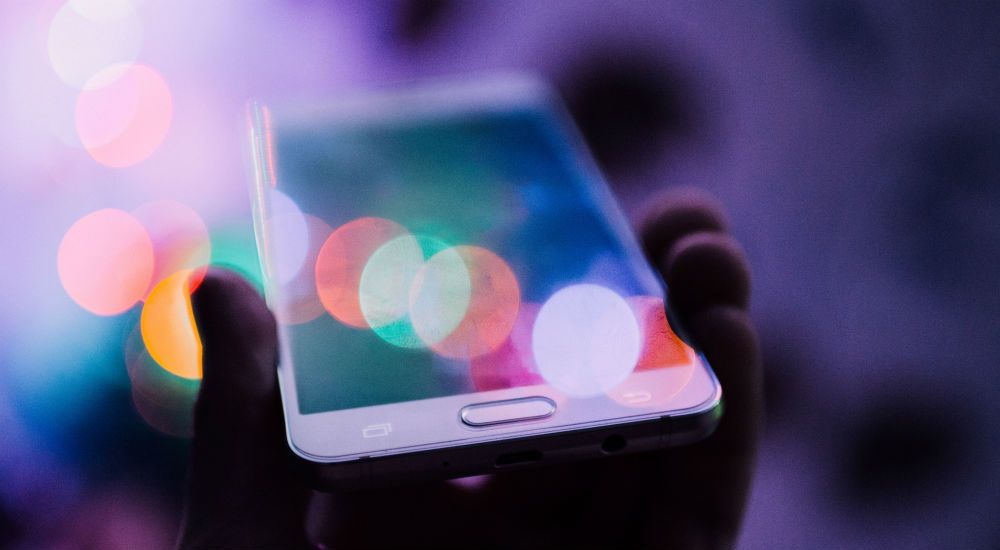 Determine your objectives
Firstly, you should be clear about what success looks like for your online marketing campaigns. Are you looking to drive foot traffic? Generate sales? Boost brand awareness?
Each objective calls for a different strategy and approach. For example, while entertaining videos on social media can generate buzz and conversations, they don't necessarily lead to product sales. Meanwhile, paid search ads do an excellent job putting your products or website in front of shoppers, but they can't tell your brand's story in an in-depth way.
Ironing out your goals is the first step to online marketing success, as it will inform your decisions around how to execute your campaigns.
Related: People Counters & People Counting: Everything You Need to Know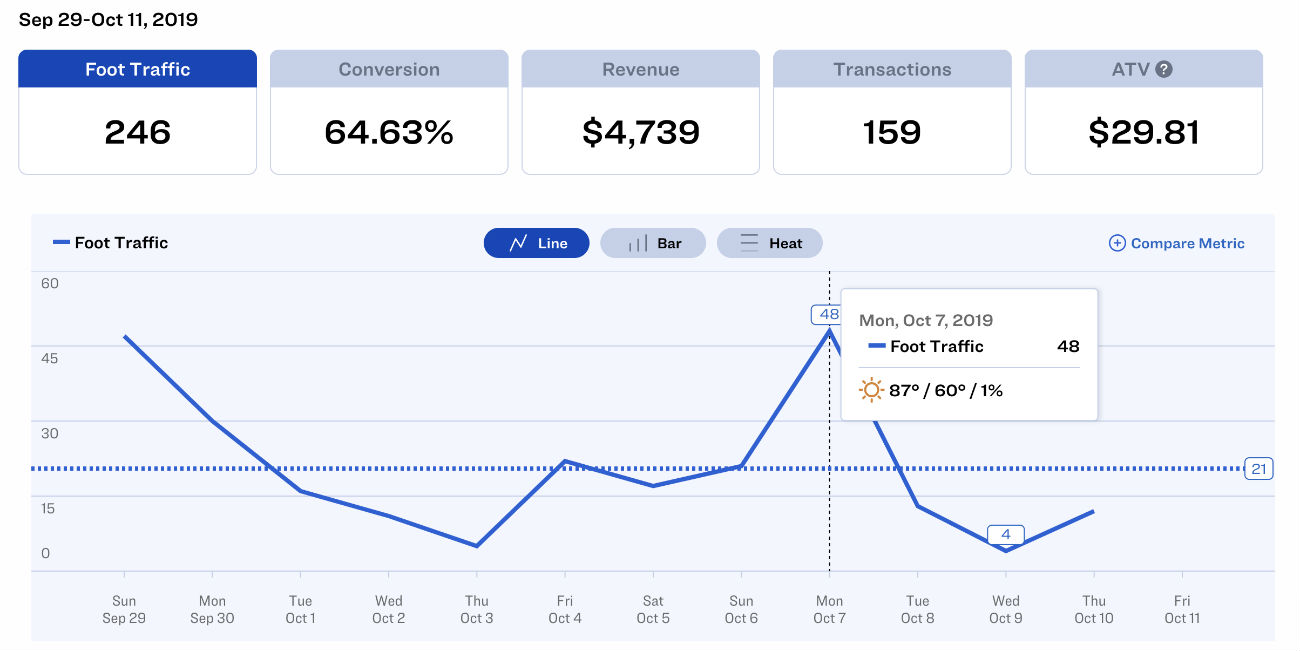 Click here to discover how your marketing efforts can increase your door traffic and how Dor can help you understand that data and other important metrics on a single screen.
Know your audience
The next step is to understand your target audience. While you probably know a great deal about your customers, it's still important to implement a systematic approach with gathering insights for your digital marketing tactics.
You need to have actual data  — quantifiable and qualifiable information — so you can make the right judgments when you're planning and implementing your strategy.
Specifically, you need to know:
Their demographic information (i.e., age, gender, location, educational level, income level, etc.)
Their psychographic information (i.e., their values, aspirations, fears, etc.)
Where they're spending their time within the digital realm (i.e., the websites and apps they're on)
The people or brands they follow (i.e., influencers and companies that are on the radar of your customers)
The types of digital content they like to consume (i.e., articles, videos, ebooks, podcasts, etc.)
Determine your brand strategy and positioning
Next, you need to do a bit of introspection to determine what your brand is all about.
What do you stand for?
What voice or style should you adopt?
What makes your brand different from similar companies in your market?
The answers to these questions will help you figure out the direction in which to take your messaging and content, so you can cut through the clutter and reach your target audience.
Get clear on how much resources you have
Budget is obviously a critical consideration. If you have a lot of resources at your disposal, you have more freedom to try new things, run tests, and launch campaigns at a larger scale.
Don't have a huge budget? Then you'll need to be more creative when it comes to allocating resources so you can get the most bang for your buck.
Whatever the case, talk to the necessary people within your company to figure out how much you're able and willing to spend on digital marketing. Once you've confirmed the amount, you can look into the channels and tactics that you can work with.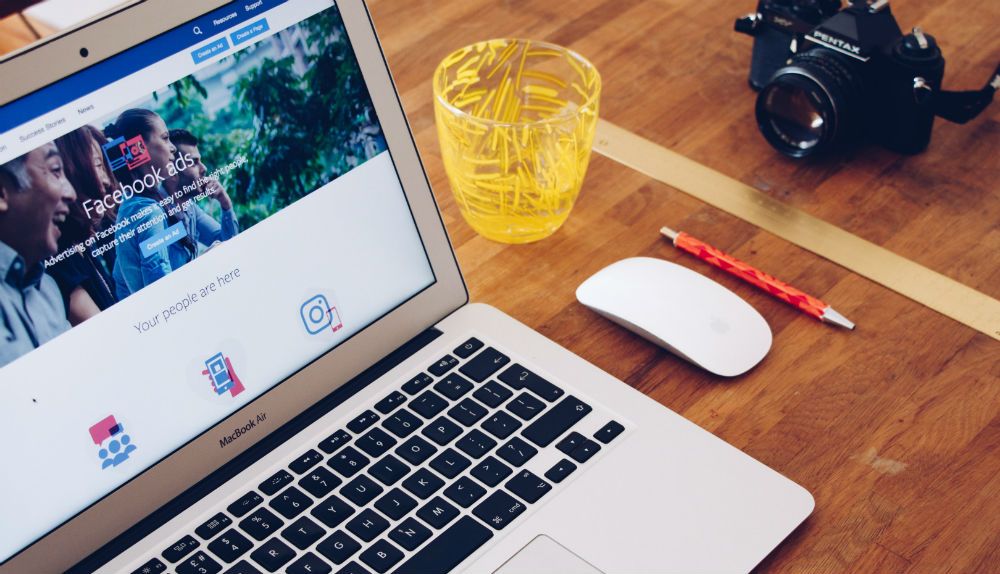 Digital marketing channels and tactics for retailers
Ironed out your objectives and brand strategy? Check.
Did in-depth audience research? Check.
Figured out your budget? You did that, too!
Now, let's look at the various digital marketing channels and tactics that you can leverage. Each of them will have their advantages and disadvantages. There's no one best strategy for all brands, so you should take your time getting to know what each channel or tactic brings to the table.
1. Online (paid) advertising for retailers
This involves the use of advertising platforms to run ads across a network of websites and apps. There are numerous advertising networks out there, but the biggest ones are Google and Facebook. Both companies offer an array of ad formats for marketing your brand and products.
Related: 15 Online (Paid) Advertising Tips for Retailers to Increase Sales
Some of Google's best advertising solutions for retailers are:
Facebook, on the other hand, allows you to boost your posts so you can get your content in front of a wider audience. For promoting your merchandise, you can use carousel ads that showcase multiple products in one ad.
Both Google and Facebook have retargeting capabilities that can serve up ads to people who have previously visited your website.
One example of a retailer that leverages both Facebook and Google (and likely other ad networks) is Walmart.
Here's an example of retargeted carousel ad based on the items I've previously viewed on the site:
Walmart is also running local inventory ads. A search for "protein cookies near me" brings up the in-store inventory of retailers nearby — including Walmart.
How to run paid ads for retailers
The specific process for running digital advertising campaigns will depend on the types of ads you use and the platform on which you're running them. But most ad networks will have you go through the following steps:
You decide on the type of ad you want to run
You specify how you want your ads to be targeted — i.e., the audience you want to reach, their location, interests, keywords, etc.
You upload or enter the necessary assets (e.g., ad copy, images, destination URL, etc.)
You set a budget and fund your ad campaign
You submit the campaign for review, and once approved, the platform will run your ads based on the parameters you've set
How to measure online advertising results
Your ad platform will have reporting capabilities that will reveal the number of impressions, clicks, and/or conversions that your campaigns generated.
From there, you can determine your cost per impression/click/conversion and make conclusions on whether or not the campaign was a success.
Pros and cons of digital advertising
Pro: You can see results quickly - Online advertising is a short-term game that can deliver outcomes within days or even hours of launching a campaign. The process is simple: you launch your ads, people click then, and you'll see the results (or lack thereof).
Pro: Simple attribution - It's easy to measure your results. As mentioned earlier, most ad networks will generate reports that detail your ad's impressions, clicks, and conversions, so you'll know exactly where your ad budget is going. As such, it's easy to understand your ROI and attributing outcomes to your ads is simpler, compared to other tactics.
Con: Highly-dependent on budget - If you don't have money to spend, you won't be able to run campaigns.
Con: Costs could run high - If you're in a competitive space, you might see your advertising costs go up, as similar companies are all trying to get in front of the same audiences.
Running ads in-house vs. outsourcing
Retailers have two options for executing advertising campaigns. You can do it in-house or hire an agency or contractor to handle the ads for you.
The best option depends on your needs and the complexity of your campaigns. If you're just planning to run an occasional ad every few weeks, then you can probably do it in-house, provided that you don't have sophisticated campaign needs.
On the other hand, if advertising is a major driver of traffic and you're constantly running multiple campaigns, it may be worth outsourcing the job to an expert who can oversee and optimize your campaigns.
2. Social media marketing for retailers
Consumers spend an inordinate amount of time on social media. As of 2019, users spent an average of 153 minutes on social networks daily, and that number continues to rise. According to BroadbandSearch, the average person will spend a total of 3,462,390 minutes on social media over their lifetime.
Including social media in your digital marketing mix should be a no-brainer. The right social media marketing tactics will depend on your audience, but here are some of the most important sites and networks to consider:
Facebook
With over a billion Facebook users, establishing a presence on the site is a must. Facebook has a number of tools to help marketers reach and engage their audiences. You can create a Facebook page for your brand, and post updates and content for your friends, fans, and followers.
The footwear retailer ALDO, for example, has an active Facebook page on which users can do things like shop ALDO's catalog, see company updates, and even chat with the brand.
Another option is to use Facebook groups to build a community. If you have a highly-engaged audience, it may be worth bringing them together so they can share stories, talk about how they're using your products, and more.
That's exactly what the supplements company Athletic Greens is doing with Greens Team, a private Facebook community for people using its products.
Both Facebook pages and groups allow you to interact with your audience directly via the comments section.
Twitter
Twitter is a microblogging platform that lets you publish short, punchy posts. It's a great tool for sharing quick updates, as well as links to your blog, product pages, and more. The site makes it really easy for users to share your content, as people can retweet posts with a tap of a button.
The site also paves the way for direct interactions with your audience, so you can talk to them, answer their questions, and offer support.
The fast-food chain Wendy's has a strong Twitter game. The brand is known for being cheeky and entertaining on the platform, and Wendy's social media team isn't afraid to poke fun at other brands. Wendy's bold Twitter strategy earns plenty of attention online and draws lots of buzz around the brand.
Instagram
Instagram is a highly-visual social network that lets brands share photos, videos, and even live content. It's an excellent platform for storytelling and visual content, and brands can use Instagram in a variety of ways, including:
Sharing product photos and videos
Telling stories
Putting the spotlight on customers
Engaging in live videos and Q&As
Collaborating with influencers to create and promote content
Glossier is a great brand to follow on Instagram. The retailer's feed has a healthy mix of company updates, customer highlights, product spotlights, and more. All of Glossier's Instagram content are beautifully produced and perfectly on-brand.
LinkedIn
LinkedIn is a professional social network and is mostly used by B2B companies. Retailers and B2C players can leverage the site if you're targeting career people and entrepreneurs. LinkedIn also works well when you want to market your company as a great place to work.
Target is one example of a retail company that does this. Its LinkedIn page contains company details, photos, as well as its latest job openings.
Pinterest
Another social network that's big on visuals and imagery, Pinterest allows users to "pin" images from the web onto their Pinterest board. Think of it as a virtual board that lets you save interesting finds online.
Since Pinterest is highly-visual, you can use it to share pins of your product photos as well as images that show the different ways to use your merchandise.
Have a look at Lowe's Pinterest page, which is filled with photos of DIY projects, renovations, and home transformations that put Lowe's products in the best possible light.
How to implement social media marketing
The specifics of how to run a social media marketing strategy depends on the network. In general, though, you'll find success on social media by creating engaging and share-worthy content.
Get creative. The key is to come up with content that encourages conversations and compels people to share with their friends. In some cases, this could mean publishing funny and interesting photos. For some brands, tweeting witty jokes and responding to comments work really well.
The right approach depends on the social network as well as the people you want to engage, so tailor your efforts accordingly.
How to measure results
The common metrics associated with social media are:
Number of likes
Number of shares
Number of comments
DMs and brand inquiries
Clicks
Conversions
The first 3 are good measures of engagement. When you have lots of people liking, sharing, and commenting on your post, chances are the content resonated or struck a chord. So, if your goal is to generate conversations and buzz, then you'll want to look at these metrics
That said, likes, comments, and shares don't necessarily equate to revenue. That's why if your goal is to drive sales, you'll need to look deeper. How many people clicked on the link you shared on social media? Did they end up purchasing something from you? Did you receive product inquiries or questions via DM from interested customers? These are the things you should look at if you're looking to drive sales and revenue.
Pros and cons of social media marketing
Pro: Social networks have lots of free features you can use - Social networks are technically free to use. You don't need to spend money to create an account and post content, so setting up a platform for your brand can be cost-effective.
Pro: You have the ability to reach your audience directly - Social media offers you the tools to converse directly with your audience. And with the right social listening tools, you can tap into social networks to gauge brand sentiment and discover how people talk about your company.
Con: Your organic reach may be limited - While it doesn't cost much to create a social media profile and post content, distributing that content is becoming more expensive. Social networks are now limiting the organic reach of brands to prod marketers to purchase ads or boost their posts.
Running social media marketing in-house vs. outsourcing
Should you manage your social accounts yourself or hand it over to a third party? The answer to this depends on your bandwidth.
Ideally, you want your social media marketing to be implemented by someone in your team because it helps you get closer to your audience. When you're able to engage directly with your customers, you'll be able to understand and serve them better.
Plus, no one knows your brand's voice better than you and your team, so you'll be able to come up with more authentic content if you do it in-house.
But if you don't have the time or manpower to oversee things like posting content and responding to comments and messages, then you should look into outsourcing. Just make sure to select a contractor that understands your brand, so they can create the right types of content.
3. Content marketing for retailers
This one is all about producing content that adds value. And that "value" typically comes in the form of education, entertainment, or both. This type of marketing isn't sales-y. And while content pieces can be slightly promotional, you shouldn't expect people to immediately convert after consuming them.
Content marketing is a long game. The idea is to provide as much value upfront in order to position yourself as a trusted authority and build an audience. Then, when shoppers are ready to buy, they will think of your brand.
Related: 15 Content Marketing Tips for Retailers to Increase Sales
Here are some of the ways to implement content marketing:
Blog posts
Blog posts can cover everything from how-to articles and trend roundups to customer spotlights and expert interviews. The right approach depends on your brand and audience.
The lingerie retailer ThirdLove has a great blog, with a good mix of educational guides, how-to posts, and interviews with interesting women.
Guides and books
You could also publish guides and books to give readers a more in-depth view of a particular topic. In some cases, these content pieces can be gated and be used to collect leads. Some brands are even using books as an additional revenue stream.
We can see this in action in the nutrition company Bulletproof, which has a variety of books for sale on its website.
Podcasts
Podcasts are digital audio shows in which a host, sometimes accompanied by a guest, talk about interesting topics, trends, or events in their field.
Related: Top 10 Retail Podcasts Every Retailer Should Be Listening to Right Now
One retailer that's gotten into podcasts is Sephora, which teamed up with the Girlboss Radio Network to produce #LIPSTORIES, a podcast about self-image and confidence.
How to implement content marketing
Start from a place of wanting to add value versus promoting your brand. Think about the interests or concerns of your target customers and then address them in your content.
As for what format to use in your efforts? That depends on your audience. Go back to the customer research we talked about earlier to identify the right content piece or format to use in your efforts.
How to measure content marketing
You can typically measure content marketing by looking at organic traffic as well as the amount of attention that a content piece has generated (e.g., page views, comments, shares, downloads, etc.).
Pros and cons of content marketing
Pro: It's an excellent way to build trust and authority - Since the objective of content marketing is to offer value versus making a quick sale, brands that implement it tend to build trust. What's more, people are likely to engage with your content because you're not being overly promotional.
Pro: Great for SEO - Content marketing — particularly when it's in the form of blog posts — can also drive your SEO (search engine optimization) efforts forward. Search engines like Google love high-value content, and when you execute your strategy properly and consistently, you will likely see your website rank higher in search results. This ultimately drives brand awareness and web traffic.
Con: It takes a while to see results - We'll say it again: content marketing is a long game. Unlike advertising, which can quickly deliver impressions, clicks, and conversions, content marketing takes time — at least 3 to 6 months — to generate results.
For instance, a person could read your blog, then leave your website without buying anything. But that same individual could make a purchase in-store a few months later because they remembered what you wrote. Your content clearly had some bearing on their purchase decision, but measuring that impact is difficult.
Doing content marketing in-house vs. outsourcing
In order to produce valuable content, the people creating it need to be subject matter experts. So, if you have these experts in-house, then you can have them produce the content.
That said, it's not difficult to find subject matter authorities outside of your company, so if you don't have the bandwidth to run content marketing campaigns, you can seek help from a third-party expert.
4. Video marketing for retailers
Video marketing is exactly what it sounds like: it's all about using video to market your brand. This can come in many forms. You can create how-to videos, come up with an entertaining short film, or even go live. It all depends on your goals and your audience.
As for how to distribute your videos? You can use the following:
YouTube
YouTube is likely the most versatile video platform for marketers. You can use it to host everything from short videos to longer-format ones. YouTube also has a "Live" feature for broadcasting content in realtime.
Birchbox utilizes YouTube quite well. The company has several videos on its channel, including product spotlights, how-to guides, and more.
Instagram
Instagram is still primarily a social network, so the types of videos that work well on IG are the ones that have a social component to them. These include live Q&As, stories where you're talking to your audience directly or sharing your day, and videos that encourage likes, comments and shares.
The skincare brand Curology put Instagram's video features to good use. In addition to posting videos on its feed, Curology also leverages IGTV where it posts a variety of videos, ranging from customer stories to skin and makeup tutorials.
TikTok
TikTok is a video-sharing social platform that lets users create short videos that other people can like, comment on, and share. The videos that work well on TikTok are funny and entertaining. Think: lip-sync videos, comedies, jokes, and more.
An example of a brand that's on TikTok is Chipotle, whose feed is filled with hilarious skits, video memes, and more.
How to implement video marketing
How you run your video marketing initiatives will depend on the content you're producing. Bite-sized productions like Instagram stories or quick video updates don't take a lot of time and should be fairly easy to do. In some cases, you or a staff member can simply use a smartphone to shoot and upload content.
But if it's a more elaborate production that requires a script, a full-day of shooting plus editing, then you'll need to spend time ironing out the process.
How to measure results
Number of views is the primary metric for measuring the results of your video marketing efforts. But depending on your objectives, you can also choose to look at video comments, shares, and possibly traffic to your site and conversions.
Pros and cons of video marketing
Pro: Effective in conveying certain messages - Video allows you to convey messages in ways that aren't possible with text or static images. Things like product demonstrations and storytelling are immensely easier with video.
Pro: Humanizes your brand - When used correctly, video can humanize your company. It allows you to attach a face — and a personality — to your brand, which ultimately helps you connect better with your audience.
Con: May take a lot of time and money - This con applies to larger productions. Long-format and high-quality videos take time and money to produce, and not everyone has the creativity and resources to pull it off.
Outsourcing video marketing vs. doing it in-house
Certain videos are best produced in-house. Going live on Instagram, talking to your audience about your day, or doing a quick "behind the scenes" video of your store are some examples of content that you can create on your own.
If you want more elaborate videos, consider working with a third party.  Unless you have an in-house production team, projects that involve scripts, actors, shooting, and editing should be outsourced.
5. Email marketing for retailers
Email marketing allows you to communicate with people who have opted-in to receive your messages (subscribers and customers). Many retailers use email marketing to announce new products and promote their sales and events.
How to implement email marketing
Email marketing starts with getting people to sign up for your mailing list. Many brands do this by giving an incentive in exchanges for the user's email address.
The denim company Levi's, for instance, gives people 20% off their first order when they opt-in to the company's email list.
Once you have their contact details, you can start sending messages. Depending on what's going on in your business, you can send emails about your new arrivals, announce that you're having a sale, or provide useful content.
Let's stick with Levi's as an example. In the screenshot below, you'll see the brand sends a mix of various emails, including messages about its best sellers, emails on mixing and matching products, and sale announcements.
How to measure email marketing
You can measure the success of your campaigns by looking at email open rates, clicks, and conversions.
Some email marketing platforms even let you attribute dollar amounts generated per email or campaign.
Pros and cons of email marketing
Pro: You "own" your audience - One of the biggest advantages of email marketing is that it gives you direct access and control over your email list. Unlike with social networks, where you're at the mercy of the site or the app's algorithm, email marketing gives you more control over how your content is distributed.
Con: Inboxes are getting crowded - Consumers are bombarded with marketing emails on a daily basis, so standing out in someone's inbox can be a challenge.
Doing email marketing in-house versus outsourcing
It's good to do email marketing in-house because it lets you communicate directly with your audience, read responses, and have a better understanding of how email impacts your bottom line.
That said, if you have a small marketing team or if your email marketing needs are more sophisticated — e.g., if you're sending emails at a large scale or are constantly running various A/B tests, then consider outsourcing this instead.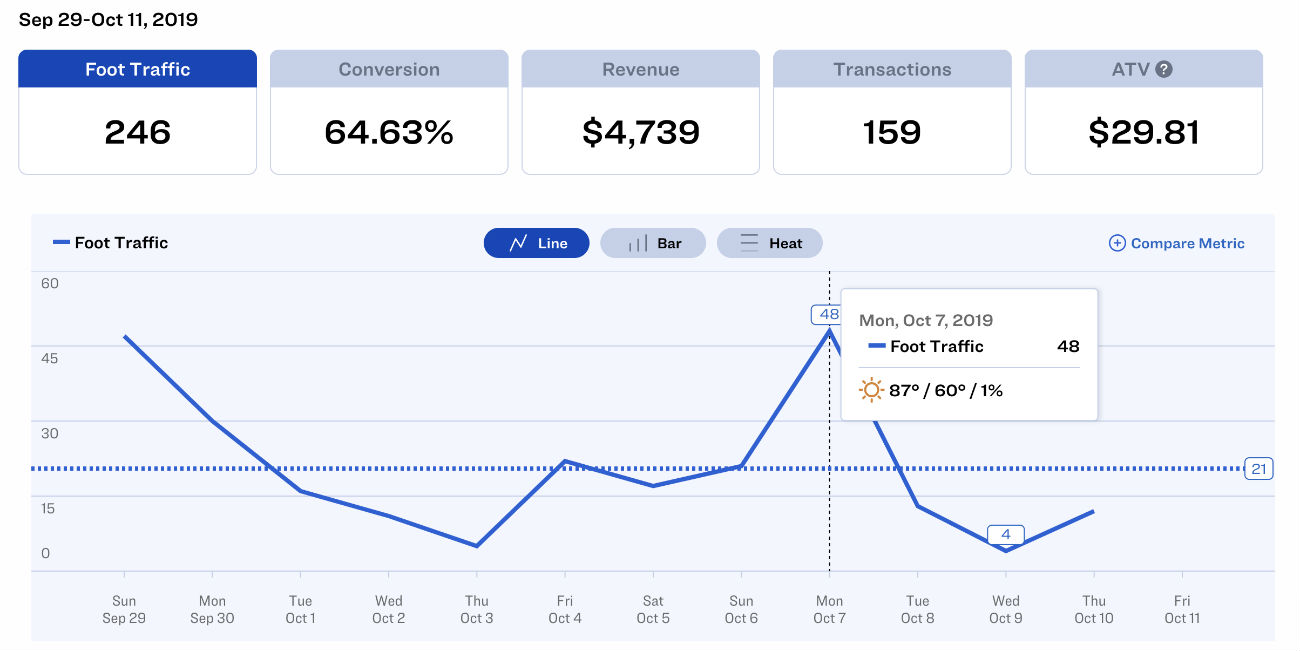 Click here to discover how your marketing efforts can increase your door traffic and how Dor can help you understand that data and other important metrics on a single screen.
Digital marketing is an absolute must
Retail digital marketing isn't a trend, nor is it something that's only relevant to brands that cater to young and hip audiences.
An online marketing strategy is something that every business should have. No matter what you're selling, we're willing to bet that your customers are online. So, leverage the tools and tactics mentioned in this post to find, reach, and engage them.
Good luck!
---
Hi there! If you liked this post, please feel free to share it on social media to help us reach out to more retailers like you. You can also leave a comment below and let us know if you have any questions!
---
Start counting your foot traffic now
Get data faster with the world's first thermal-sensing, battery-operated people counter
Get a Demo
Recommended Articles