As the world slowly begins to recover from the far-reaching effects of the global pandemic, many retailers are struggling to achieve the sales figures they enjoyed just a few years ago. Add to that the economic hardships many brick-and-mortar stores experienced during the lockdowns of 2020, and you can begin to see why it is so essential for the retail sector to make a strong comeback.
Here are 25 tried-and-true ideas to jumpstart sales and get your retailer back in the black.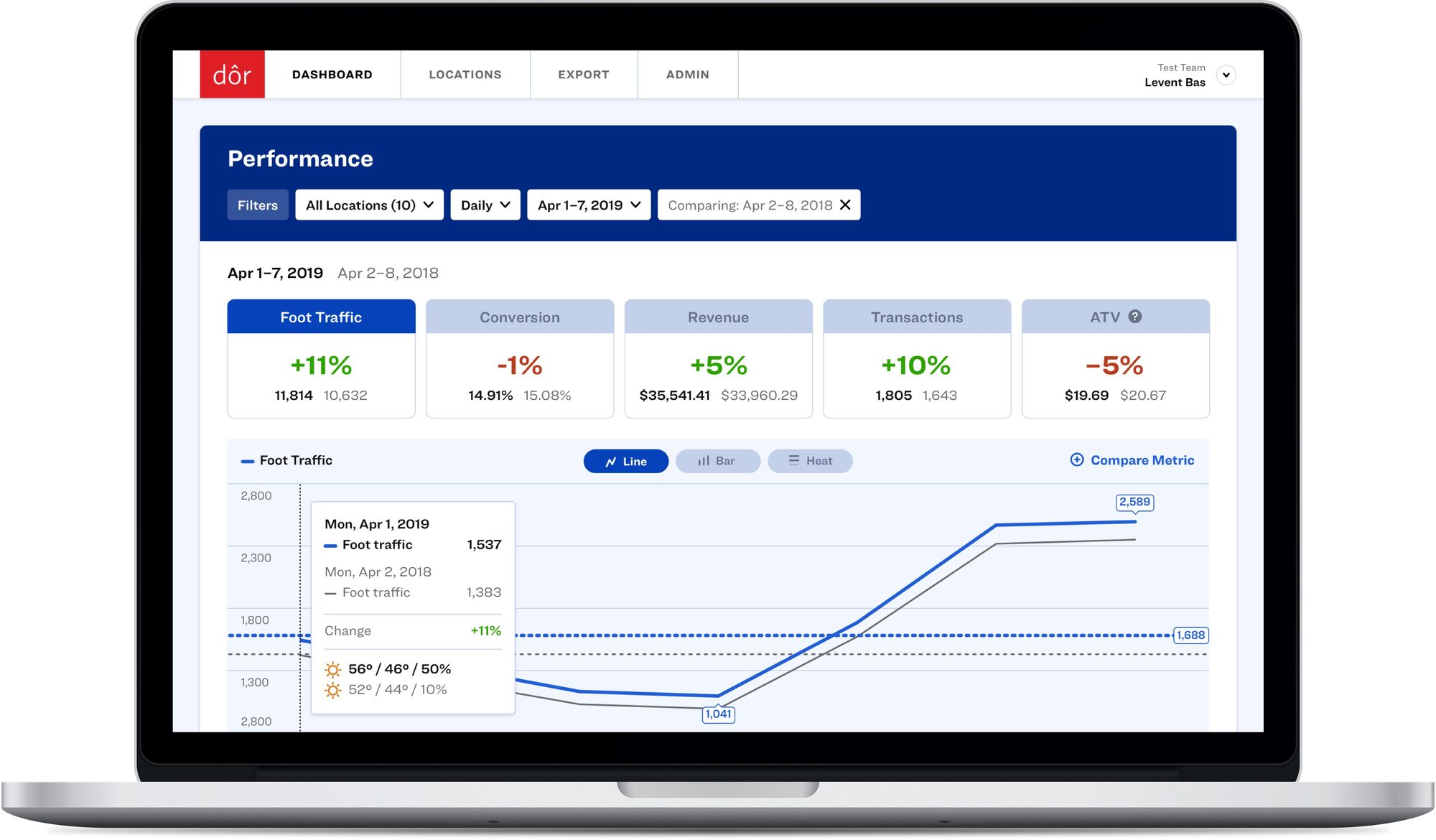 Did you know that a 1% increase in your store's conversion rate can mean a 10% increase in revenue?
Click here to discover how Dor can help you understand your foot traffic data and make more profitable business decisions.
Ready to purchase? Complete your purchase in just minutes!
1. Offer in-store pickup

Unsurprisingly, 2020 was the year of online shopping.
According to insights firm Incisiv's 2020 Shopper Study, there was a "208% increase in the number of orders placed online and picked up at brick-and-mortar stores between April 1 and April 20 [2020] compared to a year ago."
Although you might not be able to compete with big-box stores on next-day delivery, you can still cater to customers who may not want to enter a physical store just yet by offering contactless curbside pickup. One retailer that did this quite successfully during the early days of the COVID-19 pandemic was Bath & Body Works, who swiftly moved to expand contactless curbside pickup services once stores were able to open back up in May 2020.
For your retailer, you may choose to devote certain times or days to offer curbside pickup services, or you may find it's best to make it a regular part of your workday—what's important here is to make your customers feel at ease when they choose to shop from your store.
2. Don't let go of health and safety measures

Even as lockdowns and social restrictions ease in many parts of the world, some customers may still feel more at ease with health and safety measures such as social distancing.
After all, according to Business Wire, a survey by virtual care platform Vida Health found that "people are significantly more health-conscious since the outbreak of COVID-19 began," a trend that is likely to continue even after the rollout of vaccines.
To make sure your customers have peace of mind while shopping in your store, it's a good idea to hold on to precautions such as hand sanitizers and spaced-out queues in front of checkout. Look at makeup and skincare retailer Sephora, which continues to require that all employees and customers wear masks, as well as practicing social distancing and capacity restrictions at its stores.
3. Deck out your checkout

Sales might be low overall, but as a brick-and-mortar retailer, you have one advantage over e-commerce sites: impulse purchases!
According to an April 2020 poll by Slickdeals, Americans spent 18% more on impulse buys during the early weeks of the COVID-19 pandemic—and now that stores are opening back up, it's time to incorporate those last-minute buys into your store's design.
For inspiration, think of stores like Marshalls and Home Goods, where the checkout area is often packed with inexpensive but attention-grabbing items like seasonal treats, colorful mugs, notebooks, and other stationery items, or discounted wares.
Related: 13 Irresistible Checkout Counter Ideas to Increase Retail Sales
4. Monitor foot traffic

Another tech solution to help you increase retail sales is to monitor the foot traffic and analyze the sales performance in your store, which is only possible if you have a people counting solution such as Dor's people counter.
Suppose you opt for a people counter like Dor's battery-operated thermal sensor. In that case, you can easily integrate it with your POS system to see not only what customers are buying but when and what percentage (i.e: how to increase conversion rate in retail) —thus helping you prepare ahead of time for rush hours while keeping your customers contented.
Related: 8 Reasons to Invest in a Retail Traffic Counter
5. Make the returns process easy

Now that everyone's been shopping online for more than a year, many retailers have embraced home pickups for returned items.
In December 2020, retail giant Walmart implemented a new service, Carrier Pickup by FedEx, for customers to return their online orders without leaving their house.
As the owner of a small business, you may not possess Walmart's extensive logistics network—but you can adopt some customer-centric incentives such as making arrangements with a courier (or simply tasking a staff member with a driver's license) to pick up returned items from local homes in your area, even if it's just one day a week.
6. Be smart with your merchandising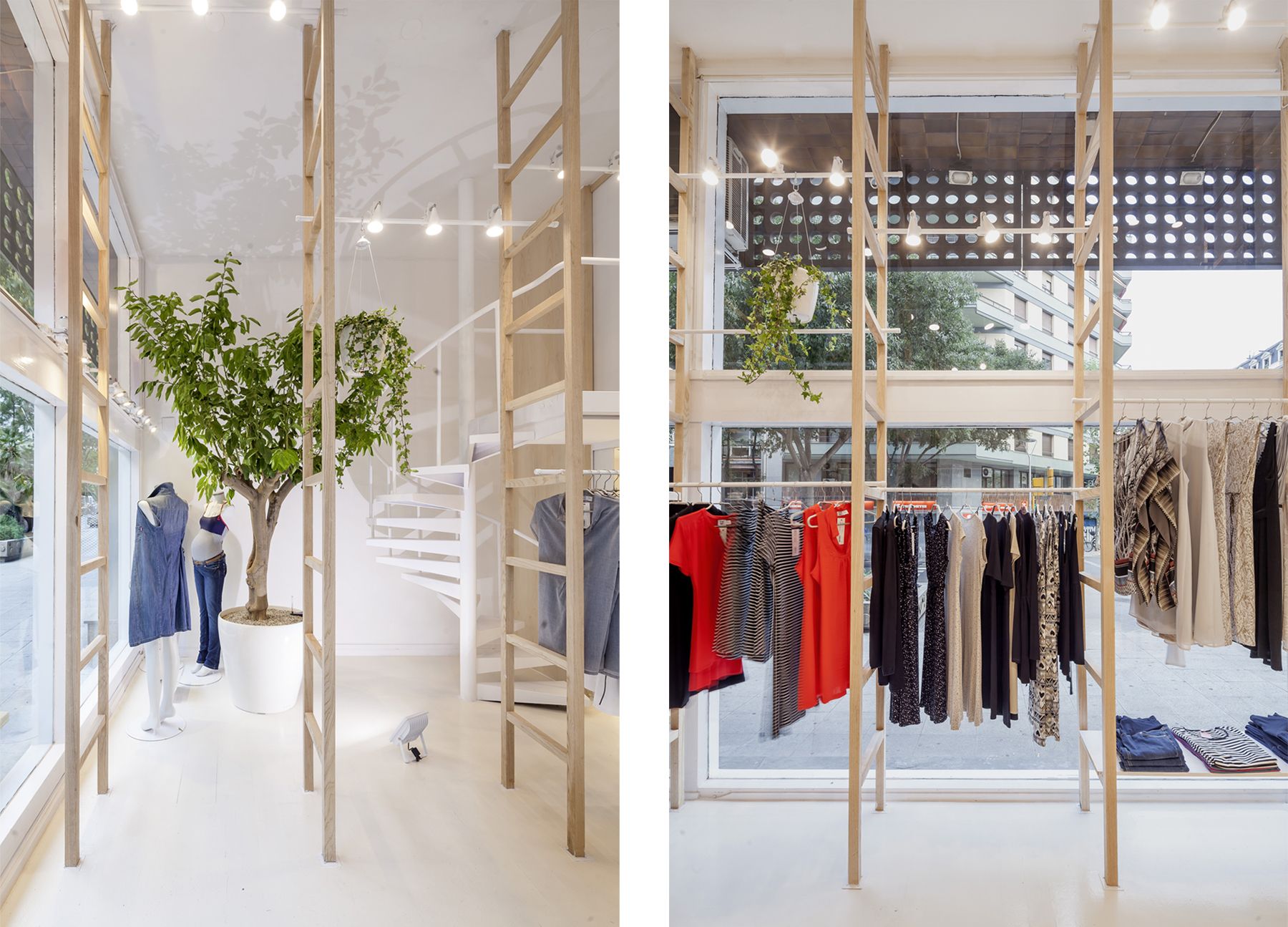 Although you want your checkout area to offer numerous impulse purchase options for your customers, you may want to adopt a more pared-back approach throughout your store.
After all, inventory costs money, and when sales are low, it may be a good idea to reduce inventory, as well. According to Retail Wire, department store Nordstrom could cut its inventories by 26% year-over-year despite store closures in 2020. It did so by using in-store inventory to fulfill online orders.
If you have multiple stores, you can take a page from Nordstrom's book and consider redistributing inventory among your different locations. If you only have one store, you can still adopt this idea by keeping limited inventory on the floor—that way; customers will have to interact with your sales staff to find what they're looking for, giving your employees a chance to dazzle customers and convince them to buy additional items.
If you're looking for inspiration, check out the minimal and light-filled design of maternity store Mit Mat Mamá in Barcelona.
7. Use visual cues to help shoppers navigate better

Depending on the size and type of store you run, customers may find it overwhelming to navigate your store—and that's precisely where smart labeling comes in.
Bookstores do this particularly well, marking off different zones throughout the store to guide shoppers where they need to go. You can take a page from their playbook and start marking your best-selling products, thus giving your customers a frame of reference on their shopping journey.
Related: How to Design Retail Store Layout to Increase Sales
8. Bring out the seasonal décor

You don't have to go all out and give your store a complete makeover each season, but putting in some extra effort during holidays or other special days will go a long way in attracting more customers into your store.
Check out this window display by Pufferbellies Toys & Books, a small store in Virginia that managed to create this showstopper just in time for the holidays.
9. Pay attention to lighting and scent

As any devotee of retail therapy will tell you, the experience of shopping owes a great deal to the ambiance—and two of the easiest ways to achieve an instant mood lift in your store are through lighting and scents.
Think less is more: you want to create an atmosphere of luxury without going overboard, so make sure your store is well-lit, but steer clear of flashing neon lights or overpowering scents.
10. Offer treats

If you want to maximize the amount of time—and money—customers spend in your store, offering food and treats on-premises is a great way to do that. UK supermarket chain Morrisons is one such brand that does this with its in-store cafes.
Even if you aren't able to open a full-sized restaurant in-store, try selling some inexpensive treats like cookies or muffins alongside some coffee and tea—mainly if your store attracts a lot of parents with young children.
11. Train your staff well

By now, you probably know that the quality of customer service offered can make or break your store's reputation—and this is especially valid during times when you might be experiencing a slump in sales.
If you train your employees to always be friendly and helpful in their dealings with customers, you at least have the chance to maintain your core clientele of repeat customers who love shopping at your store.
12. Adjust sales targets

Just as it wouldn't make sense to expect sales to return to the pre-COVID era overnight, it also wouldn't be fair to expect your staff to reach their pre-pandemic sales targets. One good way to get around low sales figures is to shift your employees' focus and get them to start upselling or cross-selling items to your existing customers.
Electronics stores like Best Buy are a great example of retailers that do cross-sell well. Not only are the stores designed to encourage shoppers to buy more—placing related items in close proximity, as in the photo—but their staff will also often suggest an accompanying product to go with your intended purchase.
Regardless of the type of store you manage, you can adopt the same mentality by familiarizing your staff and your customers with your inventory.
13. Highlight all the good you're doing

For today's consumers, it's more important than ever to shop from companies perceived to be ethical in their operations, which is why more and more companies are making an effort to communicate their Corporate Social Responsibility (CSR) projects with their customers.
Last holiday season, Disney reframed its annual partnership with Feeding America within the context of the COVID-19 pandemic. As part of its collaboration with Feeding America to support food banks in delivering nutritious food to kids after school, Disney announced the project on its blog as well as showcasing it on an Instagram account dedicated only to the company's CSR activities.
14. Offer discounts to healthcare and frontline workers

If you don't already have a CSR project your store is involved in, there is no time like the present to start one—we recommend focusing on healthcare and frontline workers who have been working diligently since the onset of the pandemic.
Take a cue from Samsung, currently offering 30% off select products for nurses, medical professionals, police, firefighters, and paramedics.
Related: 12 Proven Ideas to Increase Dwell Time of Customers and Boost Sales
15. Set up a simple website

While this may seem like the most challenging tip to implement, it actually isn't—yet it is the most important one. Over the past year, the pandemic taught brands the importance of having an online presence, and this trend is likely to continue in the post-COVID era, as well.
According to Deloitte's 2021 retail industry outlook, for which the company interviewed 50 retail executives, "Only three in 10 executives rated their organizations as having mature digital capabilities and, as such, many are planning 'major' investments in e-commerce, contactless capabilities, and store technology upgrades." In other words, embracing an online storefront will help put you ahead of the competition.
If you don't already have an e-commerce website, you can create a simple and attractive one using relatively inexpensive and easy-to-use tools like WordPress, Shopify, or Squarespace.
16. Get Google to recognize your business
Even if you aren't ready to set up an e-commerce site yet, you can still improve your store's online visibility by working on Search Engine Optimization (SEO), which gives search engines like Google information about your website that affects its ranking in the Search Engine Results Pages (SERPs).
One of the easiest ways to improve your SEO and draw in customers searching for local businesses is to set up a Google My Business profile, where you can enter information like your opening hours, address, phone number, and the type of products or services you offer. Having a Google My Business profile not only ensures that your business turns up in local search results, but it can also be used as a place to communicate with customers—you can gather customer reviews, share special discounts and campaigns, and even answer questions from shoppers.
While you're at it, it's also a good idea to share your inventory data with Google: that way, local customers searching for a specific item will be shown that it's available in your store, thus encouraging them to pay you a visit.Want to see a flawlessly executed Google My Business profile? Look no further than the world-famous San Diego Zoo.
17. Beef up your social media presence

Social media is another place you can show off all the good you're doing and appeal to a whole new range of customers.
Consider the ethical fashion brand of Madewell, which engages its 1.4 million followers by sharing its range of clothes and style tips, recipes, home tours, and DIY tips.
18. Partner with other local businesses

If you don't have many followers on social media, why not team up with another brand that does?
In 2017, Microsoft teamed up with National Geographic for its #MakeWhatsNext project to support young girls who want to study in STEM programs. By collaborating with National Geographic, which has a great deal more followers on Instagram, Microsoft was able to get its message far and wide, earning a total of 3.5 million likes in one day across several posts.
By following Microsoft's example, you can also find a complementary business to yours and leverage their social media following to promote your brand.
19. Invest in a smart POS system to prevent long lines

As contactless and mobile payments have become the new norm, it's more important than ever before to invest in a smart point-of-sale (POS) system that enables you to complete checkout fast, without having customers line up in front of the cash register.
In 2020, pharmacy retailer CVS began offering customers the option to pay via PayPal or Venmo using QR codes throughout its stores—an innovative and inexpensive solution that you could easily adapt for your own business.
20. Leverage inventory across multiple stores

For business owners operating more than one location, another benefit to having a smart POS system is that it can provide inventory data across multiple stores. If a customer comes in looking for a specific product you've run out of, your staff can instantly see on the POS dashboard whether it's available at another store and arrange for its transfer—without having to make lengthy phone calls and keep the customer waiting in the meantime.
When used in this way, a smart POS device can mean the difference between keeping a customer and losing him or her to the competition.
21. Start a loyalty program

Whether it's points or gifts, people love to get stuff for free.
By starting a loyalty program for shoppers who visit your store, you can turn them into loyal customers… Just consider the success of Starbucks' Rewards program, which has been going for years.
22. Use targeted advertising

Looking to get old customers back in store? One good way is to send them a message telling them you miss them and offer them an attractive discount on their next purchase from your store.
Check out this simple and straightforward marketing communication example from Gap.
23. Encourage shoppers to refer a friend

Suppose you'd like to double the number of customers your store attracts potentially.
In that case, you may consider offering shoppers an incentive to refer a friend—think special discounts, points towards a loyalty program, or any other treat that might appeal to your customer base.
24. Incentivize customer feedback

In today's competitive shopping landscape, recommendations are king when it comes to getting customers to pick your brand or product over your rival's.
Even if you're a small retailer without a dedicated website, you can easily create a customer survey and start receiving feedback from your customers by utilizing an easy-to-use service like Survey Monkey. To further incentivize customers to give you feedback, you can throw in a discount to sweeten the deal.
25. Consider hosting in-store events

Last but certainly not least, if you want to get more people buzzing about your brand, you can get the word out by hosting in-store events.
If your store has its own outdoor space, even better—think socially distanced picnics, readings, live music events, or even outdoor workouts. Here, Athleta is a great example, as the performance apparel brand has a dedicated section on its website for people to find out about upcoming events.
---
Hi there! If you liked this post, please feel free to share it on social media to help us reach out to more retailers like you. You can also leave a comment below and let us know if you have any questions!
---
Start counting your foot traffic now
Get data faster with the world's first thermal-sensing, battery-operated people counter
Get a Demo
Recommended Articles