Although e-commerce offers numerous advantages, there are still retail customers out there who prefer to visit a physical store. For them, shopping is a leisurely activity, and they often favor touching and seeing products in person.
The successful store owners are the ones who view this as an opportunity to increase sales. By getting customers to spend more time in your store—or increasing their dwell time, as we will explore below—you can entice them to buy more than they had originally planned.
Catering to in-store retail customers not only helps brands extend their dwell time and increase sales, but it also gives them the chance to convert casual shoppers into fans of the brand.
What's dwell time and why is it important?
Dwell time actually refers to the duration that a user will spend on your website before returning to the search engine results page (SERP). In the world of brick-and-mortar retail, it has come to indicate the amount of time customers spend in your store, whether they're idly browsing or actively engaged with your merchandise.
The reason dwell time is important is because customers tend to spend more when shopping in-store than online, according to a March 2019 report by First Insight. The idea is that, by getting customers to spend more time in your store, you can increase the number of products they buy and the amount they spend.
While there are a number of ways you can upgrade your store to encourage visitors to stay awhile, some of the most effective methods are also the most straightforward, meaning you won't have to break the bank to get more customers in store.
Check out our 12 tips below and get creative!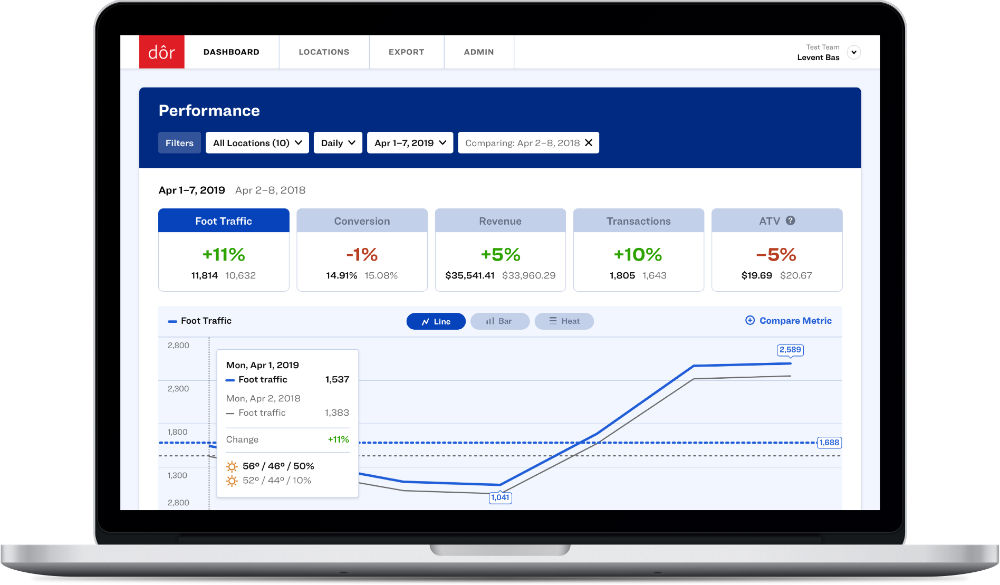 Click here to discover how a people counting solution like Dor can help you understand your foot traffic data and how to utilize it to make more profitable business decisions.
1. Designate an area of your store for customers to interact with your products
Most retailers will distribute their products throughout the store to ensure that customers can view each category or item. While this is a good idea, you might also want to consider designating a specific section of your store for customers to experience the products in person.
Think of the bookseller Barnes & Noble, which used to provide sofas and couches for buyers to hang out and read books or magazines.
Another example is Apple Store, which encourages customers to try out the electronics in person through its store design. Of course, you don't have to redesign your entire store to showcase products for customers to peruse: You can start out small, with a single wall or corner of your store, and ramp up your efforts from there.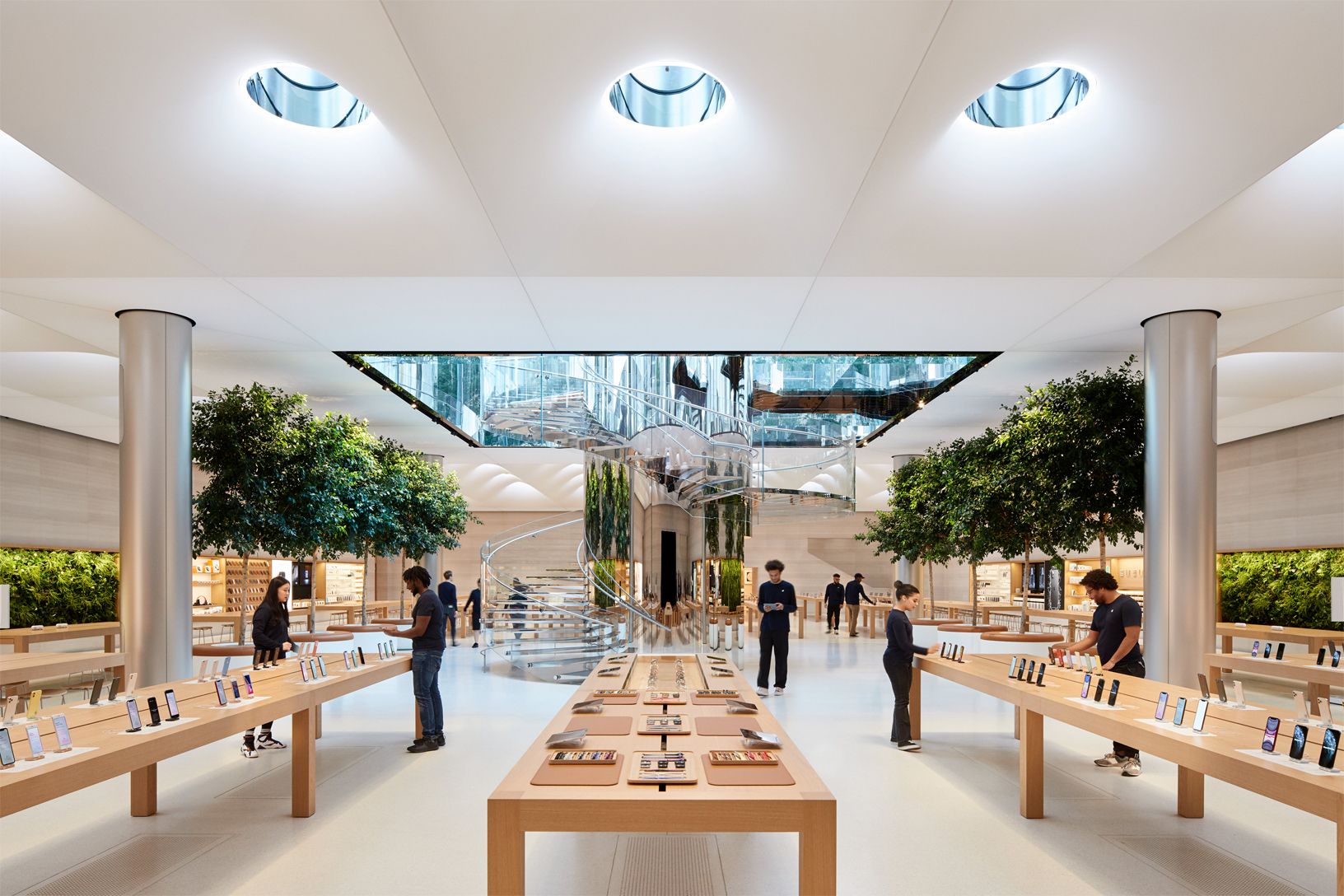 2. Utilize interactive displays
If it's not possible to designate an area of your store for customers to interact with your products—whether it's due to store size or other concerns—you can opt for interactive displays which allow your customers to explore your full product range.
Interactive displays are essentially a digital in-store catalog with additional features to help the consumer. For instance, customers can use MemoMi digital mirrors at select Neiman Marcus stores to "try on" outfits without the need for a dressing room.
Related: 15 Creative Retail Display Examples to Increase Foot Traffic and Sales
Similarly, The Whole Body Mirror at the Whole Foods Avalon store in Alpharetta, GA, recommends products for customers based on the "aura" generated by their poses.
While these technologies may sound too expensive for small stores, you should keep in mind that most of the initial investment goes toward hardware, as the data is provided by the store itself. There are also numerous resources on the internet that teach you how to build your own interactive display by equipping regular mirrors with software.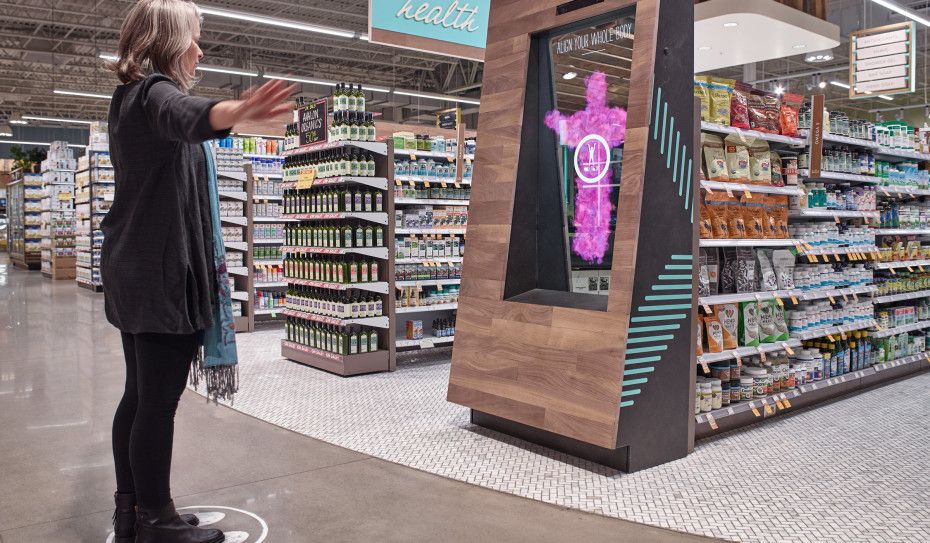 3. Provide a way for customers to carry multiple items
Although most large retailers will provide customers with shopping carts, baskets, and totes, smaller shops may sometimes eschew these conveniences in favor of having sales associates assist each customer.
While getting sales associates to interact with customers is a good strategy in itself (which we will explore more below), you should also keep in mind the psychological effect of pushing a shopping cart or carrying a basket or tote. When customers have a sizeable container to place their items, they may feel like they need to "fill it up," which encourages them to walk around the store and grab multiple items.
This tip works best for clothing shops and retailers where the items are small and affordably priced, such as accessories stores, cosmetics stores, independent drugstores, or health stores. One great example is the pharmacy chain Walgreens, which places shopping carts and baskets near the front of the store. Once customers grab that shopping cart, it's inevitable that they'll walk out with much more than just the prescription they came to pick up.
4. Enlist your sales associates to chat up customers
One of the greatest advantages you have as a brick-and-mortar retailer over e-commerce is your in-store sales associates, so use them wisely. By getting your sales associates to build rapport with shoppers, you have the opportunity to not only increase the average transaction amount (ATV) at your store but to also gain a lifelong customer.
Make it a point to have your sales associates chat with each customer who walks into your store. The goal should always be to assist the customer without seeming overbearing.
Take a cue from grocery store Publix, which ranked ninth out of 480 companies—as well as being the only grocery store in the top 10—for the America's Best Customer Service 2019 report published by Newsweek and data research firm Statista.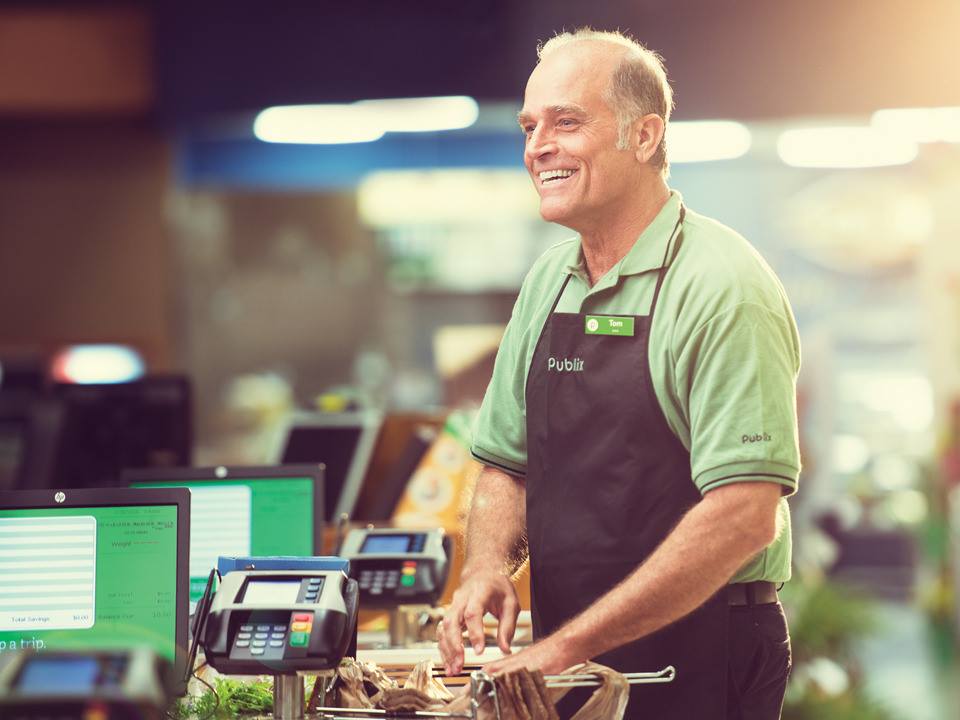 5. Offer exclusively in-store services
One way to get more customers into your store as well as entice them to spend more time (and money) there is to offer services that they cannot get online.
A classic example of this is the lingerie giant Victoria's Secret offering bra fittings for customers who are unsure of their size—a service that is far more personalized than providing a simple sizing chart on their website.
A more recent example comes from Nike, which does shoe fittings in-store as well as via its Nike Fit app. The athletic wear and footwear brand still offers some services exclusively in-store, however, like the Nike+ Running Trial Zone. Available at select Nike locations, like the one pictured in Moscow, Russia, these designated areas feature treadmills where customers can test running shoes to find the best fit.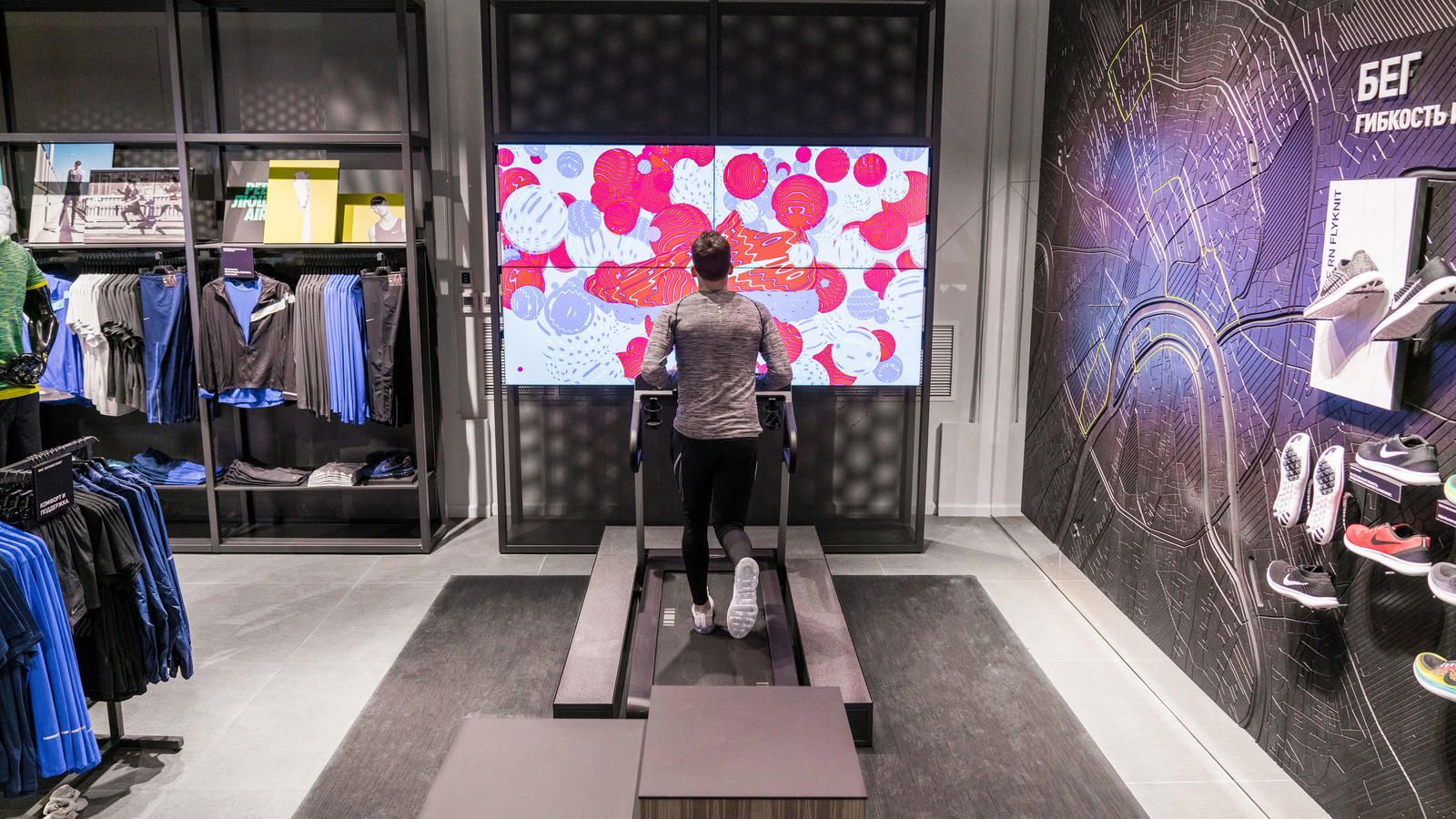 6. Host in-store workshops and classes
Another way to get customers visiting your store more often is to host workshops and classes related to your field.
Take cosmetics retailers like Ulta and Sephora, for example. These brands offer in-store consultations with stylists and makeup artists, who are in a unique position to recommend various products throughout the store by demonstrating them directly on the customers.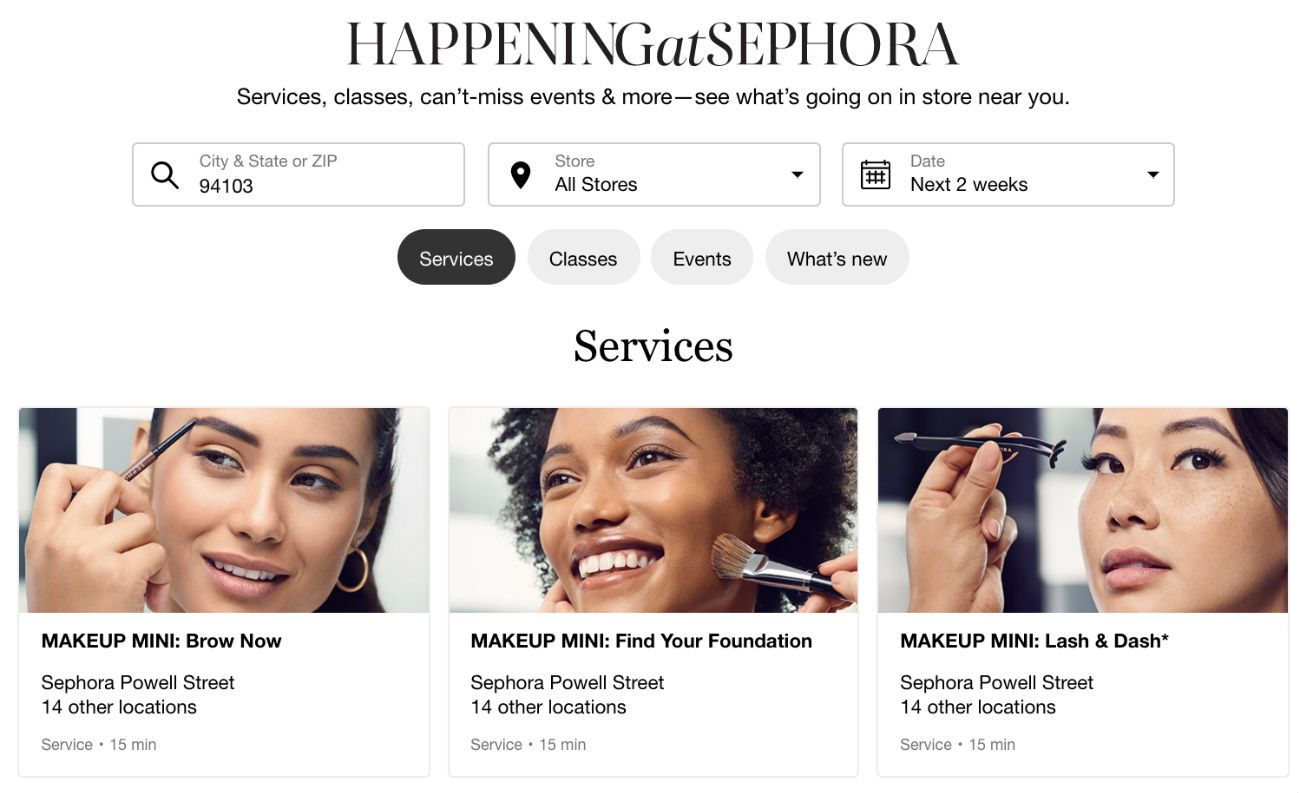 7. Serve food & drinks
The only way to a consumer's heart may not be through his or her stomach, but it certainly helps to serve tempting treats at your store. After all, you don't want customers to leave your store because they got hungry when you could be raking in those profits for yourself.
H&M knows this, which is why the fast-fashion giant has unveiled the in-store café It's Pleat at two stores in London (like the one pictured, which is tucked away in the H&M Home section of the brand's Regent Street location). It's Pleat serves sandwiches, salads, pasta, snacks, as well as various types of coffee.
If you're new to serving food and drinks, or if you're a small retailer with not a lot of store space to devote to catering, you can start out small by offering coffee or tea and some pastries or prepackaged snacks.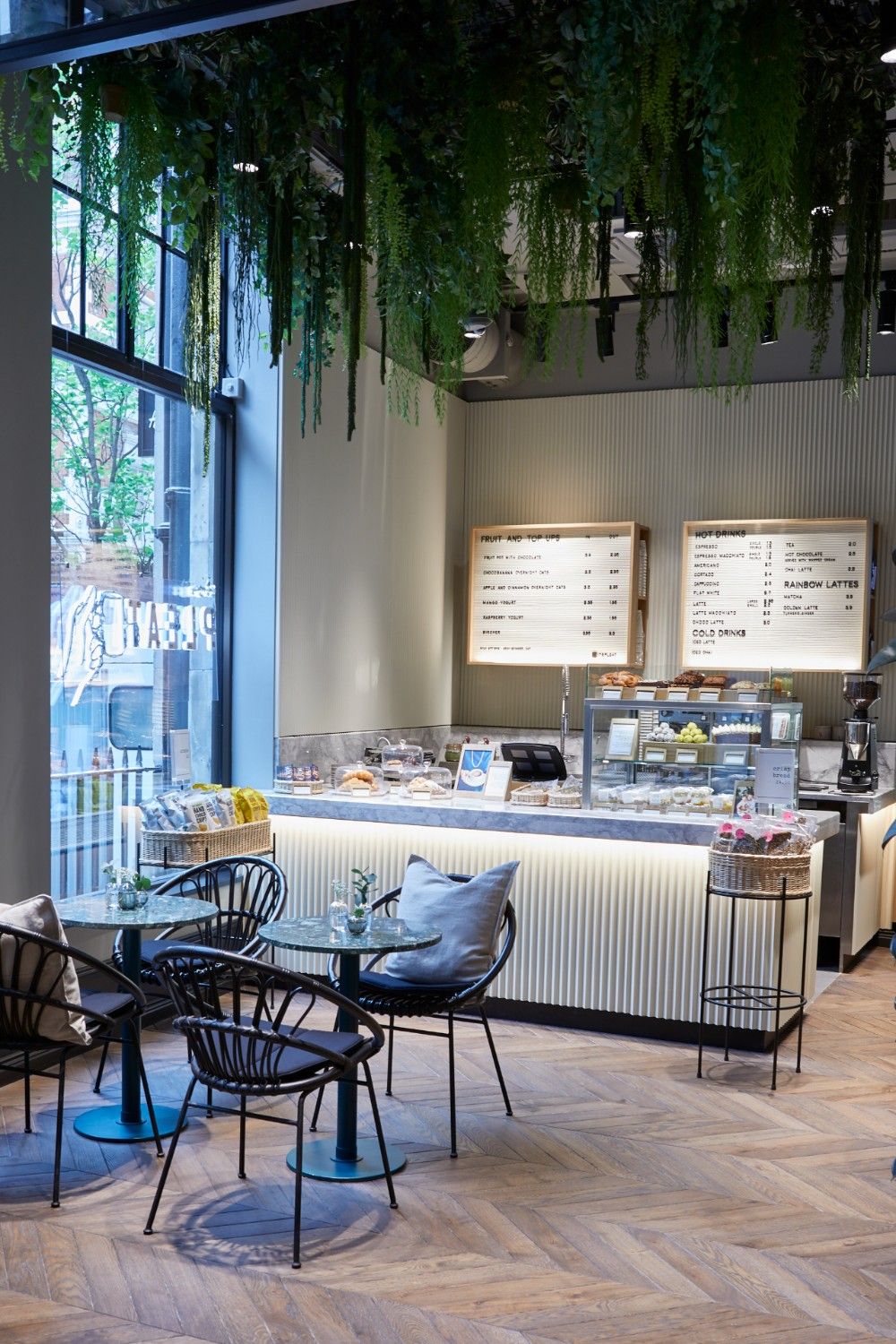 8. Appeal to the senses
Your customers' taste buds aren't the only thing you need to consider if you want them to spend more time in your store…
It's also important to cater to their other senses with thoughtful elements like a signature in-store scent and appropriate music selection. Lighting also plays a big role in store design, as it can be used to highlight select products or product categories.
Lifestyle brand Anthropologie excels at this, using its range of furniture and home goods to create an inviting yet aspirational mise-en-scène in every corner of the store. Every detail is deliberate, from the lighting and plants-as-décor to its distinctive in-store scent—which is available for sale at Anthropologie in candle form.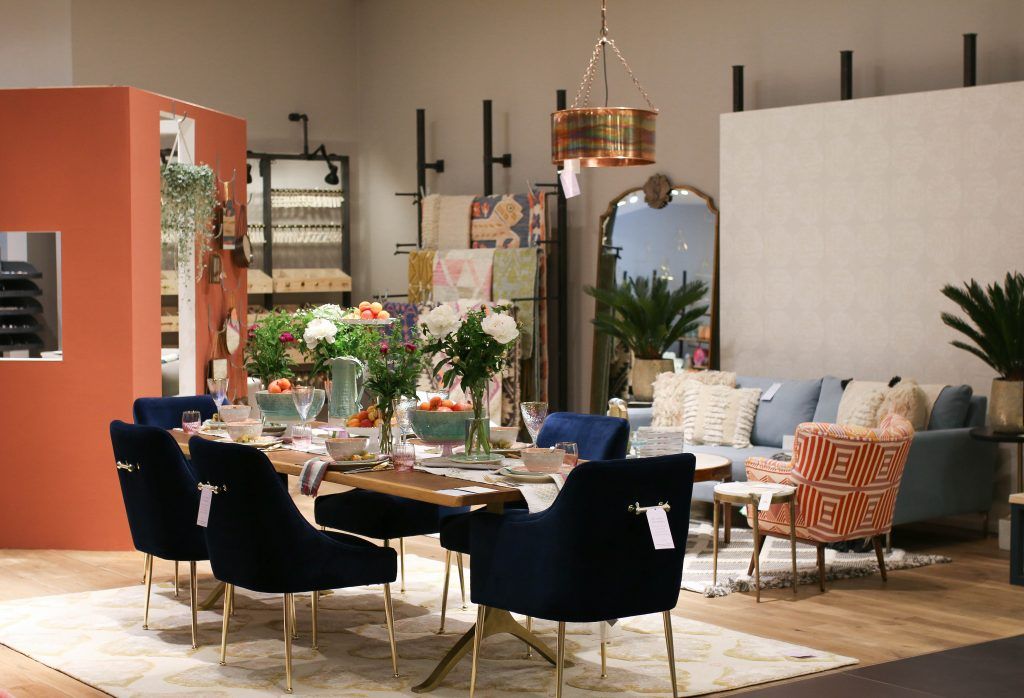 9. Keep customers' batteries charged (literally)
While retailers of the past may have focused on providing premium services for customers, in today's tech-driven world, store managers are finding that keeping shoppers in store also means keeping them connected. After all, no one can deny that Starbucks would have been a very different place if it hadn't provided electrical outlets for customers to plug in their laptops.
These days, helping your customers keep their devices charged is far easier (and cheaper) than rewiring your entire store, thanks to the advent of mobile technologies such as charging stations.
Companies like ChargeItSpot offer mobile charging stations and kiosks which can be used at a wide variety of retailers, like this one pictured at Bergdorf Goodman.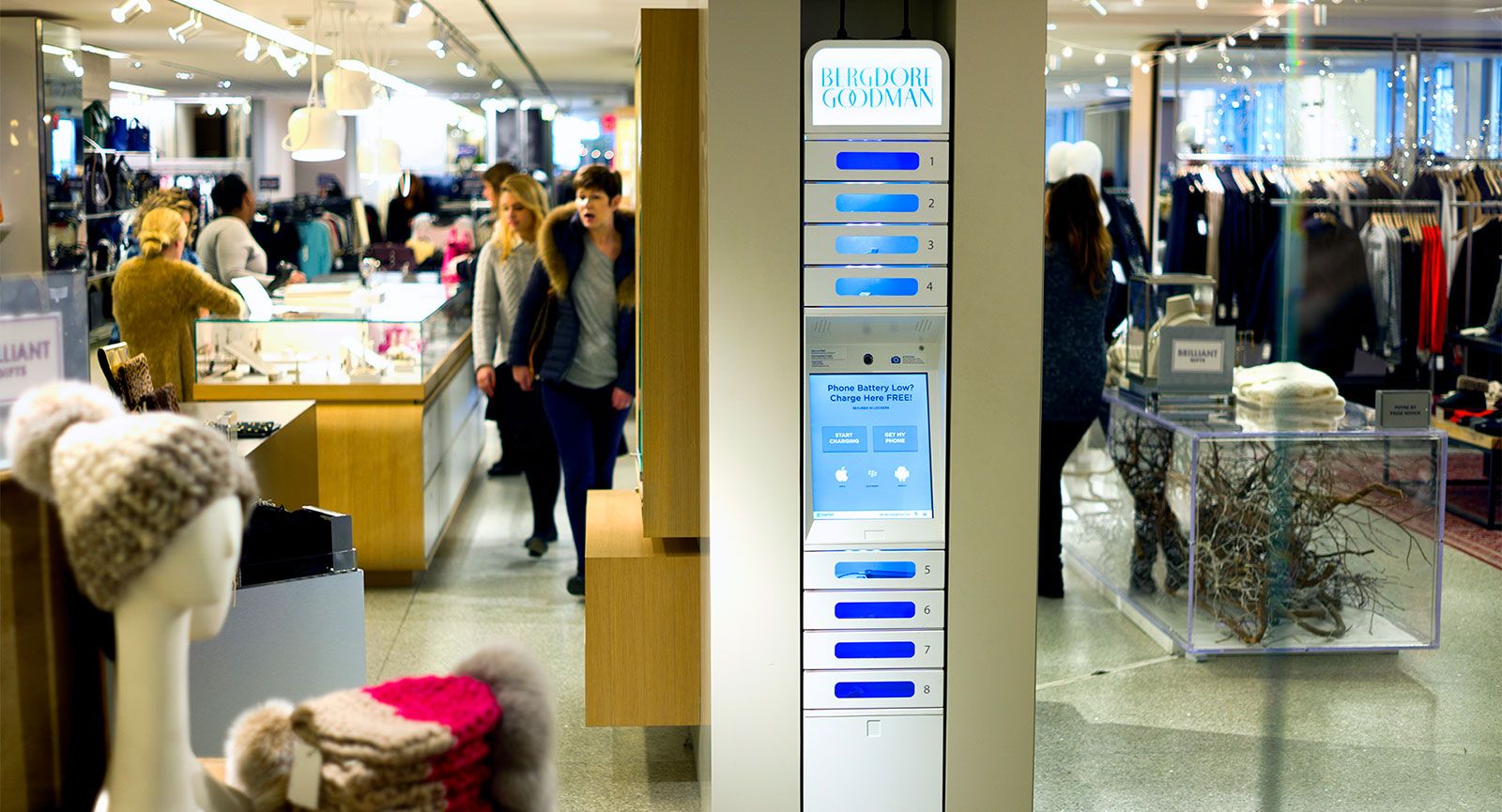 10. Inject some Insta-worthy features into your space
In the Instagram era, stores have to think outside the box if they want to gain new customers through likes and shares. In an age when people from all walks of life share their day-to-day experiences on social media, adding a few hip features or design elements can help your store stand out from the competition and become a must-visit site for budding influencers—a good way to increase both foot traffic and sales.
As mentioned earlier, lifestyle brand Anthropologie is an expert in crafting store décor that's worthy of the socials. For even more inspiration on how to design your store for maximum impact on Instagram, we recommend checking out luxury home décor and interiors brand House of Hackney's colorful flagship store in Shoreditch, London.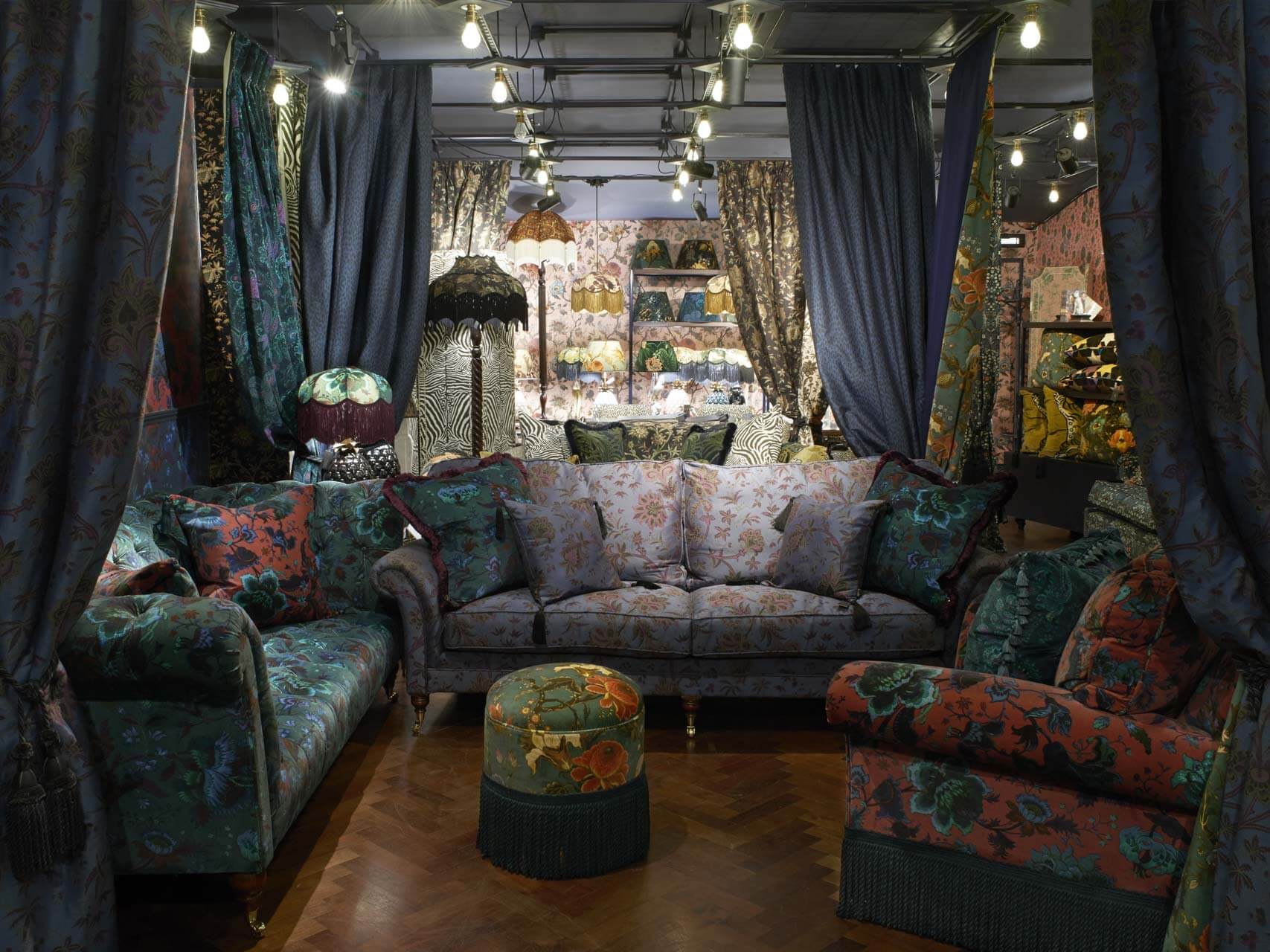 11. Invest in a photo booth
Another way to get the millennial and Gen Z crowd frequenting your store is to invest in a photo booth. Not only does this provide an area for groups of shoppers to have fun, but it also allows you to obtain marketing data such as email addresses as well as encouraging photo-takers to follow your brand on social media.
Depending on the type of retailer you operate, you can even include some of your products in the booth for people to use as props for their photos—perhaps they may enjoy a product so much that they'll want one of their own to take home.
One brand that recently made a big splash through its use of photo booths is Calvin Klein, which placed said booths at Victoria Gate shopping center in Leeds, U.K., as part of its #MyCalvins campaign. Here, visitors were able to take photos featuring personalized inspirational quotes, then share them via email and social media.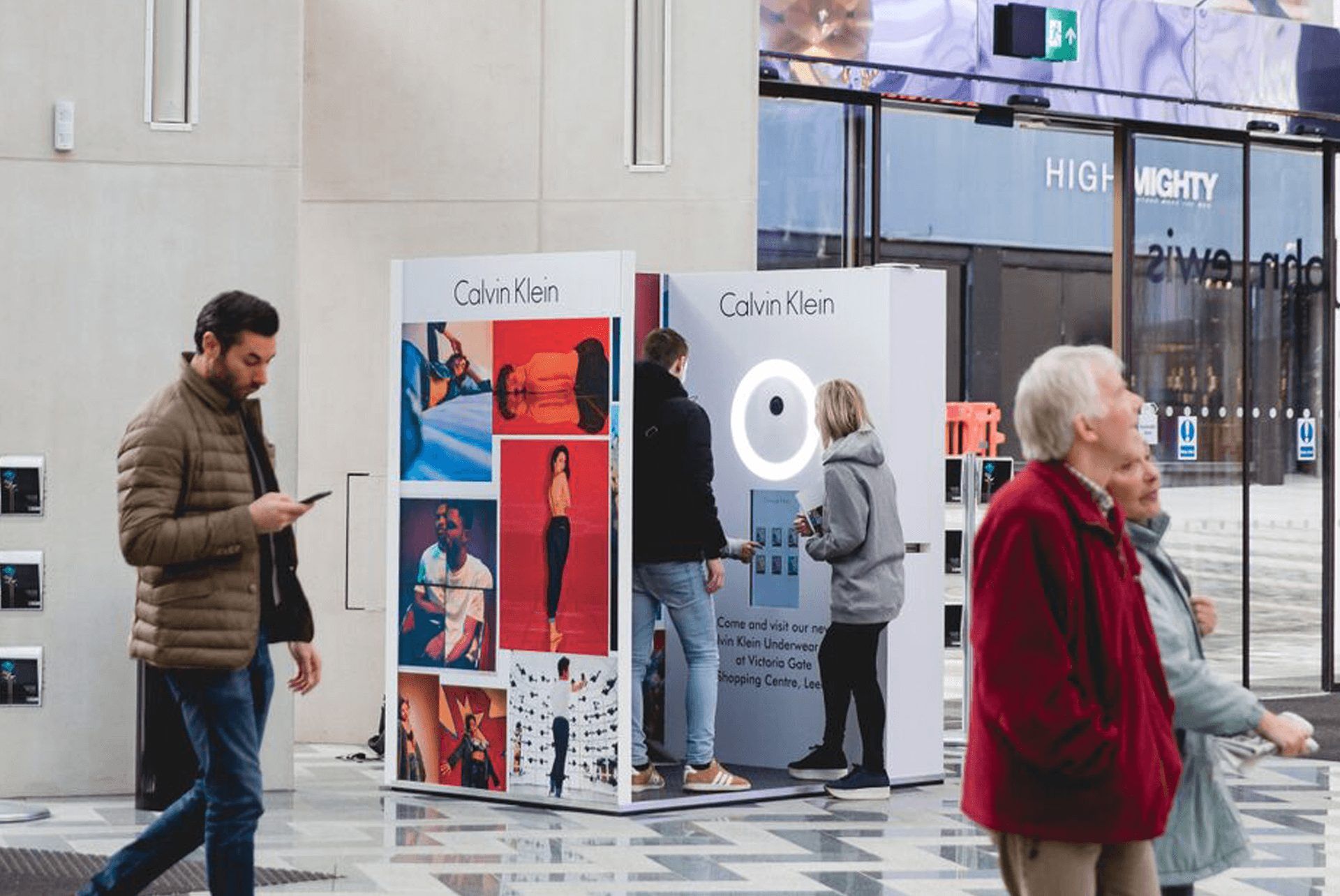 12. Engage the kids
Whether or not your store specializes in kids' products, you'll likely have a few customers visiting your store with their children, so it's worth keeping them in mind when trying to get shoppers to spend more time at your store.
You've likely heard of retail heavyweights such as IKEA catering to families with play areas featuring interactive toys, but the reality is that, for smaller retailers, devoting an entire section of the store to family-friendly tools and services is simply not feasible.
This is where it pays to think outside the box. After all, the right idea for your store can be both simple and effective—just look at what grocery store chain Trader Joe's is doing. At most of their stores, staff members hide a stuffed animal each day, and the kid who finds it receives a prize such as a lollipop. The idea is not only a cheap way to keep the kids busy while the parents do their shopping, but it also encourages them to roam throughout the store, increasing both dwell time and the likelihood that the family will purchase more items.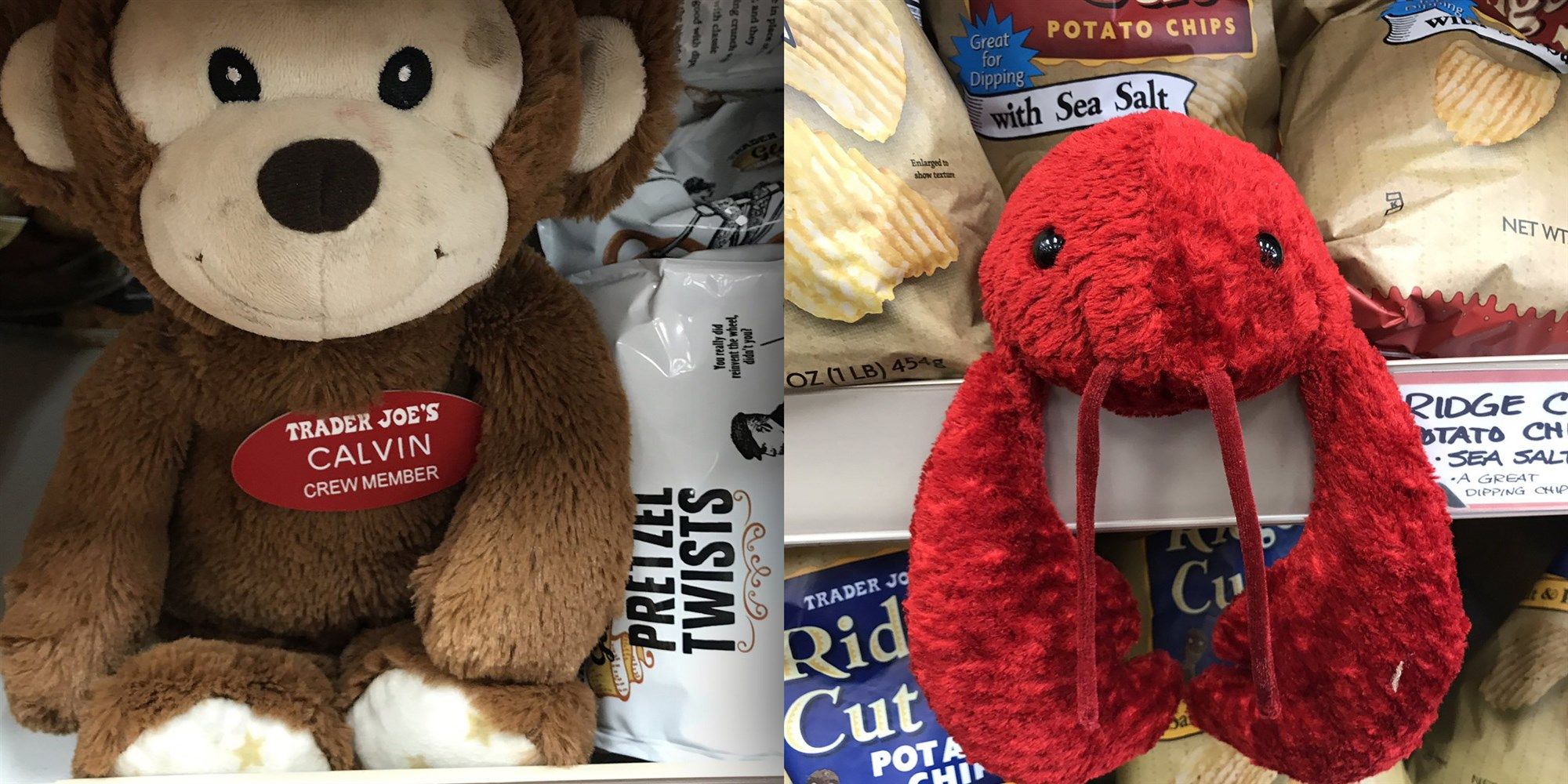 ---
Hi there! If you liked this post, please feel free to share it on social media to help us reach out to more retailers like you. You can also leave a comment below and let us know if you have any questions!
---
Start counting your foot traffic now
Get data faster with the world's first thermal-sensing, battery-operated people counter
Get a Demo
Recommended Articles