I'll cut right to the chase: customer service needs to be a priority in your business.
In an age when shoppers have nearly endless choices of where to spend their time and money, retailers need to find a way to stand out. And the best way to do that is to delight your customers through the support and experiences that you offer.
But don't take my word for it. Multiple studies have shown that businesses with top-notch customer service have better retention rates, generate higher sales, and are more successful overall.
The importance of good customer service in retail
Make no mistake: providing great customer service is great for business.
For starters, you'll make more money. A study by American Express found that consumers are willing to spend 17% more to do business with companies that offer excellent service.
Related: People Counters & People Counting: Everything You Need to Know
Shoppers also tend to purchase more often when they're happy with the service they receive from a business. According to HubSpot, 93% of shoppers are likely to make repeat purchases from companies that provide remarkable customer service.
Conversely, shoppers are quick to jump ship the moment they have a bad experience with a retailer. American Express found that over half of Americans abandoned a purchase or transaction because of unpleasant customer service, and 33% said they'll consider moving to a competitor after just a single bad experience.
All this to say that if you want to win over shoppers, you need to keep your customer service game high.
To help you do that, we've put together a roundup of real-life examples of amazing customer service in retail. Check them out below and see if you can incorporate these strategies and tactics into your own customer service strategy.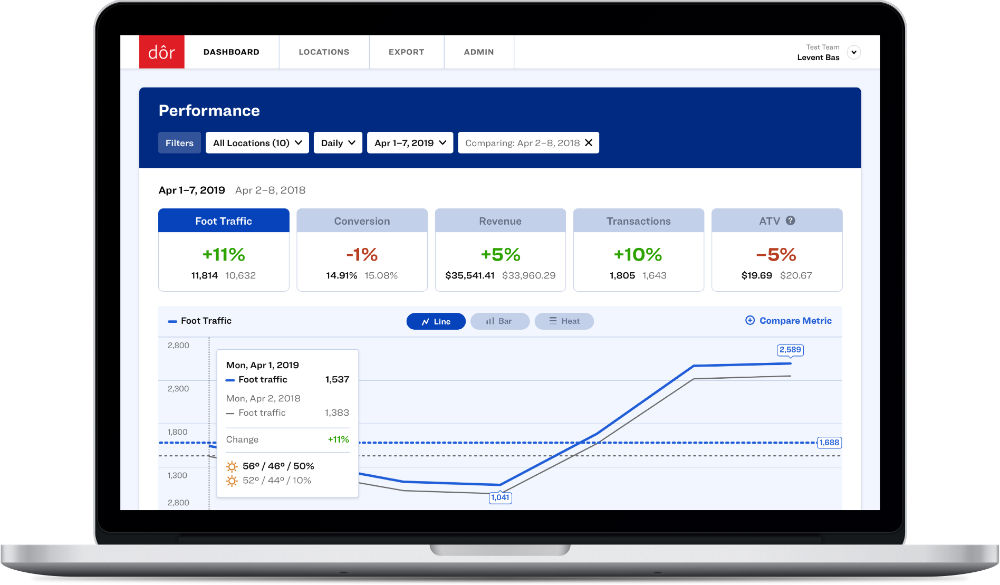 Click here to discover how a people counting solution like Dor can help you see your customers' foot traffic data and how to make them happy and returning customers.
1. The employee who spent a remarkable amount of time chatting with a customer
While many organizations are pushing call center agents to get through as many calls as quickly as possible, the online retailer Zappos does the exact opposite.
The company cares more about ensuring that customers are happy — even if that means that Zappos' staff spend a little more time on the phone with them. And in some cases, "a little more time" can translate to hours on the phone.
That's what happened with Steven Weinstein, a Zappos employee who spent 10 hours and 43 minutes with a caller.
To be clear, only a small fraction of the call was spent on the business side of things. But Steven and the customer had such a great connection that they ended up talking for hours after that. "After we had placed the order, the business part was over," recalled Steven. "And then the connection just got even stronger. We talked about everything from vacations to restaurants, to places we've been to. See, that's the coolest thing about Zappos, you can talk to the customers, and the customers become your friends."
He continued, "And this was amazing. She said, 'I've never been treated like this by any company, anywhere, ever before. And that's what we do at Zappos. It's that obsession with making sure our customers are perfectly happy."
Takeaway: It's important to act on customer issues as quickly as possible, but at the same time, you don't want the shopper to feel like they're being rushed. Answer their questions thoroughly, and if they want to chat further, indulge them. Use your interactions with shoppers to get to know them better, so you can forge stronger relationships.
2. A retailer's speedy response to a health crisis
When the coronavirus was declared a pandemic in early 2020, the best in class retailers responded swiftly and were quick to inform and reassure shoppers about what they were doing to keep people safe in their stores.
One example of a company that did just that is Sephora. The cosmetics retailer sent an email to its customers discussing the practices they have in place and the additional steps they were taking to enhance the safety of its in-store staff and customers.
Such measures included suspending free and paid in-store services like makeup application and classes, as well as increasing weekly deep cleanings of its stores and distribution centers.
Have a look at Sephora's email below:
Takeaway: When faced with a crisis — especially one that involves the public's health — act quickly and take the necessary steps to keep your staff and customers safe. Then, communicate with your customers. Tell them about the measures you're taking and emphasize the fact that their health and safety are your top priority.
3. A merchant offering generous store credits to compensate for a poor customer experience
Not everything goes according to plan. Sometimes, you launch a campaign and encounter technical difficulties. Other times, miscommunication may arise between you and your customers.
Whatever the case, if your shoppers have a poor experience with your brand, you need to make up for it ASAP.
One approach is to offer some sort of perk or compensation.As an example, let's look at Tony Robbins, who in addition to being an author and speaker, runs an ecommerce store selling a variety of products. Back in December, Tony was supposed to hold a live webinar for his company's coaching clients. But due to technical difficulties, many of those who registered weren't able to watch the webinar.
To make up for the poor experience, the Tony Robbins team offered registrants a generous $50 off coupon that they could use towards any product at the Tony Robbins online store.
Takeaway: No retailer wants to let their customers down, but in the (hopefully) rare occasion that this happens, consider giving shoppers a discount or freebie to show them that you're sorry for any hassle that they've experienced. Taking this step could be just the thing to turn a negative brand perception into a positive one.
4. Retailers who keep customers posted every step of the way
Sometimes, the best way to serve your customers is to keep them in the loop with the status of their purchases.
No one likes being left in the dark, so make it a point to update your customers if there are any changes to the orders they placed or the state of their service requests. When they place an order on your site, consider sending multiple notifications, including:
When the order is received - This is table stakes in online retail. When a customer places an order, there needs to be an automated message confirming that you've received their order.
When it ships - Tell your customers when their order has left your facility. This gives the shopper a heads up so they can anticipate the package. Don't forget to include the tracking number as well as any relevant reminders for receiving the package (e.g., if a signature is required).
When it's out for delivery - Now, if you really want to keep people in the loop, consider sending them an additional notification on the day that their package is scheduled for delivery. Not only will your customers appreciate the reminder, but this extra step could minimize lost packages or missed deliveries.
When the package arrives - As a final step, consider notifying your customers that their order has arrived. This helps reduce the chances of packages getting lost or stolen, and helps ensure that shoppers can get their hands on their purchases.
Sephora, once again, does an excellent job here. In addition to sending the more common "order is received" and "shipping notification" emails, the retailer also gives shoppers a heads up when their package is about to arrive, and it sends a final email notifying customers that their order has been delivered.
Sephora ensures that shoppers are always in-the-know when it comes to orders, so they never have to guess or follow-up. It also gives customers peace of mind knowing that Sephora is taking care of their purchases.
Here's a screenshot of Sephora's "arriving soon" email:
And here's the email shoppers get when their package has been delivered:
Takeaway: If you're doing business online (and you totally should), be a master communicator and keep your customers informed on the status of their order every step of the way. At that bare minimum, you should be sending "order received" and "order has shipped" emails. But consider going the extra mile by letting shoppers know when their products are about to arrive and when they've been delivered. Your customers will appreciate the extra reminders and they will be more likely to order from you in the future.
5. The in-store associate who makes an effort to really get to know shoppers
This story comes from my own personal experience of buying a mattress at Sit 'n Sleep, a Southern California chain of stores that specialize in mattresses and bedding.
The associate who helped me at the store took the time to get to know my sleeping habits as well as preferences. Before even recommending a single product, she asked a lot of questions and learned about my day-to-day activities and the things I do in bed (besides sleep).
Related: 9 Proven Tactics to Improve Retail Employee Performance and Sales
From there, she made thoughtful recommendations based on the answers I gave her. For instance, when I mentioned that I work from home and sometimes use my laptop in bed, she pointed me towards the Tempurpedic mattress with an adjustable base that can move into a sitting position. "This will make it easier for you to work in bed," she said.
I ended up going with the associate's suggestion because she made me see how it would fit into my habits and lifestyle.
Takeaway: If you want to serve shoppers better, you need to get to know them better. The best way to accomplish that is by asking good questions and paying attention to what each shopper has to say. You and your associates should develop a sense of curiosity with every customer who walks into your store. Spend time getting to know them, and use that information to offer relevant product recommendations and advice.  
6. Employees who remember previous conversations
For this example, we turn to Starbucks.
The coffee company does a great job encouraging the staff to connect with people who regularly visit its stores. I happen to have a go-to Starbucks in my neighborhood, and I always appreciate when employees at the store remember and even reference previous conversations that we've had.
It's not uncommon for them to ask about my next writing assignment or for us to joke about the funny things going on in the neighborhood.
Takeaway: Pay attention to your regulars. People who visit your store frequently are some of the most valuable customers you can have, so make them feel special whenever they swing by. One way to do that is to remember your past interactions and by bringing up details that they've provided in the past.
7. Retailers using multiple channels to serve customers
Amazing customer support entails that you serve customers on the channels they feel comfortable using. This means establishing a presence on the platforms commonly used by your customers.
The cosmetics retailer Ulta does an excellent job at this. Its guest services page has easy links to multiple support channels, including live chat, email, phone, and the company's mailing address.
In addition, Ulta is responsive to queries sent via Facebook Messenger and the brand actively responds to customer concerns on Twitter.
Related: 15 Social Media Marketing Tips for Retailers to Increase Sales
Takeaway: Identify the support channels that you should be using in your business (hint: look at where your shoppers are spending their time). Make sure you establish a presence on these channels and actively respond to any comments or queries that you receive.
8. Associates who give their honest opinion to shoppers
In retail, good customer service doesn't mean always saying yes or telling a shopper what they want to hear. It's a much better practice to be honest with your customers, particularly when they're trying on products.
I had this experience at Nordstrom when I was shopping for sunglasses. I was trying to decide between 4 pairs, and the associate who was helping me took the time to evaluate how each product looked on me. I loved that she didn't hesitate to tell me when something isn't working, and she gave her honest opinion on which pair I should buy — even if that meant recommending sunglasses that were at a lower price point.
Takeaway: If a customer asks for your honest opinion, don't be afraid to share it — as long as you do it in a respectful way, of course. Shoppers often turn to associates for product recommendations, and during these instances, you should keep the shopper's best interest at heart. This may mean telling the shopper that a product isn't right for them or recommending a less expensive option. Be honest. Your shoppers will thank you for it!
9. Retailers who show you where to go (versus just telling you)
As a retailer, you likely encounter customers asking you where to find certain items. In these instances, it's much better to show the shopper where they should go, instead of simply giving instructions or pointing to the section at the store.
One retailer that does this well is Sprouts. Whenever I'm having trouble finding an item, a Sprouts' employees will always accompany me to the right shelf. While the staff at other grocery stores will just tell you where to go, the Sprouts team go out their way and will walk with you towards the section of the store that you're looking for.
Takeaway: When a customer asks you or your employees for direction, go the extra mile (or in this case, a few extra feet) to show them where to go. Aside from making shoppers feel well taken care of, making this effort can also drive sales. After all, when people quickly find what they're looking for in-store, they're more likely to buy.
10. Associates who have the freedom to use their judgment when serving shoppers
It's hard to provide authentic customer service if you can't be your authentic self. Retailers like Trader Joe's understand this, which is why TJ's gives employees the autonomy to serve and delight customers as they see fit.
As Natalie Royal, a former TJ's crewmember put it: "If a customer was having an 'off' day or if I just felt like going above and beyond for an awesome (usually polite) person, I was given the complete freedom to dazzle them how I saw fit… Depending on the situation, I'd usually give them a bar of chocolate on the house or toss in a cute greeting card at the last second, and this resulted in some extremely rewarding experiences."
Takeaway: It's good to have customer guidelines and policies, but you may want to think about giving your employees more wiggle room with how they serve shoppers. This will vary from one retailer to the next, but if it makes sense for your business, consider empowering your team to deal with issues on a case-by-case basis, with the end goal of keeping customers happy.
11. Companies that reference your previous interactions
Banks don't always have the best reputation when it comes to customer service, but every now and again, they might surprise you.
Case in point: Bank of America.
A while back, an oversight on my end resulted in an overdraft charge. As the error was unintentional, I called the bank to see if they would waive the fee. The customer support rep looked up my records and said something along the lines of "Since you've been with us for a while, and this is the first time that this has happened, we're happy to waive the fee."
I hung up the phone, satisfied and relieved.
Takeaway: Take note of your previous interactions with your customers. Use a CRM system to track their purchase history and to record notes on your customers. Then, refer to these records when dealing with shoppers. If a shopper is looking for a new purse, for example, then you can look up their purchase history and use that information to make relevant recommendations.
12. Retailers who offer sincere apologies
Owning up to your mistakes isn't easy, particularly when it leads to an upleasant customer experience. But it's something that you need to do to get back in your customers' good graces (that, along with offering to compensate for their unpleasant experience).
One retailer that did this well is Rebecca Minkoff. The retailer had trouble keeping up with order volume during the holiday season of 2017, and this led to a poor customer experience. To address this, Rebecca Minkoff herself authored a post on Instagram telling her followers how horrified she was that her company let shoppers down.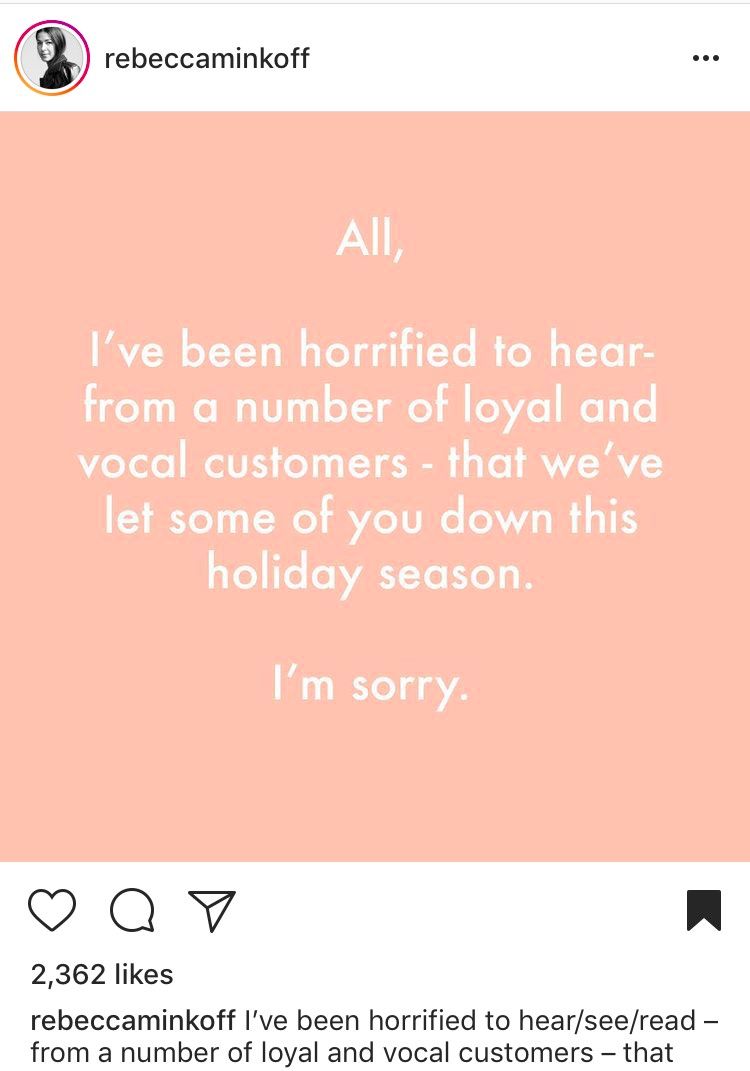 Takeaway: When you let your customers down, the best thing you can do is own up to your mistakes and let them know how sorry you are. Be authentic with your apology and take immediate action to rectify the situation.
13. Retailers offering food and drink
Another way to level up your customer service game? Consider serving food or beverages. Doing so not only elevates the retail experience, it also makes shoppers feel loved and appreciated.
William B, a California-based clothing retailer, offers a great example of this tactic in action. On certain weekends, Willam B serves wine in-store, so shoppers can enjoy a drink while browsing the shop's merchandise.
Related: 40 Ideas to Boost Retail Foot Traffic and Increase Sales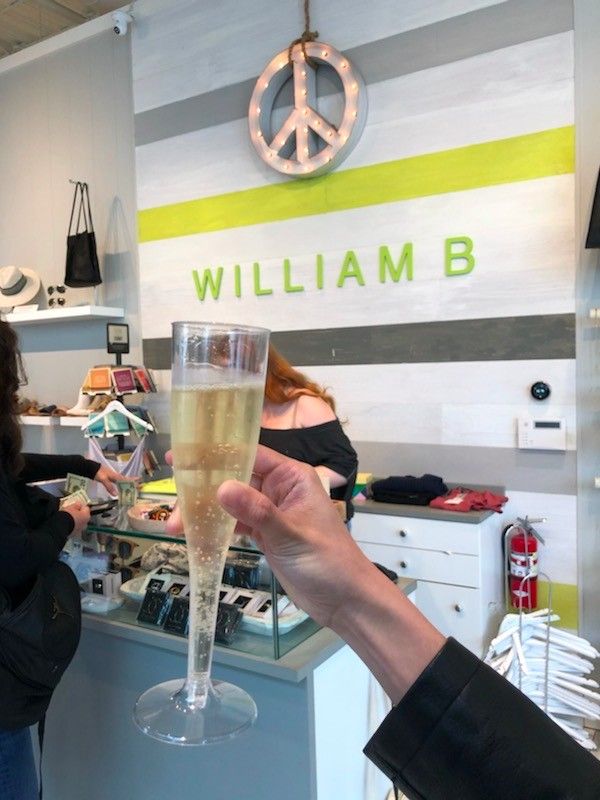 Takeaway: Occasionally serve food and drinks at your store. Aside from creating a richer and more delicious shopping experience, adding snacks or beverage to the mix encourages people to stay longer, and increases the likelihood of a purchase.
14. Retailers that personalize the shopping experience
Personalization isn't just a buzzword. It's an important best practice that can have a material effect on your bottom line.
Many merchants think that you need fancy technology to tailor the shopping experience, but this isn't always the case. There are many things you can do to individualize the interactions that shoppers have with your brand.
One low-tech way to personalize the retail experience is by asking for the customer's name when they walk in and setting up a fitting room with their name on it. The apparel retailer Francesca's does this in many of its stores.
Associates welcome you to the shop by asking for your name, and when you're ready to try on clothes, they will write your name on a board hanging outside your dressing room.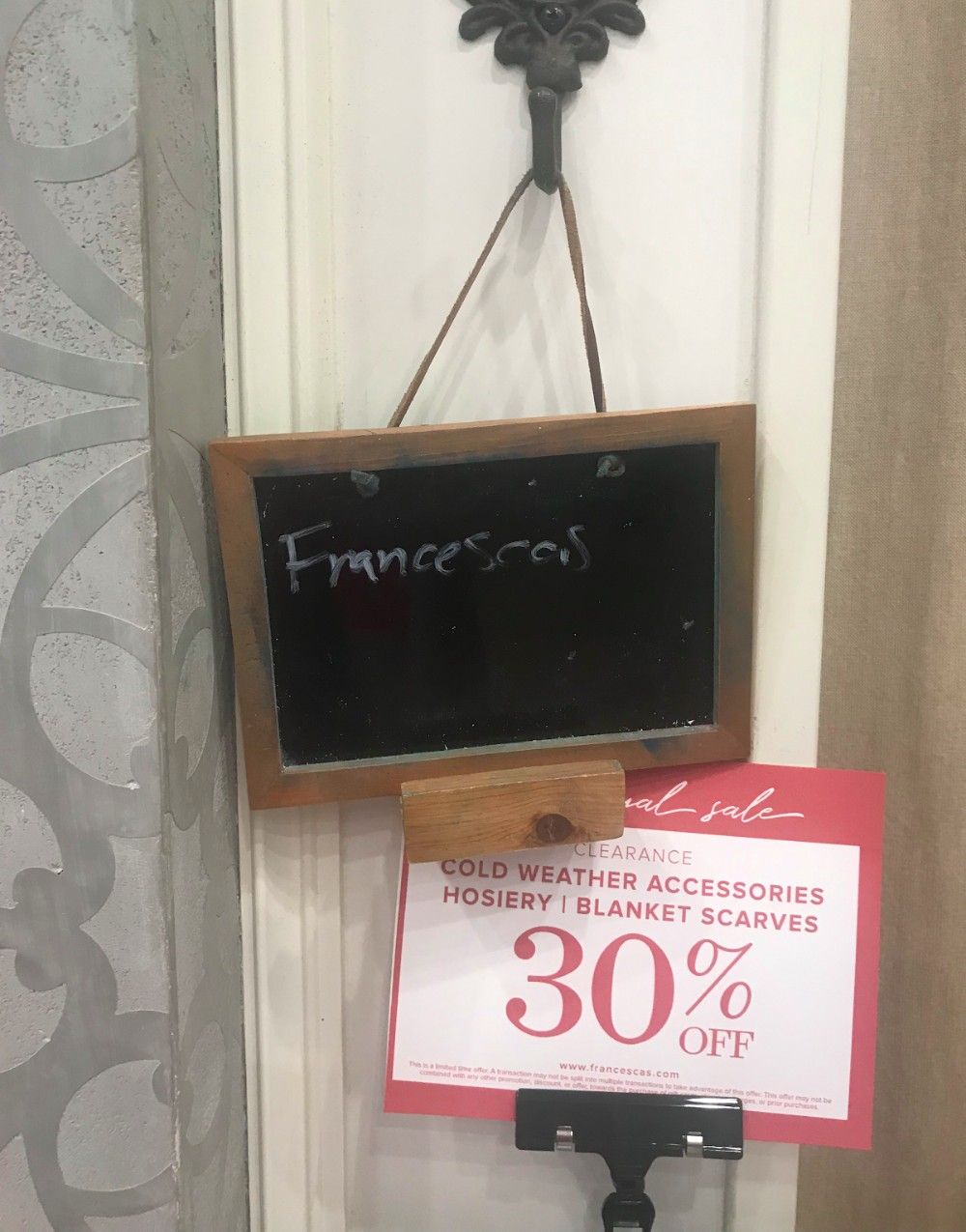 Takeaway: Find ways to tailor the in-store experience of your customers. And note that you don't always have to use fancy tech to achieve this. Like Francesca's boutique, you can keep it as simple as putting someone's name outside their fitting room. Or, you could start offering personalized products in-store. Whatever you decide to do, the key is to give shoppers an experience just for them.
Continue leveling up your customer service game
Whether you have a customer service rating of 3.5 stars or 5, there is always room for improvement. Your shoppers and the retail landscape are constantly evolving, and so should you. Hopefully, the tips outlined in this article gave you some actionable customer service ideas!
---
Hi there! If you liked this post, please feel free to share it on social media to help us reach out to more retailers like you. You can also leave a comment below and let us know if you have any questions!
---
Start counting your foot traffic now
Get data faster with the world's first thermal-sensing, battery-operated people counter
Get a Demo
Recommended Articles