Recent studies show that about 70% of all retail purchases are done by loyal customers, and that number can only increase by having happy, motivated retail associates on your side.
But if retail associates aren't happy and don't perform well or work against you, then the consequences can be significant. According to a recent Kellogg Shopped Index, stats show that about 40% of shoppers didn't intend to buy online, but were moved to buy online due to bad in-store customer service.
This says it all - most businesses simply can't afford having poorly trained, unhappy and unmotivated retail employees. In this article, we'll dive into some of the top ways to increase retail associate's performance, happiness and satisfaction.
1. Educate retail employees on the business
It's important to remember that your retail employees are the face of your business to both new and existing customers.
Therefore, it's important to make sure your retail staff know the ins and outs, the do's and don'ts and what your business is all about. Aim to empower retail employees by educating and training them all aspects of your business such as your core goals, values and market differentiators.
The other bonuses of having your retail associates know more about your business is that it will increase ownership and hence productivity. They will feel more in-the-loop when it comes to how the business works, so they can serve your customers in the best possible way.
2. Get retail employees' feedback and input
As we mentioned in the tip above, retail associates are the face of a brand and their job is essentially to sell - and that direct line of connection to customers means that retail associates are often those who know the customers best.
This means that retail associates will know exactly which products stay on shelves, which pieces just fly off the racks. Learn from employees on how customers shop, what they want and what they don't want.
Don't just use that knowledge to your advantage - give your retail employees a seat at the table and get their input on what's next and their feedback about what's been out.
This is a great way to let your retail associates know that you value them and make them feel like they're a truly invaluable part of the team.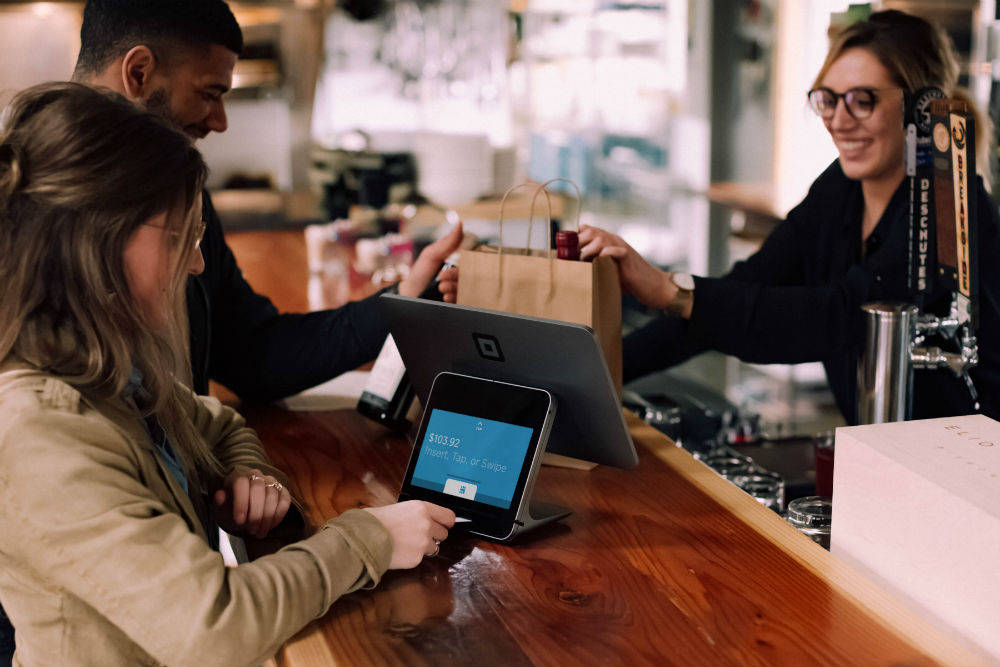 3. Reward retail employees for doing better
Stats show a 5% increase in customer retention can increase a company's profitability by 75% and customer retention is often the responsibility of retail employees.
Therefore, you should make a habit of offering bonuses when retail associates do well or have a particularly good week.
But the 'bonuses' don't always have to be monetary. Celebrate achievements and show random displays of appreciation with "great job!" and "keep up the great work!". Positive reinforcement can be given when retail staff are excelling but also when they may need a pick-me-up.
When you engrave positivity and appreciation into your business' core values, you'll be surprised how far it can take you.
Furthermore, try to run contests to keep your retail associates motivated and excited. You don't need to have much of a budget - a $10 gift card can be enough of a catalyst to promote healthy competition and provide employees fun along the way.
4. Give retail employees the tech and tools they need
Technology is there to make our lives more efficient, and it can significantly increase the productivity and success of your retail employees.
For instance, a retail analytics company like Dor can help you give your retail associates the ability to get actionable and accurate foot traffic data to better understand which days and hours of the week are more crowded in your store or what the conversion rate is compared to the previous week.
Why wouldn't you give them that data to help them optimize the way they work?
Use your employees to find the pinch points in your business model and workflow. Discuss with them how technologies could improve work satisfaction, efficiency (and of course profitability).
Click here to discover how Dor can help your team make better business decisions based on your store's foot traffic data.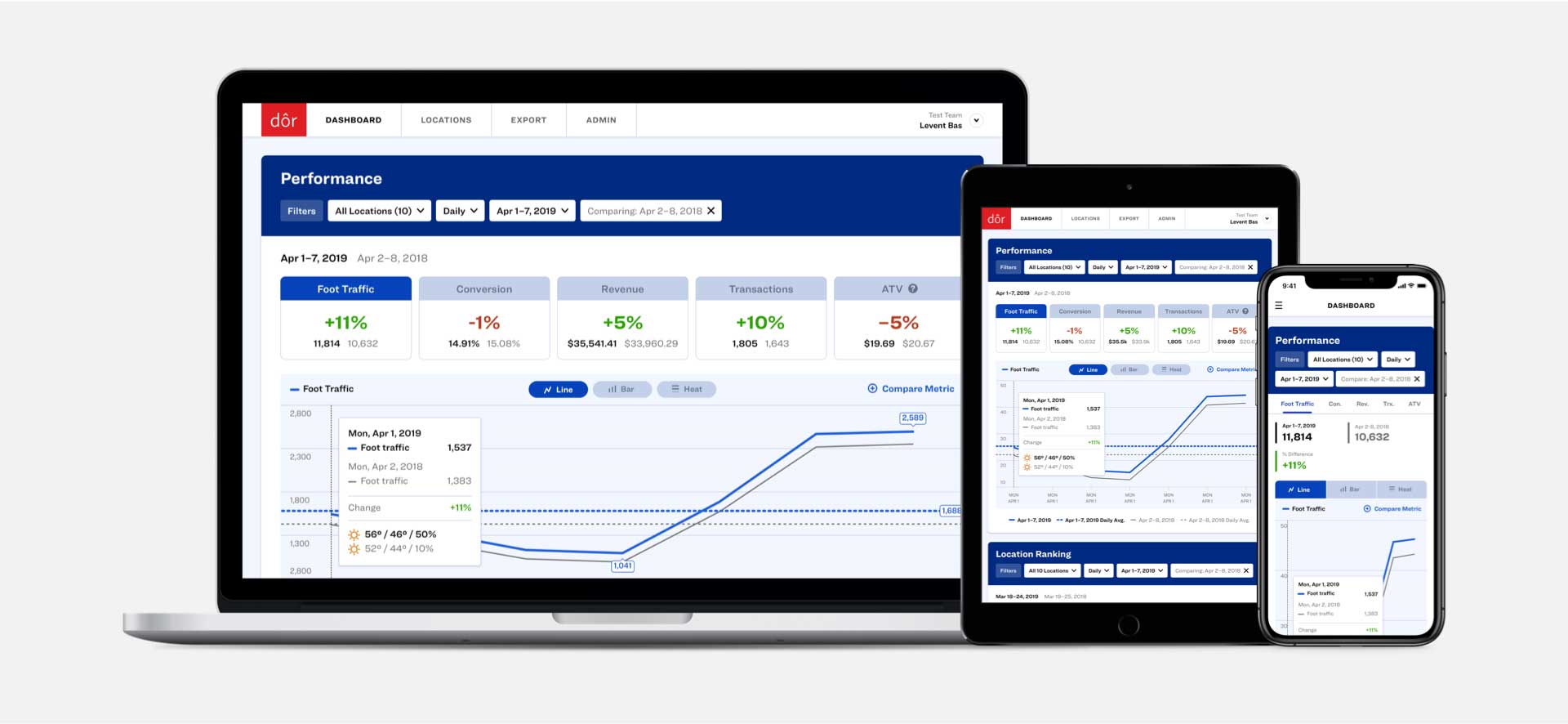 5. Build a retail employee community
For many people, a job is at the core of their life and they seek a community and environment to thrive in, to feel motivated and a part of something.
Get involved in the lives of your retail staff by building a community and creating a good, fun environment for your retail staff to work in. This is a pretty easy (and really fun!) way to make your retail staff feel truly valued and build morale.
You can do this by celebrating birthdays and big life occasions, such as weddings. You can also build a strong community of your retail staff by organizing team lunches and various team building events in and outside work.
Supporting the hobbies and personal goals of your retail employees is another great way to build and create a strong employee community.
By allowing your retail staff to grow through achieving personal milestones and expanding their hobbies is a sure way to make your employees more loyal and happy. For example, why not start an at-work band for those on your retail staff who love to sing and play instruments?
6. Recognize retail employees' greatness
It's always great being recognized for a job well done.
And when your retail staff works hard, it means that they're working to grow your business. When a retail associate excels, it's important for their morale, productivity and satisfaction when a leader recognizes that.
Related: 40 Ideas to Boost Retail Foot Traffic and Increase Sales
Traditionally, businesses recognize their employees' greatness by doing an 'Employee of the Month' award - even today, this classic, simple feature is an ideal way to get employees excited, motivated and upping their performance and productivity.
Another way to do this is by having performance reviews or regular one-on-ones with each member of your team.
The chance to catch up, provide recognition and feedback and let your retail employee speak to you about their concerns, difficulties and also their wins. This will help your retail staff feel really valuable to your business.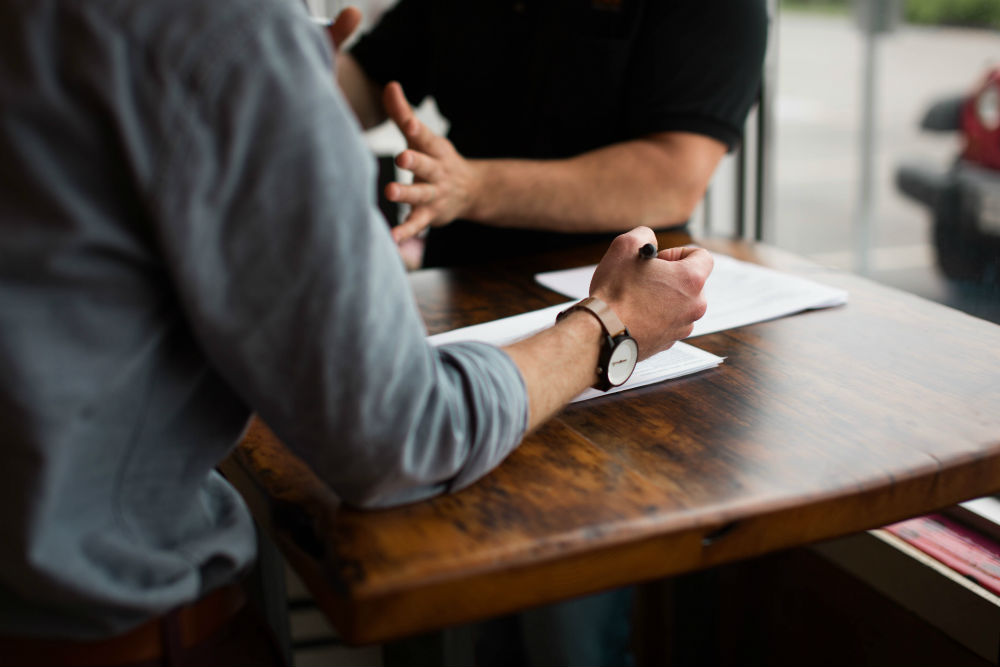 7. Promote retail employee collaborations
When retail employees collaborate and work together, they also tend to win together.
Let retail associates share ideas with each other and many members of your retail staff working together to achieve key tasks or major goals. This is also a great way to improve communication, build a great work environment for everyone working in your business and bring new solutions and strategies to help your business grow.
8. Hire retail employees who are right for your business and culture
You're sure to motivate employees and increase the morale of your retail staff by hiring the right people who suit your business and culture.
You should aim to hire people who are excited and invested to work for your business, and people who work on your speed will be able to best thrive in your environment.
A great way to find the right people is by starting an employee referral program.
Do this by getting your retail employees to recommend friends or people they know, and then rewarding your employees when you hire someone they recommended. This way you're both hiring great people and getting your retail staff more engaged and motivated.
9. Help your retail employees grow
We already established that to increase the productivity and raise the morale for your retail employees, it's critical to make your retail staff feel valued.
Do this by creating an atmosphere of growth; a sure way to help your employees grow and reach their full potential is by providing professional training and skill development.
Training can be coordinated internal or externally, it can be performed in so many ways and forms and within or across various departments of your business. Expand the skills and knowledge for your retail employees, cultivate an environment of learning and all will grow as a result.
---
Hi there! If you liked this post, please feel free to share it on social media to help us reach out to more retailers like you. You can also leave a comment below and let us know if you have any questions!
---
Start counting your foot traffic now
Get data faster with the world's first thermal-sensing, battery-operated people counter
Get a Demo
Recommended Articles