As a new year begins, store owners across the globe are faced with the task of planning for the next 12 months in an ever-changing retail climate. Although the past two years have taught us the importance of expecting the unexpected, it helps to know the major retail trends that emerged during this time and will likely continue for all of 2022. To make sure your retailer is well-equipped to handle any challenges that may crop up along the way, read on to find out some of the top retail trends 2022 has to offer.
The main retail prediction 2022 is likely to fulfill is that many of last year's major trends will continue, such as the need for brick-and-mortar stores to pivot toward—or at least embrace elements of—e-commerce, as well as the need to focus on offering unique in-store experiences for customers who prefer to shop offline.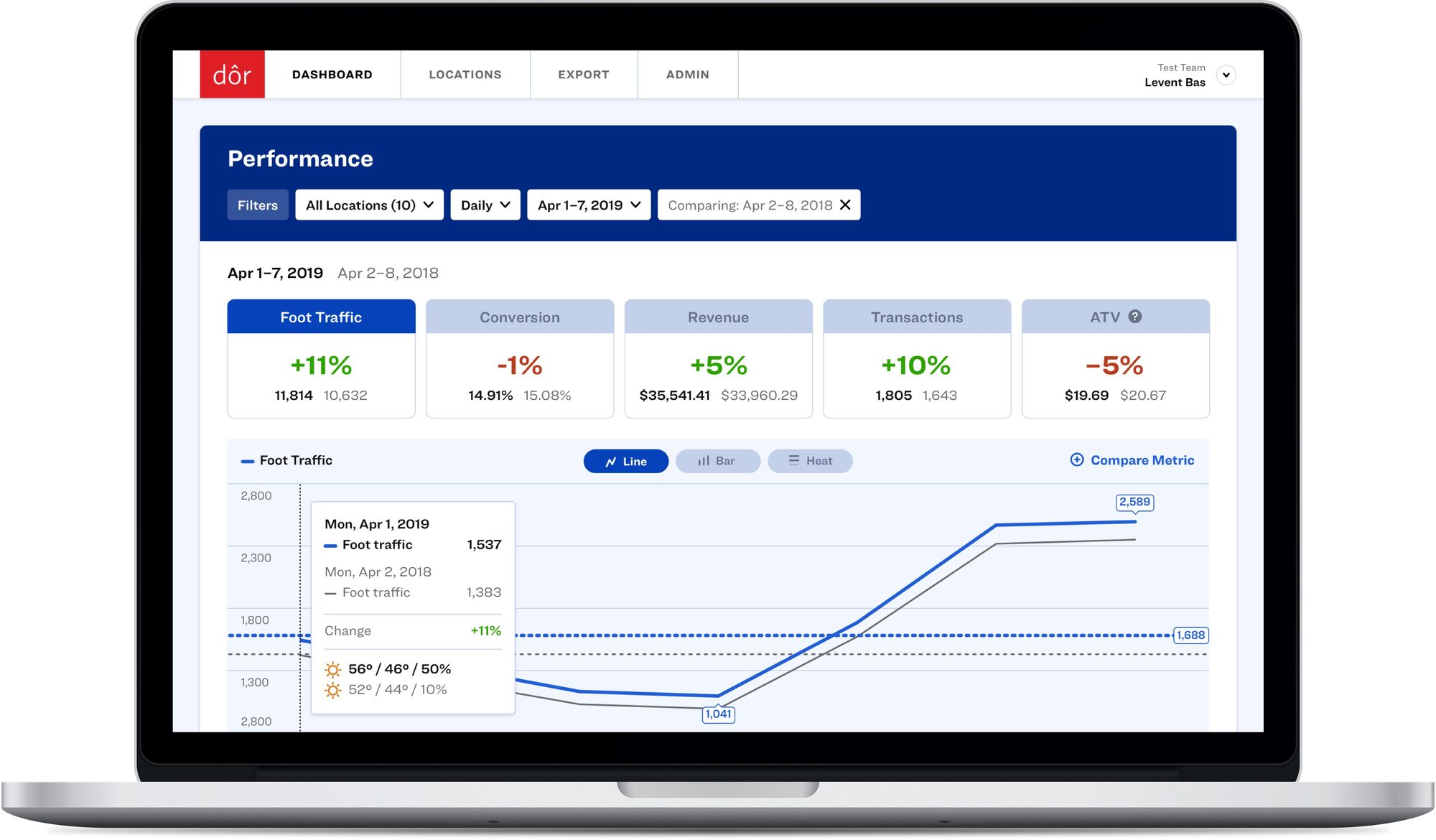 Did you know that a 1% increase in your store's conversion rate can mean a 10% increase in revenue?
Click here to discover how Dor can help you understand your foot traffic data and make more profitable business decisions.
Ready to purchase? Complete your purchase in just minutes!
Related: Top 10 Retail Analytics and Technology Trends to Know in 2021
The dominance of online shopping

As the pandemic forced most people into their homes in 2020 and part of 2021, many consumers had to rely on e-commerce to meet everyday needs, like getting food, groceries, and other essential products delivered. This meant even customers who were previously staunch advocates of in-store shopping had to adapt to the online shopping landscape—indeed, there were 900 million more digital buyers in 2021 than there were in 2020, reflecting a 4.4% year-over-year increase, according to an article by dropshipping app Oberlo.
As the world does its best to settle into its "new normal," the future of shopping will entail a blend of in-store and online experiences for many consumers. For brick-and-mortar stores, that means it's more important than ever before to adopt a more holistic approach to retail that embraces online shopping, like offering in-store pickup or making it easy to shop via social media.
The prevalence of online shopping also comes with a growing expectation among consumers for free shipping and fast delivery options. While the pandemic led to shortcomings in the global supply chain—making it harder for companies to promise next-day delivery—free shipping remains an enticing offer and even a deciding factor for many buyers when it comes to making online purchases.

Sustainability is a priority for consumers

An increased focus on climate change in recent years has led consumers to become much more focused on brands' promise of sustainability than in decades prior. In fact, as of 2020, 45% of consumers stated that they were interested in finding brands that were sustainable or environmentally responsible, according to research by Statista.
Shopping in 2022 will remain a more holistic experience than in decades prior, with customers focusing not just on a brand's products but on other factors as well, such as the company's carbon footprint, whether it offers fair wages and livable working conditions for its employees, as well as its social image and message.
Livestreaming on the rise

As the trend toward remote work continues to some extent in 2022—with some companies pivoting entirely to this model, while others give the option for employees to WFH part of the week—many brands have shifted their marketing efforts to meet consumers where they are: in their home, scrolling away on social media.
One of the main trends to emerge out of this is livestreaming, where both lifestyle influencers and brands themselves create video content such as unboxing videos, showroom walkthroughs, and live product demos to give shoppers more three-dimensional experience and entice them to buy. Livestreaming on social platforms looks poised to remain popular in 2022 and beyond, as it gives platform users a chance to interact with the brand or influencer through comments and likes, and provides invaluable feedback for brands looking to gauge customer sentiment.
Shift in spending behavior

Another important effect of the pandemic is the shift in customers' spending behavior. As each new variant of the virus makes the future uncertain, shoppers these days are spending less on travel and more on items such as home improvement goods and health & wellbeing.

The latter category in particular has seen an explosion in consumer spending, encompassing everything from the billion-dollar skincare industry to popular items such as supplements, teas, oils, herbs, tinctures, and much more. Diet and lifestyle-focused goods such as vegan or gluten-free options are also on the rise, and we will likely see an increase in both their product range and availability in 2022 and beyond.
The in-store experience

Many brick-and-mortar stores had to change their store layout due to COVID, with health and safety precautions that ranged from installing visual social distancing reminders for shoppers and implementing in-store mask mandates to switching up checkout lines to minimize contact among shoppers and employees. It doesn't seem like these measures are going anywhere soon, and they may continue to be necessary for 2022, as well.
Another way physical stores have had to alter their space is by focusing on providing unique in-store shopping experiences for customers, whether through adopting a store-within-a-store format or installing interactive displays that make it easier for customers to browse products. This trend will also continue as brick-and-mortar stores explore new and inventive ways to compete with e-commerce and get customers in the door.
Contactless payments

Although contactless payments didn't originate during the pandemic, they certainly grew in popularity over the past two years, and they're likely to remain the payment method of choice for customers who prefer convenience. As a result, retailers who embrace contactless payment and offer options like self-checkout will be in a great position to keep up with this trend.
AI is the future

Last but certainly not least, artificial intelligence (AI) will remain a strong trend in retail in 2022 and beyond, with many brands adopting an omnichannel shopping experience that relies on AI to refine and personalize the customer journey. Examples of this can be seen in chatbots that use machine learning or even targeted recommendations on social media—though the use of AI isn't limited to the online experience, with even brick-and-mortar shops getting in on the craze by utilizing digital solutions like VR or AR to help customers visualize the brand's products in their own space.
---
Hi there! If you liked this post, please feel free to share it on social media to help us reach out to more retailers like you. You can also leave a comment below and let us know if you have any questions!
---
Start counting your foot traffic now
Get data faster with the world's first thermal-sensing, battery-operated people counter
Get a Demo
Recommended Articles