On the whole, brick-and-mortar stores are only recently emerging from a challenging year-and-a-half—a time period when most businesses were forced to close their doors and consumers had no option but to shop online to meet their needs.
What's more, studies show that impulse purchases—a significant source of revenue for most small- and medium-sized businesses—are less popular among consumers than before the pandemic. According to a 2021 State of Retail Survey by Offers.com, 47% of responding consumers said they would be less likely to make impulse purchases than the previous year.

But there is reason to be hopeful for the future. After all, physical retailers have one significant advantage over online retailers: point-of-sale marketing.
Take the time to learn and implement innovative marketing strategies around your point of sale, and you too can watch your brick-and-mortar shop's bottom line grow.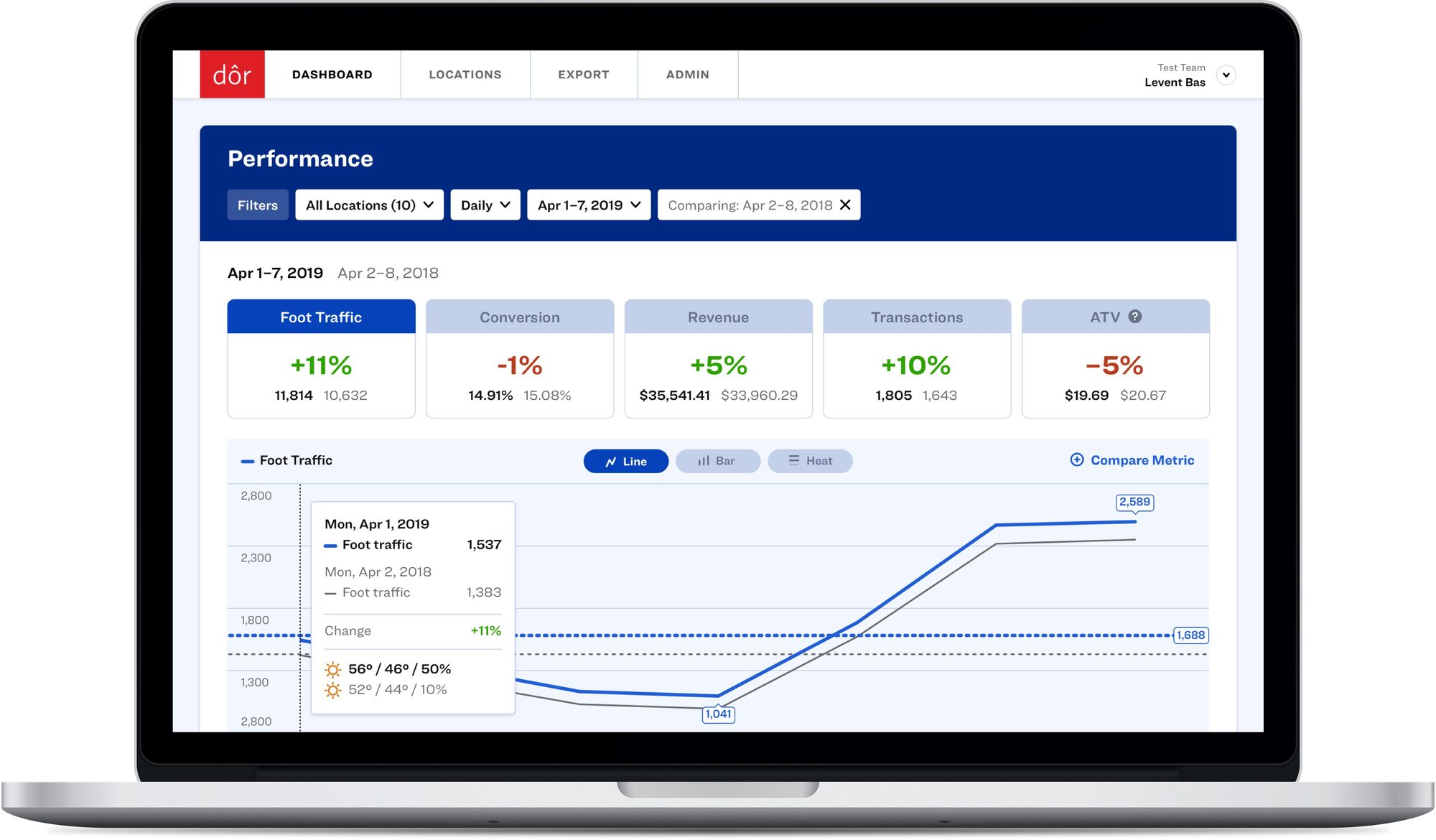 Did you know that a 1% increase in your store's conversion rate can mean a 10% increase in revenue?
Click here to discover how Dor can help you understand your foot traffic data and make more profitable business decisions.
Ready to purchase? Complete your purchase in just minutes!
What is the point of sale marketing?

Point of sale marketing, also known as checkout marketing, is a retail strategy whereby brands attempt to get consumers to purchase additional items before exiting the store. In other words, point-of-sale (POS) marketing is the practice of enticing customers to buy more than they originally intended before approaching the checkout counter.
POS marketing products generally fall under the category of impulse purchases, meaning they are non-essential items shoppers pick up on a whim, like gum, candy bars, or other snacks.
However, depending on the type of store, the items displayed around the checkout counter can also be smaller versions of essential products, such as toiletry products found near the POS in airport shops or gas stations.
What is the psychology behind the point of sale marketing?

We know that point-of-sale marketing works, but why? Since human beings are complex creatures, the reasons they are unable to resist POS marketing are similarly complex—but thanks to psychology, we have some clues as to what makes this marketing strategy so effective.
According to research by the New Neuromarketing blog, several psychological traits are associated with impulse purchases near the POS. These include sensation-seeking, the propensity to seek novel experiences regardless of risk; impulse buying tendency, or likelihood of making impulse purchases regularly; and self-identity, or the belief that a particular product or group of products will improve one's life standing in society.
Then, it goes to reason that a successful marketing strategy for a retail checkout area manages to appeal to one or more of these psychological traits in consumers.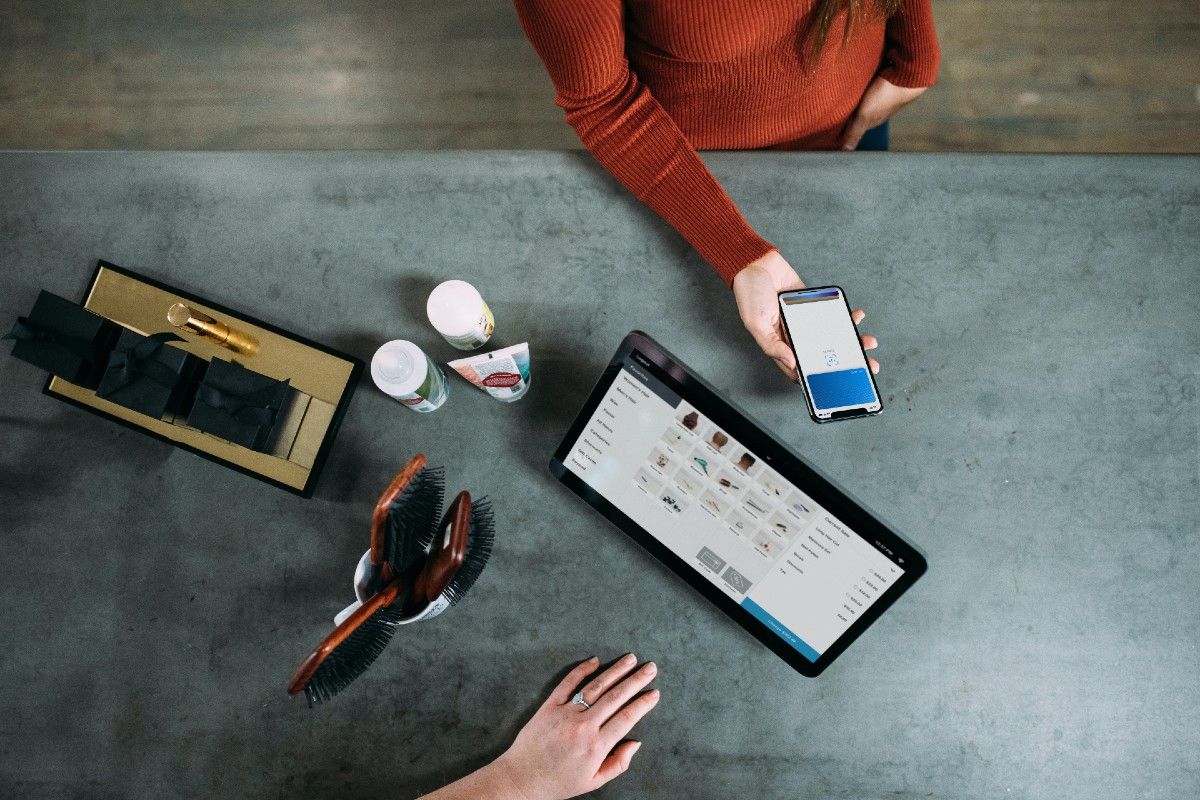 3 things to know about point of sale marketing

1. Product selection

When it comes to point-of-sale marketing, it's essential to be thoughtful when choosing which products to display.
Since the goal is to grab the customer's attention enough to encourage a last-minute purchase, you'll want to opt for items that are small and inexpensive compared to the rest of your store inventory.
It also doesn't hurt to display colorful and shiny items that inevitably draw the eye—especially if you're the type of store that gets plenty of shoppers with kids.
2. Design & positioning

There are various checkout-area product designs to choose from, depending on the type and vibe of your store. Let's say you have a mobile phone store: a free-standing floor display showcasing headphones and chargers might be the perfect POS solution for you. If you have a small jewelry shop, an elegant counter display with several budget options might fit the bill, while a discount odds-and-ends store may fare better with a dump bin featuring bargain buys.
No matter which type of display you choose, it's a good idea to keep your most attractive POS products at eye level so your customers won't have to exert extra effort to see them.
3. Ease of access

Practicality is another crucial factor when it comes to the success of your POS marketing efforts. After all, you want to have enough variety in products to appeal to a broader range of customers, but you also don't want to overcrowd your checkout space.
The same study by New Neuromarketing mentioned earlier found that promotional offers explicitly designed to attract impulse buyers tend to do well: "A great way retail store owners can come up with compelling offers is by bundling similar products and offering discounts," the study recommends.
Not only are the bundles attractive to consumers as a "grab-and-go" option, but they're also more accessible for store employees to restock as compared to individual items that take up the same amount of space.
Related: 13 Irresistible Checkout Counter Ideas to Increase Retail Sales
3 great examples of POS marketing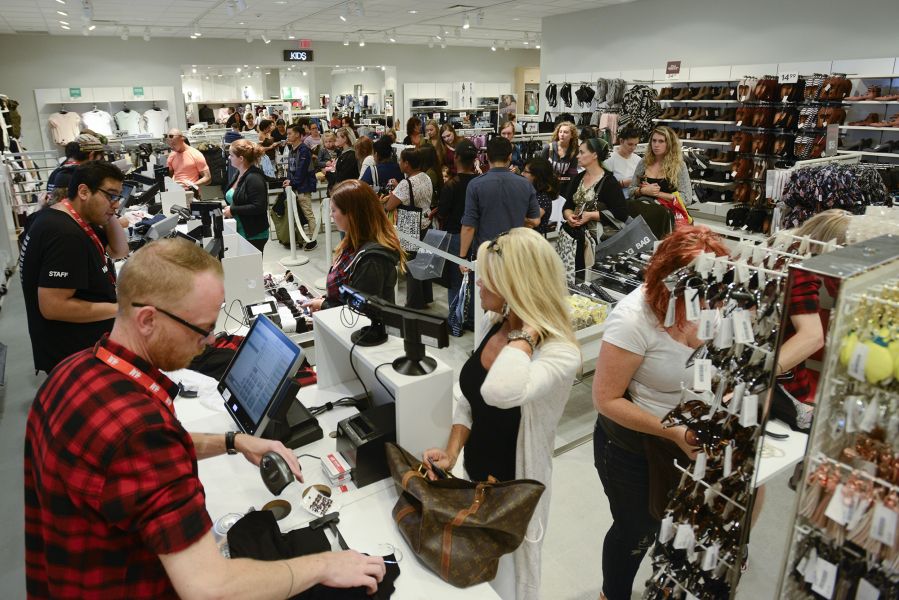 Fast-fashion giant H&M has a two-pronged strategy for its checkout area.
Customers approaching the POS first encounter free-standing displays featuring easy-to-grab items such as jewelry, hair products, and keychains. Then, customers proceed to the checkout line, where they are surrounded by a pathway of bins featuring a range of impulse purchase items from travel-sized umbrellas to compact makeup kits.
What's more, H&M checkout lines follow a winding path, forcing shoppers to shift their field of vision and notice new items at each turn.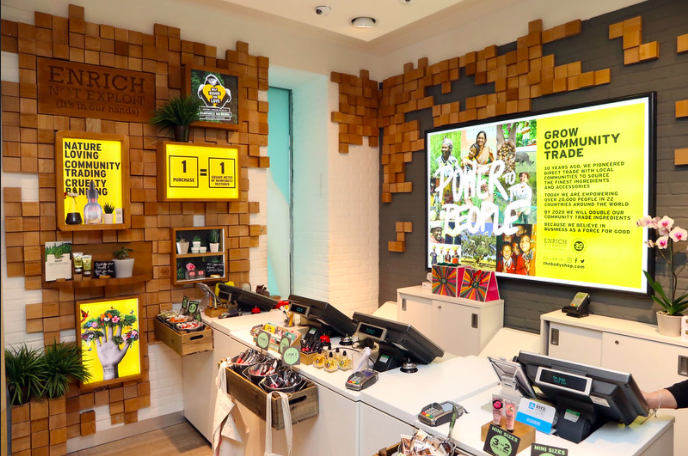 Like many brands, UK-based eco-friendly cosmetics and skincare brand The Body Shop provides small bins in front of its cash registers, offering promotions such as "3 for 2" deals on mini sizes of its regular items to entice customers to make a last-minute purchase.
However, The Body Shop goes one step further in its POS marketing efforts to utilize the wall behind the checkout counter and reinforce brand identity in shoppers' eyes by promoting its eco-conscious efforts.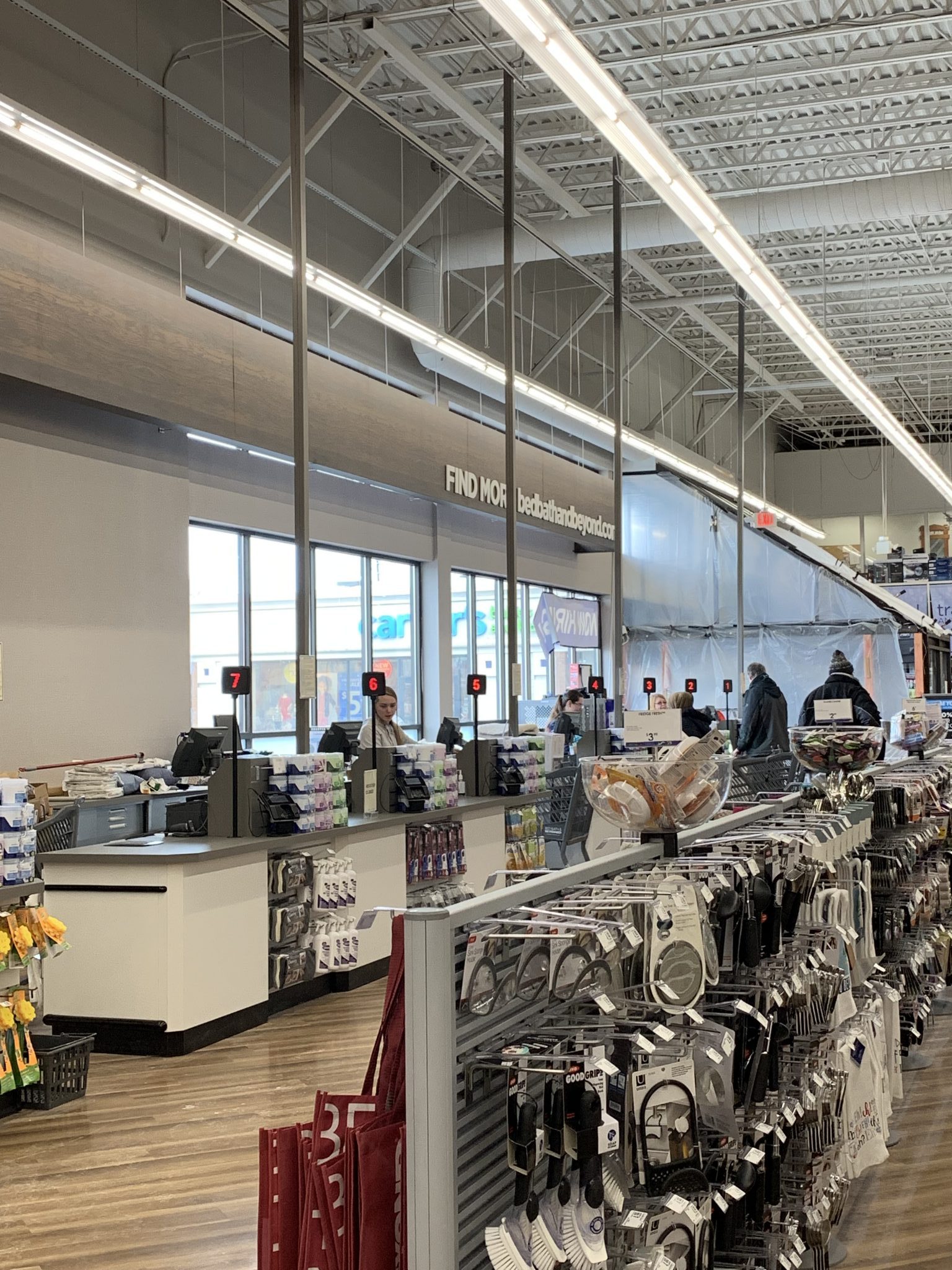 American home goods chain Bed Bath & Beyond is another retailer that adopts a multilayered POS marketing strategy.
First, customers waiting for the cash registers to open up can browse through hundreds of small but functional items—like the scrub brushes, dish towels, and other kitchen appliances seen in this photo. Then, once they do make it to the POS, customers have a second and last option to grab from a smaller selection of products—in this case, gift cards and snacks such as candy.
---
Hi there! If you liked this post, please feel free to share it on social media to help us reach out to more retailers like you. You can also leave a comment below and let us know if you have any questions!
---
Start counting your foot traffic now
Get data faster with the world's first thermal-sensing, battery-operated people counter
Get a Demo
Recommended Articles